So you need a hack for a Snapchat account and so far you have tried searching it online. I can already understand your pain, having to go with all those 'try and fail' methods of Snapchat hacking that never work.
I would be lying if I said I hadn't been there. When I started looking for a Snapchat hacking solution, I was even more annoyed that you might be right now. After all, we have all seen those fake apps that ask for human verifications and surveys.
And after you have spent hours trying to pass all those surveys, you realize that it was all a scam and that the Snapchat hacking app does not even work. The frustration is unparalleled. This is why, I am going to share with you an app that actually works.
When I say this method works, I do mean that you won't have to go through another human verification or a survey. All you have to do is stick to the steps that I mention, and you are going to be good.
Part 1: How to Hack Someone's Snapchat Without Them Knowing
When you are hacking someone's Snapchat account, your first priority should be that they never find out about it. Of course, hacking someone's data is of no use if the other person already knows that you have eyes on them.
Due to technological limitations, most Snapchat hacking apps aren't able to give the level of stealth that you want. But, after spending a lot of time searching for the perfect solution, here is the one that will meet your needs perfectly:
1.1 Minspy- Your Snapchat Hack Companion
Minspy is the most popular Snapchat hacking app that has countless subscribers all over the world. It offers Snapchat spying solution for Android as well as iOS phones. In fact, with Minspy, you can get all the data that someone is hiding on their phone.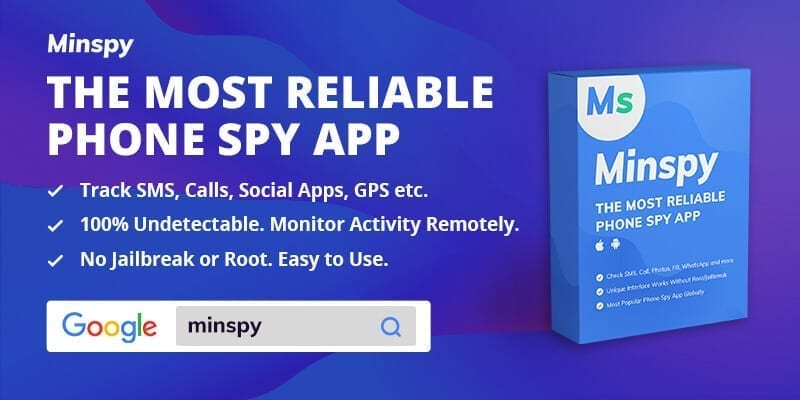 No matter what lock screen, pin password, or fingerprint codes the person has employed on their phone, with Minspy you can get their data at any time that you want. Minspy will work on any day of the week, whether you are with them or in a whole different corner of the world.
Its world class design and ease of use is definitely going to win your heart over. However, there are a lot of other things that you might not notice at first glance. Let me take you through a tour of what makes Minspy so special.
Minspy's Ingenious Snapchat Hack Solution
Minspy should be your first choice when you are looking for a Snapchat hacking app that is no download and no survey. And if you choose Minspy, you wouldn't need to look for a second choice. Here are a few of the reasons for this:
Web-based App:
Minspy is an online application that will run without you having to install any app on your phone or PC. In order to use Minspy, you just have to use its dashboard that is accessible from any web browser that you use.
Works Without Rooting or Jailbreaking:
Most phone hacking apps that can give you any data of a smartphone, including Snapchat messages, ask you to root or jailbreak the target device. However, Minspy works without rooting or jailbreaking the target phone. This is a big relief.
Data Security Measures:
Minspy employs the best data security measures in the world to make sure that your private data is actually private. Only you can view the Snapchat messages that you hack. There are no third eyes that can fall on it, not even of Minspy's own team.
In fact, Minspy doesn't even store any of your personal data on its private servers. Everything is just for your browser screen.
No Technical Knowledge Needed:
You won't need to have any technical knowledge in order to use Minspy. Its interface is very simple and easy to use. Since you are reading this guide and know how to use a web browser already, you will have no trouble using Minspy.
There are, of course, several other cool things when it comes to Minspy. It is better that you check these things out in Minspy's free live demo. Believe it, you will be thankful to me for making this suggestion.
Ways to Hack Snapchat Messages through Minspy
You can hack the SNapchat messages of the person in a variety of ways through Minspy. These include:
Snapchat Spy:
Minspy has a dedicated Snapchat spy module where you can find all the sent and received messages from the person directly. You will even know the details about the people they talk to as well.
Keylogger:
The keylogger is the best feature you will find in any phone hacking app. It records all the key strokes that are made by the other user. This includes their Snapchat messages and even the usernames and passwords.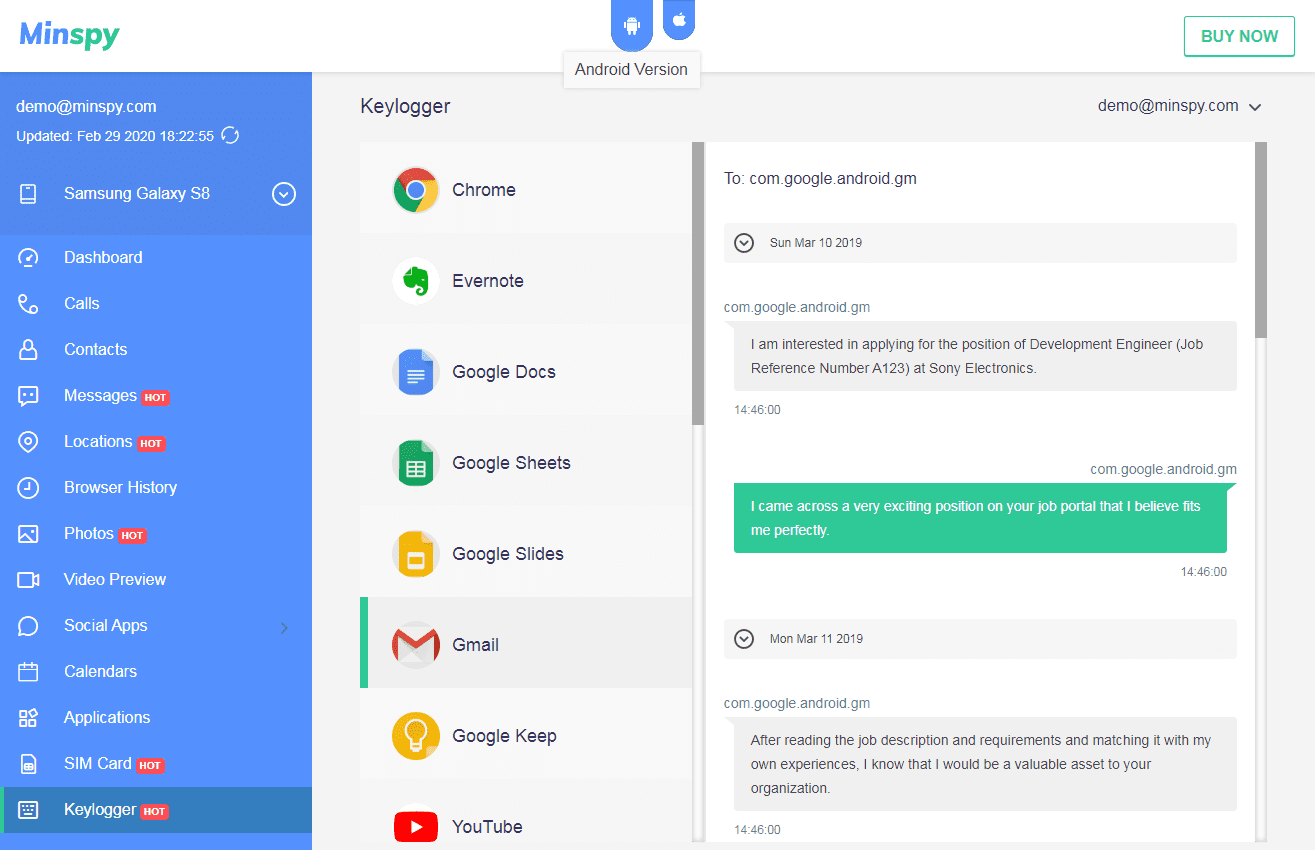 In fact, you can even find the messages that the user has deleted in the keylogger section. What better thing there can be when wishing to hack a Snapchat account?
Minspy's Hidden Snapchat Spying
The best thing about Minspy is that hacking a Snapchat account without human verification,so the other person will never find out about it. This is due to the unique design of Minspy for both Android and iOS devices. I will give you the overview for both:
Hacking Snapchat on iPhones Secretly:
When it comes to hacking a Snapchat account of a person who uses an iPhone, things are simple and easy. Minspy's iPhone hacking solution makes use of the iCloud feature that is inherent to iPhones.
Since all iPhones have the iCloud feature, all the data of an iPhone gets uploaded to the iCloud server. Generally, you wouldn't be able to read this data due to its encrypted format.
However, Minspy can decrypt the data and present it to your personalized Minspy dashboard. Therefore, you can have the Snapchat messages of the user through Minspy if you have the iCloud credentials of the person.
Hacking Snapchat on Android Phones Secretly:
If you want to hack a Snapchat account on someone who is using an Android phone, things are a little different. To start with, all Android devices require you to install the hacking app on the target phone itself. This is true whether you use Minspy or something else.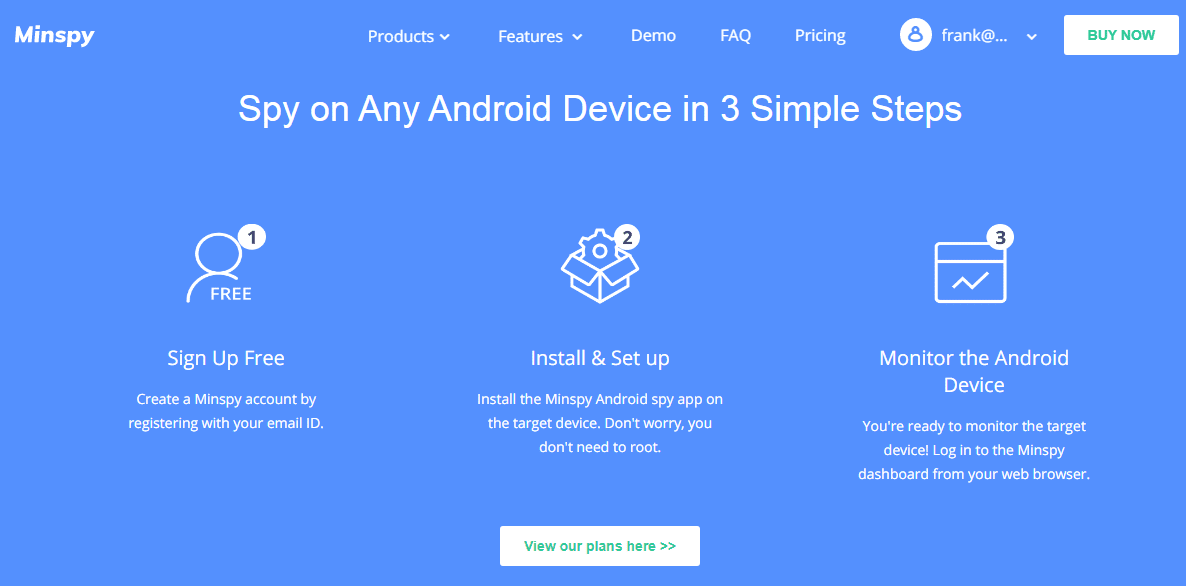 But, in case you decide to use Minspy, you are in store for something good. Minspy for Android is specially designed to keep Android's special need in mind.
The app size of Minspy for Android is less than 2 MB. This means that it will install in a matter of seconds. Once installed, the app icon will vanish from the app menu of the target phone. Only you can launch the app on their phone with a secret code.
The app runs in the background of their phone without providing any notifications. It won't even consume any battery at all. Therefore, the target user is never going to be suspicious about it. In fact, they are never going to find out about it.
And even if you want to uninstall this app, you can do it remotely from the Minspy's dashboard that can launch in any web browser you use. Hence, you are not going to find anything better than Minspy.
Part 2: How to Hack Into Someone's Snapchat
Now that you know which app will do the job for you to hack a Snapchat account, let me tell you about the steps to hack a Snapchat account:
Steps to Hack a Snapchat Account
Step 1: Register for a Minspy account and get a subscription plan based on the target phone's operating system- Android or iOS.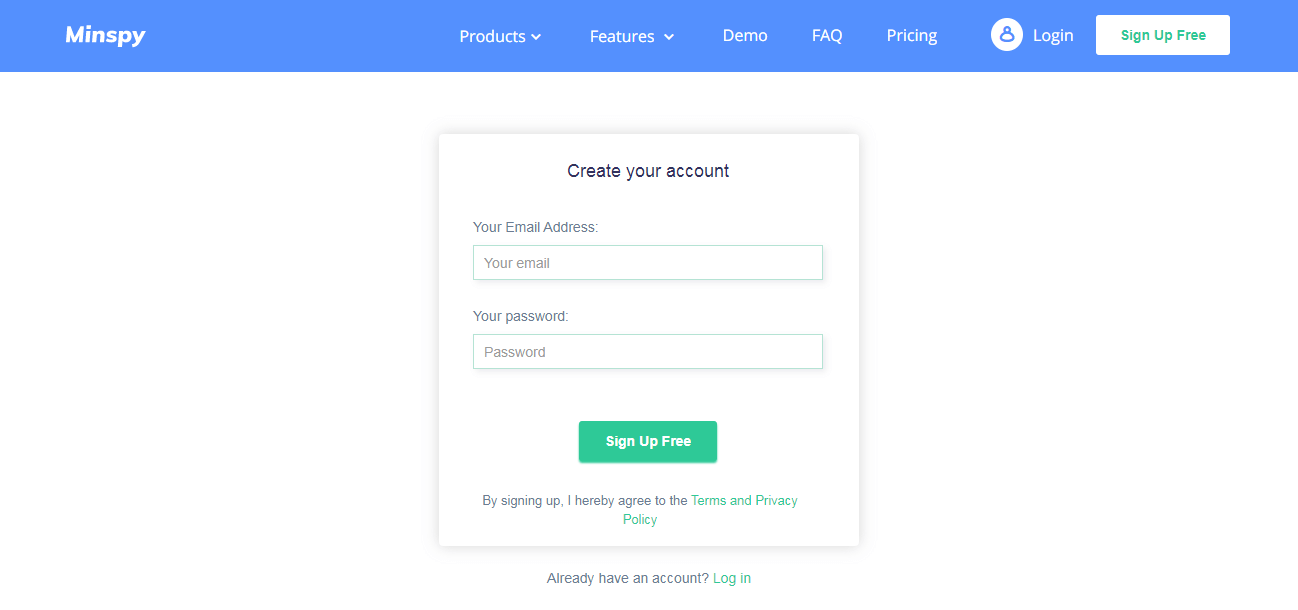 Step 2: a.) If you want to hack Snapchat installed on an iOS device, you can verify the iCloud credentials of that iPhone with Minspy.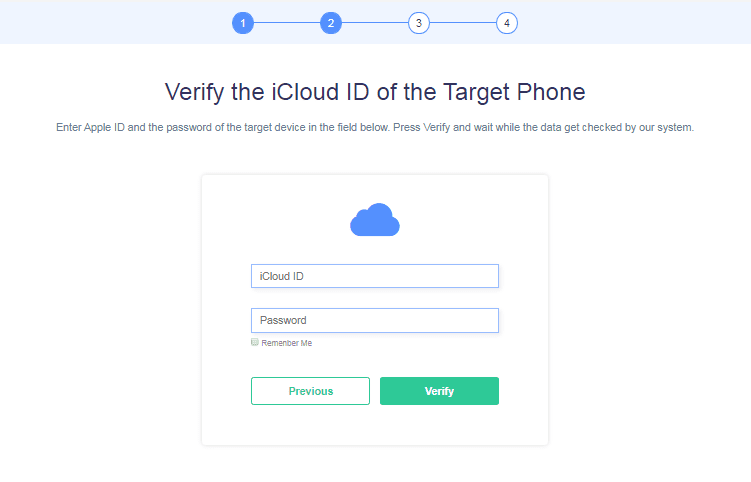 b.) If you want to hack the Snapchat account installed on an Android device, you can download and install the Minspy app on the target phone. The link will be visible on the Minspy's setup wizard.
Step 3: Minspy will take a few minutes to sync the data. Then you click on the 'Start' button and you are ready to monitor their Snapchat messages.
Once you click on the start button, you will be taken to your dashboard. Your dashboard is the place through which you can use all the features of Minspy.
To read the Snapchat messages of the person, you can click on the Snapchat spy under the social media section. You will find all the messages of the person here, sorted by the conversations.
Wrapping Up
Now that you know how to hack a Snapchat account, the only thing left is for you to try the method yourself. In fact, I suggest that you do it right now and be amazed when you find every message of the other user on your screen.
Read more about Minspy:
This post is also available in:
Deutsch (German)