Do you have a problem in your life, something you can solve by hacking someone's WhatsApp?
Do you think your partner might be cheating on you? If the answer is yes, you think hacking their WhatsApp can tell you the truth.
Are your children in trouble? They could be under threat from bullies, scammers, or sexual predators. Their WhatsApp activity could give you the clues you need to find out the truth.
Having problems due to your employees, who may be slacking off or even selling company secrets? By monitoring their WhatsApp use, you think you will be able to tell for sure.
You only have the person's phone number, though. How do you hack WhatsApp by phone number? Is it even possible?
We explain how you can hack WhatsApp in detail in this article. The method is simple, straightforward, and doesn't require any technical skill.
Part 1: How to Hack Whatsapp Account Using Phone Number
You may have heard of a service that can supposedly hack WhatsApp online by using a phone number. In reality, these services don't work. Many of them are scams, surveys designed to collect email addresses or even viruses.
You can try your luck with such a service, but you are going to lose money with nothing to show for it.
What you need is a legitimate way to hack a WhatsApp account. We recommend using a legitimate, powerful phone hacking solution such as Minspy!
1.1 Minspy – The Only Real Way to Hack WhatsApp
Minspy is a top-rated phone monitoring app. It's a favorite with parents, employers, and people from all walks of life in general. A million people from 190+ countries make use of the application. You can use Minspy to hack WhatsApp discreetly.
You can rely on Minspy to be an effective WhatsApp hacker by number solution. It's been recommended by countless major platforms such as the New York Times, Newsweek, Reader's Digest, Mac World, and BuzzFeed.
Note that Minspy also protects your privacy. Your personal details are never stored or shared with anyone. They are not accessible to the developers either. You can use Minspy privately, without worry.
1.2 Hack WhatsApp in Secret
With Minspy, you don't directly hack a WhatsApp account with the phone number you have. Instead, you have to hack the phone as a whole. The app is compatible with Android and iOS devices.
Minspy for iOS works exclusively from your web browser. It doesn't require a software download or installation, nor do you need to jailbreak the target device. You just need the iCloud details of the iPhone or iPad.
The Minspy iOS app will then hack WhatsApp for you remotely via the iCloud account. As the app doesn't require a software download or installation, it can't be detected at all!
Minspy for Android is a small app. You have to download and install the app on the target device. Then you have the option to hide the app. It will run in the background without draining the phone's battery or slowing it down.
The Android version of Minspy will send you WhatsApp data secretly. It's small, hidden, and works in stealth mode. The user will never know it's there!
**Beware: No solution or service in the market can hack WhatsApp remotely on Android without a software installation first. If you find such a service or product, stay away. It is a scam or a virus.**
1.3 Install Minspy lightning-quick
It takes only a few minutes for you to install Minspy. You can install the app by using any smartphone or computer, via the web browser.
Here are the steps to follow to install Minspy on target iOS and Android devices:
Step 1: Sign up for a free Minspy account. You will need to register your email ID as the username.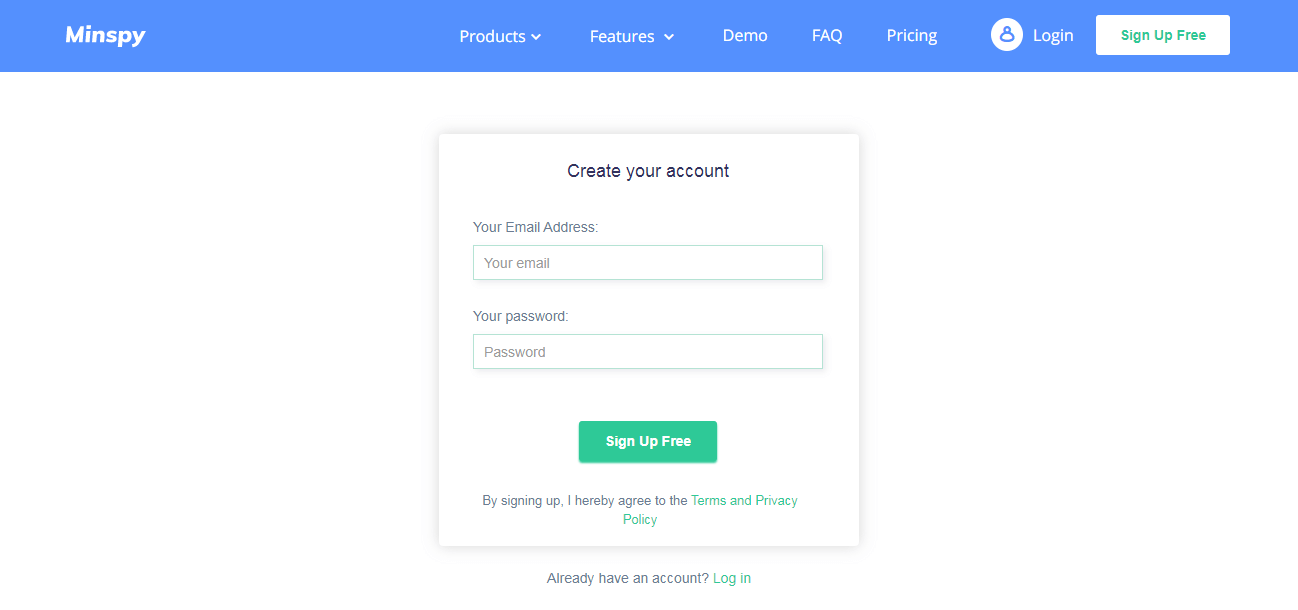 Step 2: Pick the monthly subscription that suits you the most. You will be able to hack WhatsApp a single phone or tablet with the Premium plan. If you want to hack WhatsApp on multiple phones or tablets, then you need the Family version.
Step 3: You will receive setup instructions in your email ID. Start by choosing Android or iOS as the target platform. Then follow the on-screen instructions.
If you want to set up Minspy to work with an iPhone or iPad, you will need to enter the iCloud username and password linked to the target device. Then wait for a while until Minspy syncs with the account.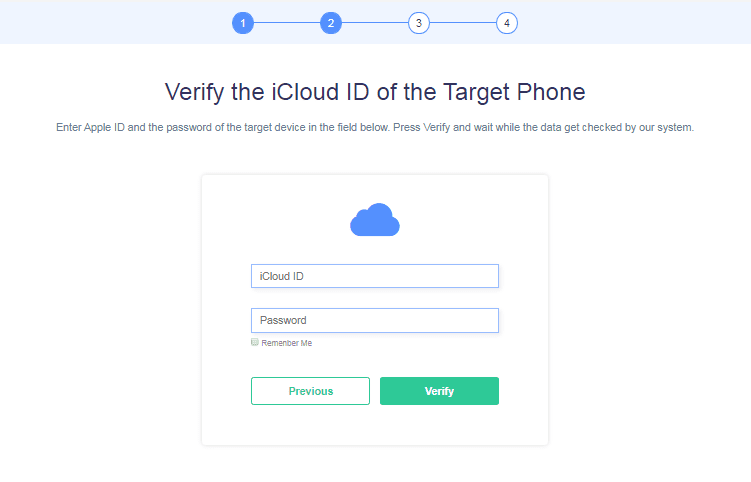 Want to use Minspy to hack someone's WhatsApp on Android? You will need to download and install the app on the target smartphone or tablet. Hide it afterward. After a few minutes, you will be able to hack the device from the online dashboard.
Step 4: Congratulations! You have now installed Minspy successfully on the target smartphone or tablet. Log in to the dashboard to get started with the WhatsApp hack.
You'll see an overview of the device activity from the dashboard. Look for the Social Apps > WhatsApp option in the selection panel on the left to get started.
Check out the Minspy free live demo to find out how to get started with the WhatsApp hack!
1.4 What makes Minspy a top-tier solution
Why do we recommend Minspy for WhatsApp hacking? The app is a top-tier solution:
Minspy protects your privacy
Minspy takes your privacy seriously. It doesn't store your personal information on its servers, nor is the data available to the staff. Minspy is one of the most safe WhatsApp hacking Apps, you don't have to worry about your personal information being hacked and stolen.
You don't need to root or jailbreak to install Minspy
You can use Minspy without root or jailbreak. It's one of the only utilities in the market that can hack WhatsApp without this procedure. You don't have to worry about malware, data loss, and voiding the device warranty if you use Minspy.
You can use Minspy remotely
Minspy works from any web browser. You get WhatsApp hacking data delivered to you online. That means you can hack their WhatsApp data long-term and very conveniently, even when you or they are out and about.
The app is dependable
Over a million people from 190+ countries rely on Minspy. It's been tried and tested extensively and people depend on the hacking solution to monitor their loved ones. You get regular updates delivered to you, depending on the update frequency you choose.
You pay an economical fee
Minspy is available at an economical monthly fee. It costs about as much as a movie DVD to use Minspy. Also, if necessary, you can hack multiple devices at a discount. The app provides a full range of features at a reasonable fee.
You see everything happening on the WhatsApp account
Minspy allows you to view everything happening on the device, including their WhatsApp activity:
Read WhatsApp private messages: Minspy allows you to read their private messages. If you're worried someone is hiding something from you, you can find out the truth this way.
Check group messages: You'll be able to check their group messages with Minspy.
View timestamps: Every conversation is accompanied by a time and date stamp. This allows you to find out exactly when a conversation took place.
See contacts: You can use Minspy to check their contact information. You can view details like their display pictures, names, addresses, phone numbers, and much more.
Check media files: Use Minspy to find their WhatsApp audio files, pictures, and videos. You can download these files to your device for later viewing.
Find deleted messages: Finally, Minspy backs up every message as soon as it's sent out or received! That means even if the user deletes a certain message, it will still be readable to you.
Don't miss: How to Hack WhatsApp Messages without Access to Phone
Don't miss:
Part 2: How to Hack Whatsapp with Mobile Number
The second solution we have for you is called Cocospy. Cocospy is a discreet phone monitoring solution that's a favorite with people in relationships. People often use it to find out if their partner is cheating on them.
Cocospy comes with an excellent WhatsApp hack feature. You can use the solution to hack a WhatsApp account without the phone number. It works with both Android and iOS devices.
The app has been recommended by outlets like Android Authority, Tech Crunch, The Huffington Post, and BBC.
2.1 Cocospy is a top WhatsApp hack solution
Cocospy is one of the best WhatsApp hacking tools in the market:
Cocospy can hack WhatsApp discreetly
You can use Cocospy without getting discovered. The iOS version of Cocospy is a fully web-based app that works remotely without software. The Android version of Cocospy is a small 2MB app that you can hide after you install it.
It is easy to set up
You don't need more than a few minutes to install Cocospy. The app doesn't require root or jailbreak, which makes it hassle-free to install. You don't need any technical knowledge to use the app or install it.
The app is dependable
You can trust Cocospy. The app is a well-known app, made by a company with a great reputation. You can use the app to keep tabs on your loved ones or for other purposes in a hassle-free manner.
2.2 You can use Cocospy to hack WhatsApp effortlessly
Cocospy offers a multitude of WhatsApp hacking features:
You can read people's private and group conversations.
You can check their WhatsApp photos and videos.
Cocospy allows you to check their contacts.
You can find their deleted messages.
In addition to monitoring WhatsApp, Cocospy offers over 20 unique phone monitoring features!
Conclusion
We showed you how to hack WhatsApp by phone number in this article with the help of Minspy and Cocospy. Both solutions are dependable, work effectively, and don't require root or jailbreak. You can hack someone's WhatsApp in minutes.
This post is also available in:
Deutsch (German)
Español (Spanish)