With technological advancement, many hacking apps are putting extra efforts to give optimum results to users. Hacking apps are targeting many applications for users who wish to spy on their loved ones.
WhatsApp is a social app targeted by these hacking companies. As the users are increasing daily, several companies and individuals are trying their best to extract information using WhatsApp hacking tools.
So, this article will give you an insight into some of the best WhatsApp hacking software preferred by the users considering their functionality, services, and security.
Keeping the necessary parameters in mind, here are the top 10 WhatsApp hacking tools designed with the users' experience in mind. Some of these hacking tools are as follows.
Part 1: Minspy— The Best Hacking Tool Of All
Minspy provides some of the best services in terms of tracking WhatsApp messages. Minspy works with many features and is considered to be one of the best apps so far.
Minspy is an advanced tracking app specially designed to monitor the WhatsApp accounts of your loved ones. Keeping these things in mind, Minspy is operating with its services across 190+ countries with millions of satisfied customers.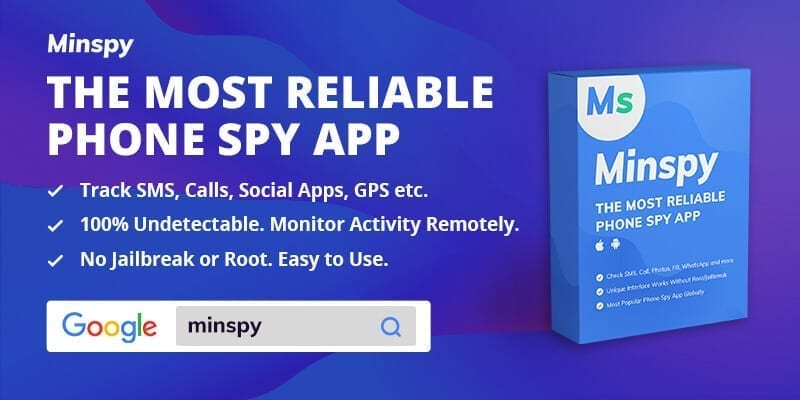 Minspy covers both iOS and Android platforms to ensure that every user can experience world-class services. Minspy provides hassle-free App services to its Android users, and the best part about the Minspy App is that it only requires 2MB of space for its working.
Along with this, users can easily uninstall the Android App if they witness any issues. For that, the users need to remotely access the Control Panel without touching the target's device.
For an iOS device, Minspy is providing a cloud-based iOS solution where you will experience fast services without needing any iOS app for it.
1.1 How Minspy Works As a Powerful WhatsApp Hacker
Minspy is one of the best WhatsApp hacking apps, as millions of customers are using its services without any issues. Minspy is giving its best-available app services to its Android users. The app is easy to download and provides an easy to follow user-guide for users to hack WhatsApp online services.
With the latest stealth-mode feature, Minspy app is way ahead of other hacking apps that are working towards WhatsApp text hacking. With this feature, the Minspy app works even after getting hidden and removing the app icon from the background.
The stealth-mode feature works hand in hand with cutting-edge technology, which takes care of its functioning in a discreet manner.
Since the app is invisible from the users' perspective, the target will not be having any idea about him or her being monitored. The users can then remotely check the target's WhatsApp activities from the Control panel.
Along with the stealth-mode feature, users must hover their eyes to check for other features which are mentioned below:
No Rooting: Minspy Android users spying on others' WhatsApp need no rooting as you can remotely trace any Android device from either your browser or apps. Rooting is not required for the Android users spying on their loved ones on WhatsApp.Thus, Minspy is one of the reliable sources for those users who don't need the complexities of rooting.
OS Support: Minspy is compatible with various operating systems of Android. Minspy works on every Android device with OS 4.0 and above. Thus, this makes Minspy an easily operable app for all types of devices
Installation: The Minspy app is easy to download on all Android devices. As there is no rooting required, Minspy can be easily installed within 5 minutes of its initiation. Users can download the Minspy app by signing up on Minspy App and following the necessary installation procedures.
1.2 Minspy for iOS users
Minspy offers much better services to its iOS users to experience the best available WhatsApp hacking considering the market trends.
Apart from the stealth-mode, the iOS version requires no app to be downloaded as it is supporting the cloud-based approach to address users' compatibility concerns. In this cloud-based approach, users can access the target's WhatsApp messages via the dashboard.
Other than this, Minspy also provides no rooting or jailbreaking solution for the target's device, which simply helps in ensuring privacy for its users.
Also, jailbreaking makes the app installation procedure a daunting task. Thus, Minspy is an ideal app for those beginners who wish to work on hacking the WhatsApp account of their loved ones.
1.3 How to Use Minspy to Monitor WhatsApp
There might be several questions hovering inside your mind about the mechanism of the Minspy Android App.
So, here are the points that users need to keep in mind while installing the Minspy App. These are as follows: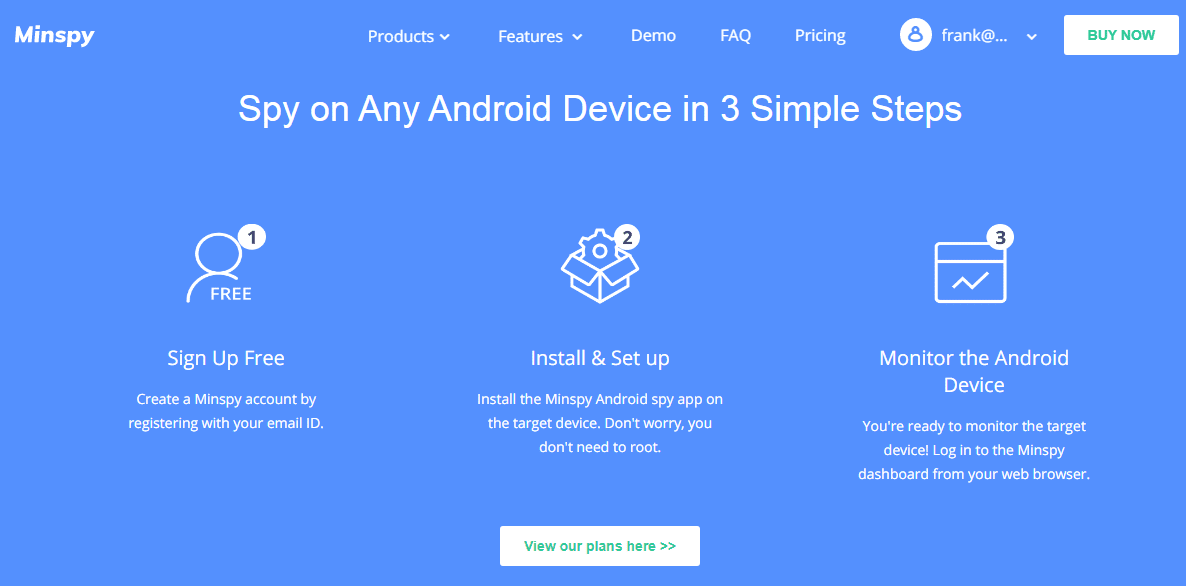 Users need to first access Minspy official website. After that, users need to just give some required credentials such as Email ID and Password.
After giving the required account information, users can quickly jump to the next section by clicking on the 'Sign up Free' button.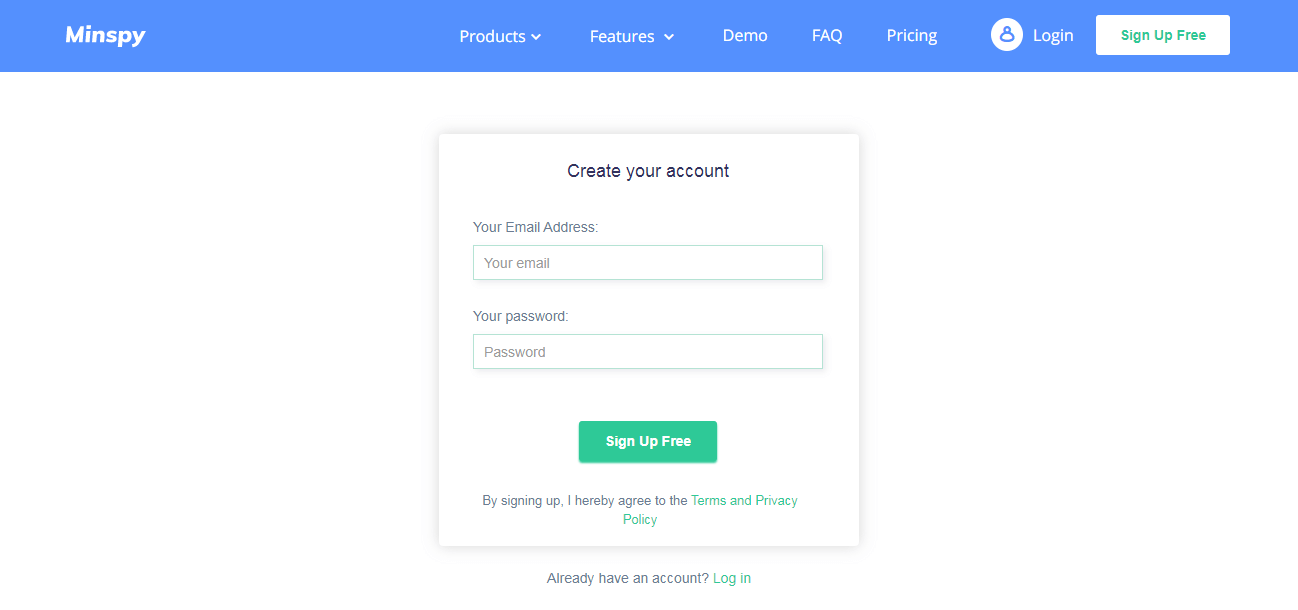 Step 2: Install the Android App
Users need to install the Minspy Android app on the given target device. The best part of the Minspy app is that users need not to worry about rooting.
Minspy App installation will simplify the whole process accordingly, and it will not void the warranty of the target's phone.
Step 3: Get ready to witness the App functioning
After installation, users will get direct access to the target's WhatsApp account with a host of some other features. Then, users can log in on the Minspy dashboard from any web browser.
For users' convenience, users can witness the power of Minspy live demo test to get more insight into the Minspy app working. All these will make your vision clearer about the importance of the Minspy Android App.
There is a video that explains vividly:
1.4 Tracking WhatsApp Messages Without Downloading and Installing Anything
Minspy a significant impact on those tracking iOS devices by delivering top-notch facilities to iOS users as well.
With the advanced cloud-based concept, the iPhone tracking process gives a fierce competition to Android to help you experience a hassle-free hacking service. The Minspy iOS features require no physical access to the device, and users need not install any app for it.
So, here are some of the procedures to be followed by users for activating their iOS devices. These are as follows:
Step 1: Sign-up for Minspy account.
Users need to type the Minspy official website. There, you can sign-up for a Minspy account by giving these some essential credentials such as your email address and the password.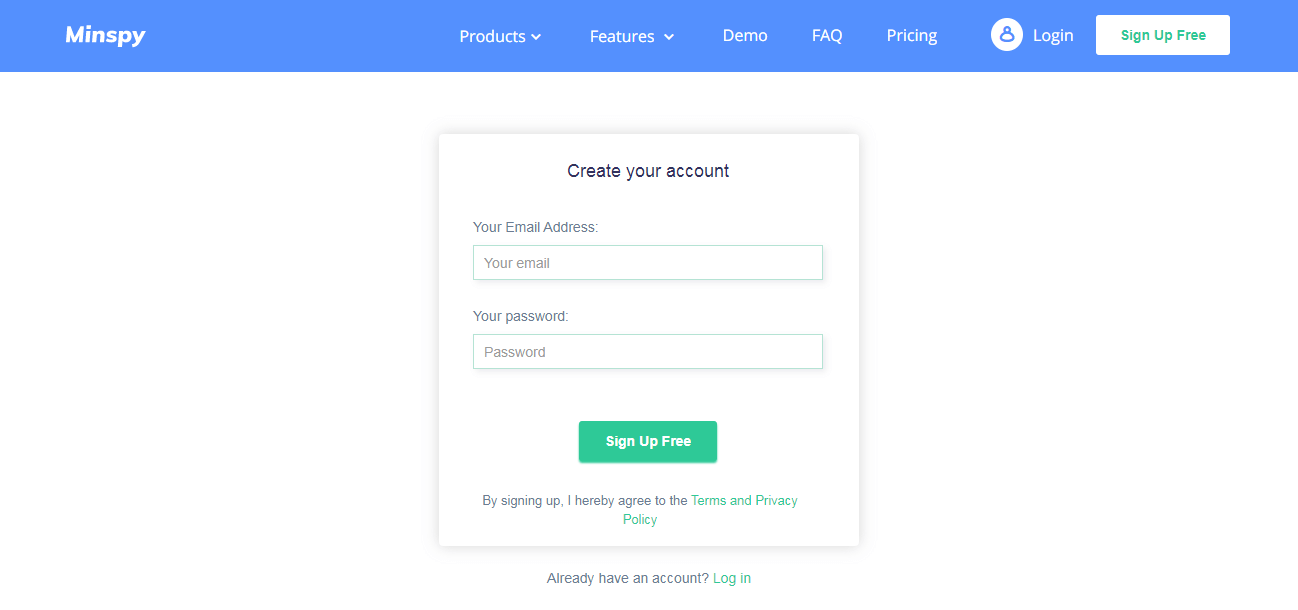 Step 2: Mention information about target iPhone Credentials
After an easy sign-up, you need to provide some necessary credentials about the iCloud account of the target's ID, i.e., the username and the password. You just need to ensure to enter the information correctly.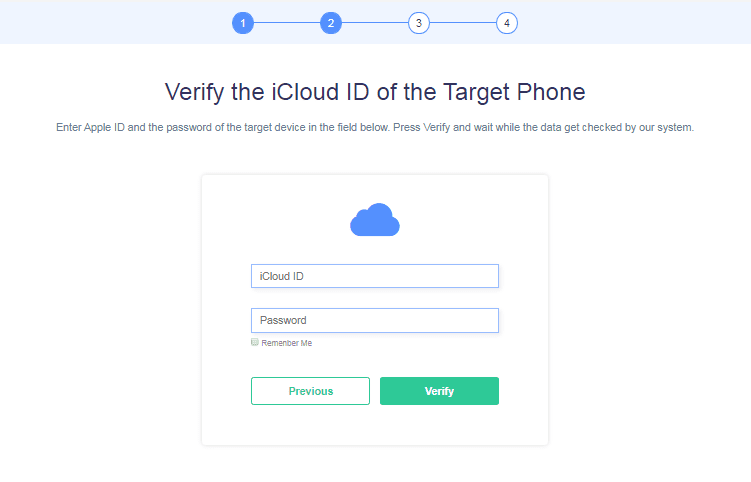 Step 3: Hack the target's WhatsApp account
Now, after providing iCloud details, the iOS app will sync the required data. The process will consume time, depending upon the processing of the data.
You must then refer to the Control Panel via a remote device. There you must log in with correct Minspy details.
After that, you must continue to the Dashboard section, where you will have to proceed ahead by clicking on the relevant part given on the navigation pane on the left-hand side.
Don't miss: How to Hack WhatsApp by Phone Number
If you wish to see WhatsApp social media messages, then you must click on 'Social Media Apps' section where you can monitor WhatsApp along with other Social Networking sites as well.
Part-2: WhatsApp Hacking Software: Spyier
Spyier is another application for those users who wish to hack the WhatsApp account of their loved ones or employees on company devices.
It is even beneficial for those users who have damaged their phone or cannot receive essential texts and information. In such cases, Spyier turns out to be a lifesaver.
Spyier is a WhatsApp hacking software that can hack the target's phone remotely. Spyier is compatible with both Android and iPhone devices.
Spyier is also a hidden spy application that can track the mobile phone via GPS location. The parameters such as calls, contacts, and photos, messages, and even social media accounts can be easily hacked using Spyier.
Using Spyier, every mobile phone can be accessed. Now, through Spyier, users will get detailed information on their mobile phones on one click.
2.1 Using Spyier to Monitor WhatsApp Messages
When you talk about Spyier, you must witness the powerhouse of this WhatsApp hacking tool due to its multiple-functionalities.
So, Spyier is a complete package as it supports both Android and iOS devices. The Spyier platform does have an app for those users who wish to use it regularly.
The Spyier App for Android occupies only 2 MB of space, so you can quickly get an idea of the app being lightweight. Along with this, the Spyier app is fast and easy to install and will typically take about 5 minutes or so.
Spyier app is ideal in those scenarios where you want to hack the complete WhatsApp system without the third-party getting suspicious about the case.
Spyier app also supports the stealth-mode, where one can easily hide/remove the app icon after installation. Thus, Spyic app keeps running in the background without getting close.
With the inclusion of cutting-edge technology, things become easier for this app working in discrete mode.
Another thing to note is that Spyier is also ideal for iOS devices working in the cloud-based solution. So, users need not download Spyier App as you can easily access the WhatsApp details of the target through Spyier iOS dashboard.
Another cool thing to note about Spyier is that remote uninstallation is possible with the one-touch feature where you can easily detach yourself from all the Spyier services. For that, you will need to go to the control panel and uninstall it from the target's device remotely.
Part-3 Spyine: Another WhatsApp Hacking Tool of Choice
You can also switch to Spyine, which is another powerful tool like Minspy app. The Spyine app favors multiple features that are quite compatible and user-friendly.
Spyine also supports Android as well as iOS users, where Android targets can be spied using a powerful app. But for the ones having iOS devices, Spyine gives a cloud-based approach for the best experience without an app.
Spyine ensures users' safety by providing proper security planning by introducing some unique features in Android and iOS devices.
Spyine allows you to access the target's WhatsApp media files, such as videos, pictures, and voice messages directly from the Spyine dashboard. This feature is quite useful for those who wish to spy on the WhatsApp media files of their loved ones.
Other than these features, Spyine also provides the WhatsApp spy service without any jailbreaking or rooting. Thus, it makes Spyine a safer place to hack someone's WhatsApp.
Part 4: Spyic: Trusted WhatsApp Hacking Software
Spyic is one of the universal hacking apps you will witness while searching on the Internet. So, you can very well imagine the number of users it has worldwide. It is one of the trusted apps where one can easily trace their loved ones and even the social media apps.
Spyic supports both Android as well as iOS users. So, the device type you wish to hack shouldn't be much of a concern as Spyic is compatible with both of these mobile operating systems.
Spyic has over 35 features loaded, which spy on various social media such as Instagram, Facebook, and WhatsApp.
One can easily access the incoming and outgoing messages, Whatsapp chats and contacts, timestamps, and media files via Spyic dashboard. You can spy on various activities occurring on the target's social media, especially WhatsApp.
The best part is that Spyic users will experience all these features remotely and need no forms of rooting or jailbreaking. Thus, it makes it more reliable for those users who wish to concentrate only on the positive outcomes.
Spyic app openly supports the stealth-mode, where users can easily hide or even remove the Spyic app icon after its installation. Thus, Spyic App will keep running in the background even after getting close.
With an introduction to cutting-edge technology, things are becoming easier for this Spyic app to work in discreet mode.
Part 5: Cocospy: A better solution for WhatsApp Hack
You can't complain about the contribution of Cocospy in changing the scenario of the WhatsApp hacking as it complies with every parameter in much more accessible ways.
The Cocospy app is sure to make its mark as it is adapting to the changing technological trends in tracking and spying.
Cocospy, as a WhatsApp hacker application is doing a commendable job as it is catering to the changing needs of its users.
With Cocospy, you can easily hack into the target's WhatsApp account and can monitor it accordingly. Cocospy allows its user to look into all the media files as well as messages from the specific device.
One of the fascinating features of Cocospy includes checking into the deleted WhatsApp messages from the target's device.
Cocospy comes out to be the most reliable and ultimate spy application. There are some pros associated while using Cocospy. Some of these features are as follows:
SMS Tracking: When it comes to checking on SMS, the Cocospy Apps helps to track SMS and other social application as well.
GPS Location: You can easily track the target's place with the help of Cocospy.
Installation: With some quick installation mode and the Stealth-mode, the Cocospy App can turn its icon into the invisible mode, especially for Android. So, the person whose WhatsApp application is being spied on will never realize it.
Jailbreak/Rooting: Cocospy does not support any rooting or jailbreak in the target's device.
Multiple Languages: The best part about Cocospy is that it supports various languages for its users.
Part-6: Mobistealth: Spying into WhatsApp Account
Mobistealth is a WhatsApp spy hacker that can help you in spying on a WhatsApp account. It is an application that can help you monitor the WhatsApp account of your loved ones.
Mobistealth is a specially designed software that will help in the surveillance of a mobile phone. You can check every daily activity of the target's phone from scratch.
Mobistealth can check up on some of the widely used apps and functions such as calls, text messages, social media sites, emails, and much more.
Though Mobistealth is somewhat operable, still it poses a lot of problems such as:
Jailbreak: The problem arises in the iOS devices where Mobistealth fails to work. As a result, it requires jailbreaking and hence turns out to be a less reliable option.
Complex: Mobistealth fails to live up to the expectations of the client as the software works with a complex mechanism.
Customer Support: Mobistealth has some bad customer experiences as far as solving customer queries is concerned.
Part-7: Phonespector: WhatsApp Spying Platform
Phonespector delivers tracking and hacking services to its users with some excellent features. It is a cell phone monitoring service that can monitor various social media sites.
Phonespector is specially designed for surveillance of the mobile phone through GPS. You can check the daily activities of the target's phone via Phonespector.
Phonespector features multi-functionality such as monitoring calls, text messages, social media sites, emails, and much more.
Phonespector can be a good option, but it is not recommendable due to few reasons given below.
The app requires jailbreaking or rooting to work. Also, it is complex to use. The app also does not have good customer support.
Part-8: Xnspy: WhatsApp Spying Platform
Xnspy is a WhatsApp spy app specially designed for the parents keeping an eye on their children. However, the app can present compatibility issues and is not the easiest to use on a target device.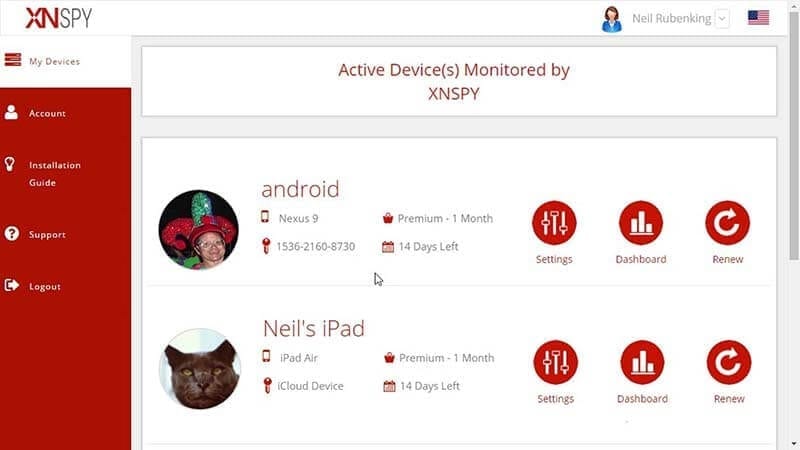 The only best part is that Xnspy offers a Stealth-mode, which helps in spying on the target's messenger quietly.
Rest the Xnspy app has several disadvantages which are as follows:
High-Price: The service which Xnspy offers is quite costly. So, it becomes difficult for some of the users to purchase for the extra-functionality.
Jailbreaking: Xnspy doesn't give a great experience due to the requirement of jailbreaking or rooting, which can make it vulnerable to malicious entries.
Complex: Xnspy turns out to be a complex app when it comes to handling it. It is not as user-friendly as Minspy.
Part-9: iKeymonitor
iKeymonitor is one of the reliable monitoring apps for those users who wish to spy on their loved ones. With each message being passed on WhatsApp, iKeymonitor will give every update to its users.
iKeymonitor gives unlimited access to the contact details and voice notes, which is present on the mobile device of the target user. Screenshots can also be taken from the target's phone with the help of iKeymonitor.
The only big problem arises where you require rooting as well as jailbreaking the target device that makes it less reliable for iOS users. Along with this, iKeymonitor is also complex to use.
Part-10: Flexispy
Flexispy is another app for those who wish to monitor WhatsApp on devices such as tablets, phones, and computers. It provides a hassle-free installation process, and it monitors every Android as well as iOS device.
Flexispy also uses Employee Monitoring and Parental Control as its features for better results.
However, Flexispy requires jailbreaking for iOS devices and thus, it becomes a less reliable option for the users to spy using it.
Conclusion
Users must pick the best WhatsApp hacking tool for proper functionality. With some of the best monitoring platforms such as Minspy, Spyic, Cocospy, Spyier, and Spyic, users have the best WhatsApp hacking software at hand. Click here to learn more about hacking apps.
You can use these apps to see incoming and outgoing messages as well as media files that are exchanged. There is no need to root or jailbreak to use these apps, which makes them ideal for beginners.
Reference
This post is also available in:
Deutsch (German)
Español (Spanish)