You have a right to the truth. This is especially true if it directly impacts your loved ones or your life in some way:
Your child is disturbed and not themselves lately. You think they are being bullied or abused in some way, but they won't confide in you.
Your spouse isn't the same person they used to be. You think they might be cheating on you with someone, but you aren't sure.
Your employee, you believe, is stealing company secrets. You don't have the proof you need to fire them, though.
In the Digital Age, finding out the truth usually means spying on someone's phone. That's where most of the hidden activities happen. It's definitely cheaper than hiring a private eye to follow them around.
In this article, we bring you the 10 best free hidden spy apps for Android that are undetectable and allow you to monitor someone's phone on the sly. You can use them risk-free to monitor someone's phone, without damaging your relationship with the person.
Note that many of the apps on this list only offer a free trial or demo and aren't forever free to use – legitimate spy apps are expensive to create and maintain.
#1 Minspy – Sneakier Than the Stealthiest Cat Burglar
Minspy is reputed to be one of the stealthiest spy apps on the planet. It's been featured on prominent media channels worldwide, including TechCrunch, Lifewire, Reader's Digest, and Newsweek. Over a million people worldwide use the app at the moment.
You can use Minspy to monitor any modern Android smartphone or tablet running OS 4.0 and up. The app has a web-based interface, meaning you can access monitoring data online via any web browser. You get regular monitoring updates without touching their phone.
When you use Minspy, you don't need to worry about your privacy. The app operates under a strict privacy code and doesn't ever store your personal details or share them with anyone. The other apps in the market may not do the same.
1.1 What makes Minspy so incredibly stealthy?
Minspy is impossible to detect on Android. The target user will never know you're watching them. The app allows you to monitor both smartphones and tablets in secret remotely.
Why is Minspy impossible to detect? Minspy for Android is a tiny 2MB software utility. You need to download this and install it on the target phone or tablet. After the installation process is complete, you have the option to hide the app.
Once the app is hidden, it runs secretly in the background. The app icon disappears from both the app drawer as well as the installed applications list. Minspy will spy on the user in stealth, without draining the battery or slowing down the phone.
As the app is so small and well-hidden – and it doesn't require much battery to run – the user will never know it's there! You will be able to monitor them in secret and receive monitoring data on the online dashboard.
1.2 How do you set up the Minspy spy app for Android?
You can set up Minspy for Android with the help of any smartphone or computer. You'll need a stable internet connection and brief physical access to the target device you want to spy on. To enhance your online security, it's recommended to set up a VPN on your Android device. You don't need any special technical skills.
The installation process is simple and takes only a few minutes of your time. You will need to download and install a small app on the phone or tablet you wish to spy on.
**Beware: There is no hidden spy app for Android on the market that can work without a software installation on the target phone. If you find such an app or a service, it's fake! It's a scam, a virus, or an attempt to steal your personal data**
Follow these steps to install Minspy for Android:
Step 1: Sign up for a Minspy account with the help of your email ID on the official website. Your email ID becomes the username.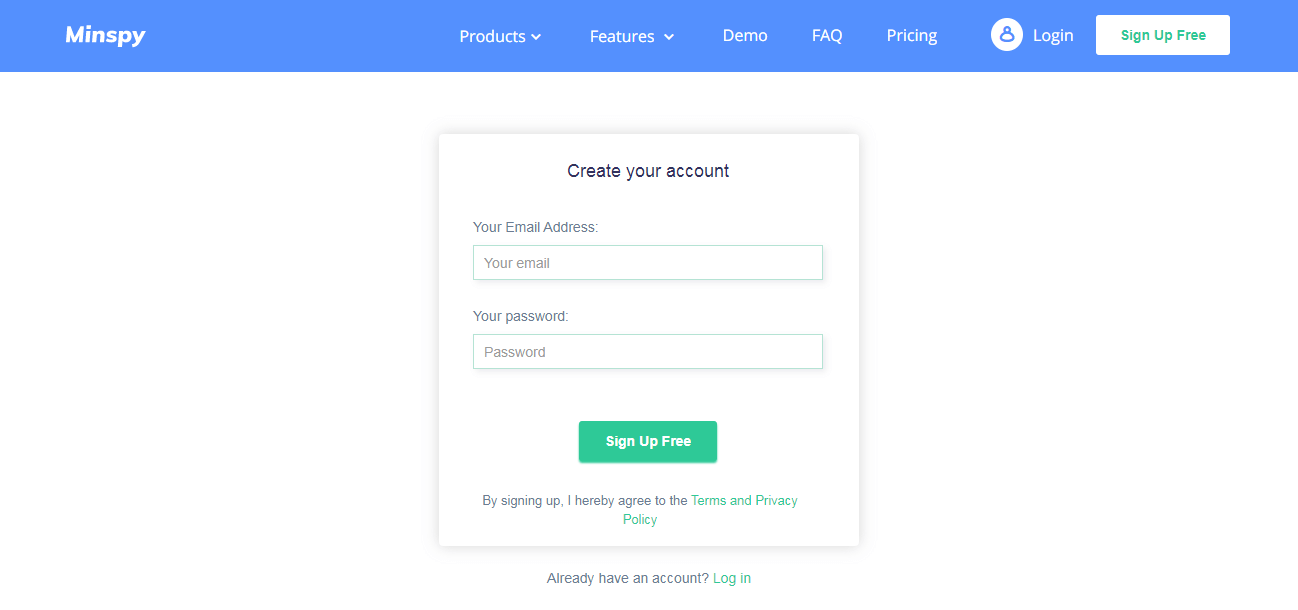 Step 2: You will need to purchase a monthly subscription next. The Premium plan allows you to monitor a single device while the Family plan is if you want to monitor multiple devices.
Step 3: You will receive setup instructions on the email ID you registered. Start up the Setup Wizard and set Android as the target platform.
Download the Minspy spy app on the target device. Follow the on-screen installation instructions. Once the installation is done – it takes only 2 minutes – you can hide the app. Wait for a few minutes until Minspy syncs with the device.
Step 4: That's it! You can now monitor the Android smartphone or tablet remotely from your web browser. It's completely anonymous. You don't need to touch the device again nor do you need to be near it to spy on it.
The dashboard gives you an overview of what the user is doing on their phone. The various other phone options can be found in the selection panel on the left.
Check out the Minspy free live demo before you purchase the app!
1.3 What phone features can you access with Minspy?
What can Minspy do for you? The app gives you access to a multitude of powerful phone monitoring features:
Read messages: You can read someone's incoming as well as outgoing messages by using Minspy. This includes their deleted messages as well.
Check call logs: Minspy allows you to check their incoming and outgoing calls. The call log provides details like contact names, call durations, and timestamps.
View contacts: You can browse through their contacts book with Minspy. You get to see names, phone numbers, addresses, job designations, email addresses, and more.
Follow locations: The app can track the phone's location in real-time. You also get to see past locations pinned on a virtual map, with details like geographical coordinates.
Find login details: The in-built keylogger can help you find out their usernames and passwords. A keylogger is a program that records keystrokes as they are typed.
See social media: You can view their activity on social media platforms such as Facebook and Twitter.
View browser history: Finally, Minspy allows you to follow their browser history and view details like favorite websites, site descriptions, and site visit frequency.
Minspy supports several other features in addition to the ones mentioned here, including an email reader, a notes viewer, a calendar dates log, and much more!
1.4 Why is Minspy the number one hidden spy app for Android?
Minspy is at the top of our list because it offers an excellent combination of features and usability:
Your personal details are safe
Unlike with many spy apps on the market, Minspy takes your privacy seriously. Your personal details are never stored anywhere nor are they accessible to the staff. You can use the app without compromising your privacy.
Minspy works without rooting
Minspy is one of the only apps in the market that allows you to access so many advanced phone monitoring features without the need to root the target device. The app works on stock version of Android.
Because you don't need to root, you can use Minspy in a risk-free way. You don't need to void the device warranty or worry about infecting it with malware.
The app operates remotely and conveniently
As Minspy has a web-based interface, it is very convenient to use. You can access the app remotely from your phone or PC web browser. You don't need to be near the target Android smartphone or tablet. You can monitor it from anywhere at any time.
The app can be trusted
More than a million people in 190 countries from around the world have used Minspy. The app has been extensively tried and tested. You can rely on the app to work as advertised. It works effectively and is worth your time.
You get your money's worth
Finally, Minspy offers a multitude of powerful features at an affordable monthly fee. The app costs about as much as a movie DVD for a full month of use. You can monitor multiple Android devices at a discount price.
#2 Cocospy – They Will Never Even Guess It's There
The second hidden Android spy app we have for you is called Cocospy. This is a well-known app with an excellent reputation. The app is popular worldwide and offers multiple powerful spy features. You can use the app to monitor any latest Android phone or tablet.
Cocospy has received solid reviews on online media channels like Forbes, CNET, and BBC. The app has been extensively user-vetted. You can trust the app to work right. Additionally, the app offers an excellent amount of privacy.
2.1 You can monitor someone's phone 24/7 while staying hidden
You can use Cocospy to monitor someone's phone 24/7 in stealth mode. The app is one of the best Android spy tools in the market:
Cocospy is super stealthy
Cocospy is a super stealthy phone monitoring utility. The Android version works hidden in the background, operating without the user's awareness. It doesn't slow down the phone or use up the battery, making it impossible to detect.
You can set it up in a stress-free way
You can install Cocospy in a matter of minutes. The installation instructions are clear and easy to follow. The app works on the target Android smartphone or tablet without having to root the device. The web-based interface is intuitive and fun to use.
You can rely on the app
Cocospy is a known brand name in the market. It's a favorite with parents who are looking to keep an eye on their children and people who want to keep tabs on their straying spouses. The app can be trusted to work without putting you at risk.
The app is secure
Spy apps often get hacked and their user data stolen. It has never happened to Cocospy though. Further, the app never stores your personal information in any way, meaning you are safe to use the app without worry.
2.2 The features that make Cocospy a top-tier phone spy app
You get a full suite of phone monitoring features with Cocospy. The app allows you to see almost everything that's happening on the target device:
You can read someone's personal and group text messages.
You can see their call logs and contact information.
Follow their movements on a virtual map with a 3D street view enabled.
See their written notes and emails.
Find out the usernames and passwords for their online accounts.
#3 Spyier
Next up, we have an app for you called Spyier. This is a top-rated phone monitoring utility for Android. You can use it to remotely spy on any phone or tablet. You get app monitoring data delivered to your online dashboard, which you can access from anywhere.
The app offers several handy features:
You can monitor texts as well as social media messages.
You can check their incoming as well as outgoing calls.
The app has a keylogger which allows you to capture usernames and passwords.
Spyier is one of the best apps around
Spyier is one of the best apps on the planet:
You can use the app without rooting.
It's impossible to detect when it's hidden.
The app is trustworthy and has a solid reputation.
As you can use Spyier without the phone user finding out and comes with multiple handy features, it's one of the best apps on the planet.
#4 Spyic
The next app on the list is called Spyic. This is an app with a solid stealth feature for Android. You'll be able to use the app to spy on someone's Android phone or tablet without them finding out. The app has an excellent privacy policy too, so your data will remain yours.
Spyic comes with a list of solid features:
You can view messages, call logs, and locations without being found out.
The app supports a keylogger function that records keystrokes.
You get a social media apps monitoring feature.
Spyic is an outstanding solution
You won't be disappointed with what you get:
The app is as stealthy as a ghost.
You can use the app and uninstall it remotely.
The app brings you regular monitoring updates.
Spyic is fourth on the list because the app works well and offers excellent features.
#5 Spyine
Spyine is a top remote surveillance and monitoring program. In addition to using it to spy on someone's Android phone or tablet, you can use it to create a backup of your own phone. Spyine comes with a free demo and is available for a reasonable price.
The app offers several excellent features:
You can check contacts and call logs.
The app shows you the web browser history.
You can capture usernames and passwords.
Spyine is one of the safest apps to use
You can trust Spyine:
The app runs hidden in the background on Android.
It's secure and safe to use.
The app offers a user-friendly interface.
Spyine is safe and easy to use, making it the 5th recommendation on our list.
#6 Fami360
Fami360 is an exclusively for parents phone monitoring utility, but you can also use it to secretly monitor someone's Android device. The app is designed to allow parents to keep an eye on their charges 24/7.
Fami360 offers several great features for parents:
You can check your kids' text messages and social media messages.
You can view their calls and call logs.
You'll be able to follow your kids' movements on a virtual map.
Fami360 is private and easy to use
Fami360 was designed to be easily accessible to everyone, regardless of their technical expertise:
The app keeps yours and your kids' personal details safe.
The app can be hidden.
You don't need special skills to use it.
Fami360 is one of the best-hidden spy apps for Android around because it's parent-friendly and reliable.
#7 Copy9
Copy9 is a well-known phone spy app. It's most famous for its FB password cracking feature, but also offers other phone monitoring features. The app allows you to keep tabs on anyone's Android phone.
Copy9 is a good app:
The app can monitor calls and messages.
It comes with a solid keylogger.
Copy9 is somewhat obsolete
Copy9 may not work on all modern Android devices:
The older the Android firmware, the more likely that Copy9 will work.
The app has an outdated user interface.
The app is also hard to use, though your mileage may vary.
#8 StealthGenie
StealthGenie was once one of the most popular spy apps around. Unfortunately, the app has been in a spot of trouble lately. Still, the app offers amazing features and has received many a positive review from its customers.
The app offers amazing remote monitoring features:
You can use StealthGenie to control the Android phone.
You can wipe the phone clean remotely.
StealthGenie might not be available for purchase
We mentioned StealthGenie has been in trouble recently:
The app has been categorized as a wiretapping device.
The CEO has been put in jail.
As the StealthGenie solution may be more trouble than it's worth, it's at number 8.
#9 Auto Forward
Auto Forward is a well-known employee and children monitoring solution exclusively for Android. The app comes with a stealth feature, so you can use it to monitor Android devices without being discovered.
You get some amazing features with Auto Forward:
The app can be set up in a matter of minutes.
You get powerful features like a screen capture tool.
Auto Forward is very expensive
We can't recommend Auto Forward because it costs a lot:
You pay almost $70 per month to monitor a single device.
You pay separately to monitor every additional device.
Because Auto Forward is so expensive, it's at number 9 on our list.
#10 GuestSpy
The last solution we have for you is called GuestSpy. This is a free spy app for Android that's undetectable. You can use the app anonymously, without worry that the target user will find you out.
GuestSpy offers respectable features:
You can record calls, messages, and more.
The app can monitor social media without root.
GuestSpy is an outdated solution
GuestSpy hasn't been updated in a while:
The app only runs on Android 2.0 to 5.0.
The user interface is outdated
While GuestSpy is free to use, the lack of compatibility makes it hard to recommend.
Conclusion
We hope you find our recommendations for the top 10 best free hidden spy apps for Android undetectable come in handy!
You can use any app on this list, but we recommend the first few entries for the best results, as those apps work without root and offer several solid features,such as monitoring SMS, tracking location, monitoring Internet history.
This post is also available in:
Deutsch (German)
Español (Spanish)