Mobile GPS location trackers are extremely useful. They can help you keep an eye on your loved ones and ensure their safety. They can also help you discover the truth. Here are some cases where you may need a phone GPS tracker:
You want to track your child phone. You think they are being led astray by a bad influence or you just want to make sure they're getting home on time.
You have a problem employee who you think leaves the work premises during work hours without informing anyone.
There's a problem with your relationship with your spouse. You want to know if they are visiting a secret lover when they are away from you.
If the person you want to track knows you're watching, they will probably figure out a way to give you the slip. It's best that you look for a way to track their cell phone location without them knowing.
We show you how to track a cell phone location without them knowing in this article with the help of two GPS cell phone trackers.
Part 1: How to Track a Cell Phone Location Without Them Knowing
The first mobile GPS location tracker we have for you is called Minspy. This is a phone monitoring solution with a powerful cell phone GPS tracker built-in. You can use Minspy to track both Android as well as iOS devices.
Minspy comes recommended by global online channels like BBC, The New York Times, Newsweek, and PC World. A million-plus users around the planet currently make use of the app to keep tabs on their loved ones.
Minspy is a private mobile GPS location tracker. You can use the app without compromising on your privacy. It doesn't store your personal details or make them available to anyone. You can use the app safely, which isn't always the case with many other solutions.
1.1 Minspy – Track Them Discreetly, Conveniently, and Remotely
With Minspy, you can track someone's GPS location remotely via your web browser. You get constant location-related updates on the online dashboard. The app is simple to use and works in stealth mode. You can track them without them knowing!
Minspy's iOS solution is a web-based utility. It works without a software download. You don't need to install anything on the target device. Instead of working with the device itself, the app works with the iCloud account linked to the device.
As there's no software installation involved and you don't need to jailbreak the device, Minspy for iOS is completely stealthy! You can use the app to monitor someone's location remotely.
Minspy's Android version, however, is a small 2MB app. You download and then install this app on the target phone or tablet. You can hide the app afterward. The app runs in secret, tracking the phone's location and sending data to your online account.
As the Minspy for Android solution is tiny, hidden, and runs in secret without draining the phone's battery, it can't be found out!
1.2 How to Secretly Track A Cell Phone Location Without Them Knowing
Now you know you can track a cell phone location without them knowing with Minspy for Android and iOS. But how do you set up the app? Is it difficult? Not at all!
You can install Minspy in a matter of minutes. You don't need any advanced technical skills or knowledge. You just need a computer or a phone with a net connection.
For iOS, you will need the iCloud credentials. For Android, you will need to briefly access the device.
**Beware: You can't track an Android device discreetly without installing software on it first. No service or app in the market can do so. If you find such an app or service, it is a scam. We recommend you stay away!** 
Here are the steps to follow to secretly track a cell phone location without them knowing by using Minspy:
Step 1: Sign up for a Minspy account on the official website. You will need to register your email ID as the username.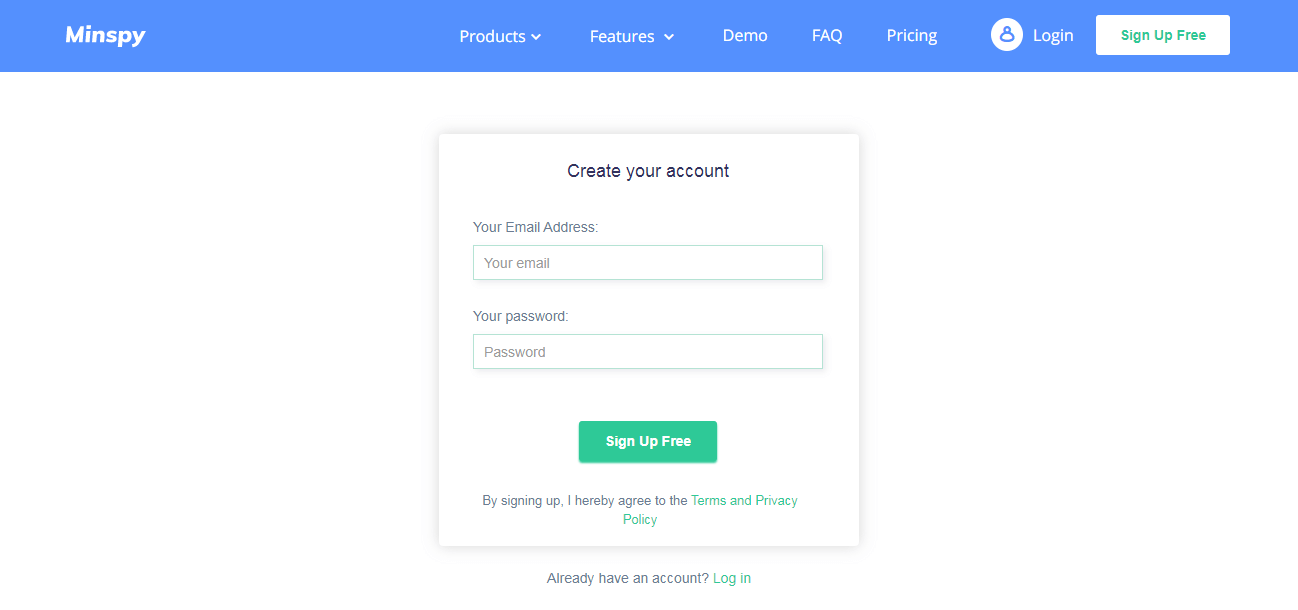 Step 2: Pick the monthly Minspy subscription you want to buy. You can track a single device's location by signing up for the Premium plan. If you want to track multiple devices, you can choose the discounted Family or Corporate plans.
Step 3: Find setup instructions sent to your email ID. Start by choosing iOS or Android as the target platform. The follow the steps on your screen.
Do you want to track the location of an iPhone or an iPad? Choose iOS as the target platform and enter the iCloud username and password of the account linked to the device. Wait for a few minutes until Minspy syncs with the device.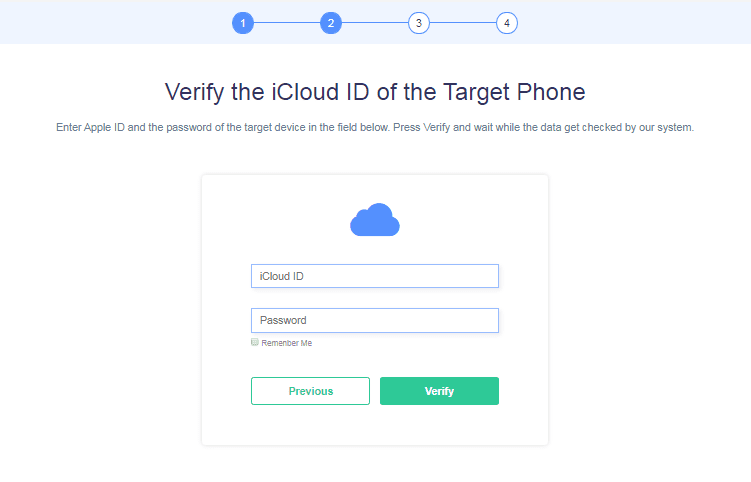 Want to track the location of an Android phone or tablet instead? Choose Android as the target platform and then download and install the Minspy cell phone location tracker software on the phone or tablet. Hide it and then wait for a few minutes until Minspy is ready.
Step 4: You're done! You will now receive location-related data in your Minspy dashboard. Look for it in the "Location" option in the selection panel on the dashboard. You can log into the dashboard via any web browser.
There's also a Geofence option that allows you to set up a virtual perimeter around a location for some compatible devices.
Check out the Minspy free live demo and see the Location tracker for yourself before you purchase the app!
1.3 Minspy can track phone locations in real-time
You can use Minspy to track locations in real-time on a virtual map. Here's what the app can show you:
Track their real-time location: You can follow their cell phone's location in real-time with Minspy. The movements can be seen on a virtual map in real-time. As long as they have a mobile data connection or are in WiFi range, you can track them.   
View their past location: You'll be able to see their past movements with Minspy too. You can check all the places the target has been to in recent weeks. View addresses, neighborhood, city, state, and other information.
Check time and date entries: Location entries and exits come with a timestamp. You can tell exactly when the person entered a particular location and on what date. This is invaluable information.
Start 3D street view: Finally, the Google 3D street view integrated feature is a nice bonus. It allows you to view pictures of streets and buildings to see the kind of places the person you're tracking has visited.
1.4 Know when they arrive and leave with the Geofence feature
Minspy also comes with a handy geofence feature. What's a geofence? It's a virtual zone that you create on a map. When the phone or tablet enters the zone, you receive a notification. If the phone or tablet leaves, you also receive a notification!
You can essentially create watched zones around critical areas – like your home, your child's school, your employee's workspace, and your partner's place of work. When they leave the zone or enter it, you will receive a notification.
The geofence feature can allow you to better keep an eye on someone:
Did your child enter the school premises on time? Did they leave school on time? Check with the geofences.
Is your spouse leaving work before they should? You will find out by placing a geofence around their work area.
Are your employees leaving premises when they should be working? The geofence feature will notify you if that happens!
You can create multiple geofences, so you can watch several virtual zones at once. You will be able to track someone 24/7 with it.
1.5 Minspy is an industry-leading location tracker
Minspy's GPS tracker for phones and tablets is cutting-edge and highly reputable:
Your privacy is guaranteed
You can use Minspy without fear for your privacy. Some location trackers record your personal information and maybe even sell it. Minspy, however, operates with a strict privacy policy. Your personal details are never stored on the servers.
Your personal details are never at risk when using Minspy. The app is one of the most trustworthy ones around.
The app is straightforward to install and use
Minspy is very easy to install. It's one of the only location tracking solutions that work without you needing to root or jailbreak the target device. That means you can install and use the app in a risk and hassle-free way.
As you don't need to root, you won't void the device warranty or open it up to malware.
You can rely on the app
You can rely on Minspy. The app has been extensively tried-and-tested. Over a million people from all over the planet make use of the app. Users include parents, employers, and people in relationships. The app is 100% trustworthy and will provide your money's worth.
It's convenient to access
It's very easy to access Minspy. You can do so from your web browser – remotely and conveniently. You'll be able to monitor someone's location 24/7, even when you're outside. As long as you have an internet-enabled device, you can track the person.
It's available at a reasonable price
You can purchase Minspy at about the cost of a Movie DVD per month. Compared to most other similar apps, Minspy is priced very affordably. You have the option to monitor multiple devices without getting found out.
Apart from location tracking, Minspy offers a full suite of phone monitoring features, including the ability to monitor messages, social media apps, installed apps, call logs, emails, notes, and so much more.
Also Read: How to Track My Boyfriend's Phone Messages Without Him Knowing
Part 2: How to Find A Cell Phone Location Without Them Knowing
We're going to offer an alternative solution that allows you to find a cell phone's location without them knowing. The solution is called Spyic. This is a top-rated parental control and phone monitoring app. It's used by parents worldwide to keep tabs on their children.
Major platforms such as TheGuardian, Reader's Digest, and CNET have reviewed the app in the past. The app comes recommended by concerned parents – it offers several powerful features, including an excellent location tracker.
The Spyic phone location tracker allows you to follow someone's movements in real-time on both Android and iOS. The app is private and anonymous to use. The target will never know you're following their movements.
2.1 Spyic allows you to follow them in secret virtually
You can use Spyic to follow someone virtually without being detected. Here are the top features of the app:
Spyic is a hidden location tracker
Spyic allows you to view anyone's present and past locations without getting found out. The app works remotely on both iOS and Android. The iOS version is fully web-based and so can't be detected. The Android version is a small 2MB app that you can install and hide.
The app is root-free and jailbreak-free
You'll be able to track someone's location without having to root or jailbreak their device with Spyic. This makes it a stress-free experience to both install and use the app, not to mention you won't have to take the risk of jailbreaking or rooting the device.
The app is reliable as well as safe
People from all over the world rely on Spyic. Many parents use the app to keep an eye on their precious children when they can't be there personally, making it a reputable, trustworthy solution. The app also guarantees your privacy.  
2.2 Spyic comes with many worthwhile location-related features
What can you do with Spyic? You can follow someone's movements on a map in real-time:
You can use Spyic to monitor the person's movements on a map.
The person's previous movements will be pinned to the map as well.
There's a location log that records details like addresses, coordinates, and other details.
The Google-3D-View-enabled map can be used to take a look at places up close.
The geofence feature allows you to mark perimeters on a map and then be notified when the device enters or leaves these areas. In addition to location-related features, Spyic offers 24+ phone tracking options.
Don't Miss: How to Track My Wife's Phone Without Her Knowing
Part 3: Frequently Asked Questions
Can I use a phone tracker app without permission from the device user?
That depends on your country. The laws vary from place to place. In the US, parents are allowed to track their children without permission. You can do so secretly too. In other cases, you will need permission. Check local laws to be sure.
Still, countless people use GPS phone trackers without permission or getting caught.
Is there a free GPS phone tracker that works with the number to track the device?
There is no GPS phone tracker that works with the number of the phone to track the device, no. That's because GPS technology is not connected to cellular technology. If you want to track a cell phone with the number of the cell phone, use a people search engine.
Be aware that this option is not a real-time tracking solution.
Do you have to pay a lot of money to use a phone tracking app?
That depends on which cell phone GPS tracker you choose. Some of the best cell phone trackers like Minspy and Spyic are very affordably priced. The other ones are expensive, with some costing upwards of $60 per month per device.
Can I track multiple devices by using a single cell phone tracker?
If you're using Minspy, you can track multiple devices using a single cell phone tracker if you choose the Family plan. With the Premium plan, you can only track a single device. The app works safely and remotely.
Is there a mobile GPS location tracker that's available for free?
If you want to track a cell phone's location that works without the owner finding out, then the answer is no. The legitimate, discreet cell phone location trackers are expensive to build and maintain, hence they are not free. Watch out for free scam apps!
Conclusion
We hope you found our guide on how to track a cell phone location without them knowing useful! You can use any of the two solutions outlined above with your eyes closed. They're reliable, powerful, and – most importantly – as discreet as it gets.
This post is also available in:
Deutsch (German)
Español (Spanish)