Are you looking for a way to track a cell phone location? Well, I would be honest with you- the internet is full of them.
However, you and I both know that most of the phone tracking apps are absolute junk. There is no point in using a mediocre GPS tracking application when you could be doing so much more with a powerful alternative.
Therefore, in the guide today, I would be telling you about some cool phone tracking apps that can give you any phone location instantly. With these apps, you will be able to know if anyone is keeping a tab on your activities.
So if without keeping you waiting, let me start with the guide:
Best GPS Mobile Trackers Online
Since the performance and features of each app varies greatly from app to app, some apps tend to be a better choice than the others. Therefore, I have listed the apps here in the order starting from the best, and moving down from there.
Part 1: How to Track a Cell Phone Location for Free
While many apps are offering cell phone tracking services, no app is giving features like the method that I am going to tell you in this part.
This phone tracking way works best when you want to track the location of someone you care about, such as your child, partner, or spouse. I can bet that you wouldn't have seen anything like it so far:
1.1 Minspy- The Ninja of Phone Tracking
Minspy is a great phone tracking app that can give you live location and so much more of Android phones and iPhones.
The thing that makes Minspy stand out from the rest of the apps that you find on the app store of your phone is that Minspy can track ANY device's location without the person finding out about it. I bet you will not find that among the plethora of apps that you have seen.

Minspy comes with a range of features, with each of the features being important if you are looking for a secret way of tracking a cell phone.
Why Minspy is the Best Location Tracker Online
When it comes to tracking the location of a cell phone, there is nothing better than Minspy. This is because Minspy has a lot of design aspects that are absent in all the other methods of free phone tracking:
Web App:
I can understand the hassle of having so many apps installed on your phone that you forget which is which. This is where Minspy's web app interface comes to be a relief.
You can use Minspy from any web browser that you use, without needing to install any app on your phone or PC. Its interface is simple and minimal, and you won't need to be a tech pro in order to operate it.
Secret Phone Tracking:
One of the grand things about Minspy is that you can know someone's location without them having the slightest idea that you have eyes on them. This is a valuable feature when you want to track the phone of your spouse or child without them knowing.
No Root or Jailbreak Needed:
Of course, you do not need to root or jailbreak the target when you are using a normal GPS tracker. However, the stealth GPS trackers that track a cell phone location without their knowledge usually ask you to root or jailbreak the target device.
Minspy's hidden GPS tracker shines in this regard, as it works without having to root or jailbreak the target device.
Additional Features:
Minspy gives you around 35 more features other than GPS tracking. Each of these features is something that you would be very interested in.
I know it might seem hard to imagine how Minspy would be in action just by reading the guide. This is why Minspy provides you with a free web demo that you can use without needing to signup for Minspy.
Minspy's 'Secret' GPS Tracker
As I told you before, using Minspy's phone location tracker makes certain that the other user does not find out that you are tracking their phone. This is because of Minspy's dedicated solutions for iPhones and Android phones.
When it comes to tracking an iPhone, Minspy does not require you to touch the target iPhone or needing to install any app on it. This is because Minspy for iOS can operate by utilizing the iCloud feature that is present on all iPhones.
With the iCloud feature, all the data of an iPhone gets uploaded to the iCloud server. Minspy will find out about the device's location (and other useful data) form this iCloud backup.
So all you have to do to track someone's phone location secretly is to verify their iCloud credentials with Minspy.
When it comes to tracking an Android phone, every phone tracking method will require you to install a tracking app on the target phone. This is the case no matter whether you use Minspy or any other phone tracking way.
However, in case that you decide to use Minspy, you are promised a 100% stealth operation. This happens due to the special design of Minspy for Android phones. Here is how it happens:
The app size of Minspy for Android is less than 3 MB. This means that the installation of Minspy on their phone happens lightning fast. Once Minspy is installed, the app icon of Minspy will vanish from the target Android phone magically.
The app runs only in the background without triggering any notifications and without consuming any battery. If you ever feel that you want to uninstall it, you can do it remotely through the Minspy dashboard from any web browser that you use.
This makes sure that after the first time access (that too for a few seconds), you won't have to touch their phone ever again. This is how awesome Minspy is!
**If any app says that it can track an Android phone without installing the tracking application on it, that app is fake and you should stay away from it. These methods are commonly used by scammers to bait you into their purpose.**
I know that you are in love with Minspy already (especially if you saw the live web demo that I mentioned earlier). If you want to start using Minspy without having to go through the rest of the list, don't worry. I don't blame you. I will tell you the steps for the same now:
1.2 How to Secretly Track Someone's Phone
Tracking someone's phone with Minspy is a piece of cake, whether they are using an Android phone or an iPhone. In the previous few paragraphs I walk you through the working process of Minspy for these platforms.
Now let us take a look at the steps to use Minspy for each of these platforms:
Steps to Use Minspy
Step 1: Sign up for a Minspy account and get a subscription plan based on the phone you wish to track- Android phone or iPhone.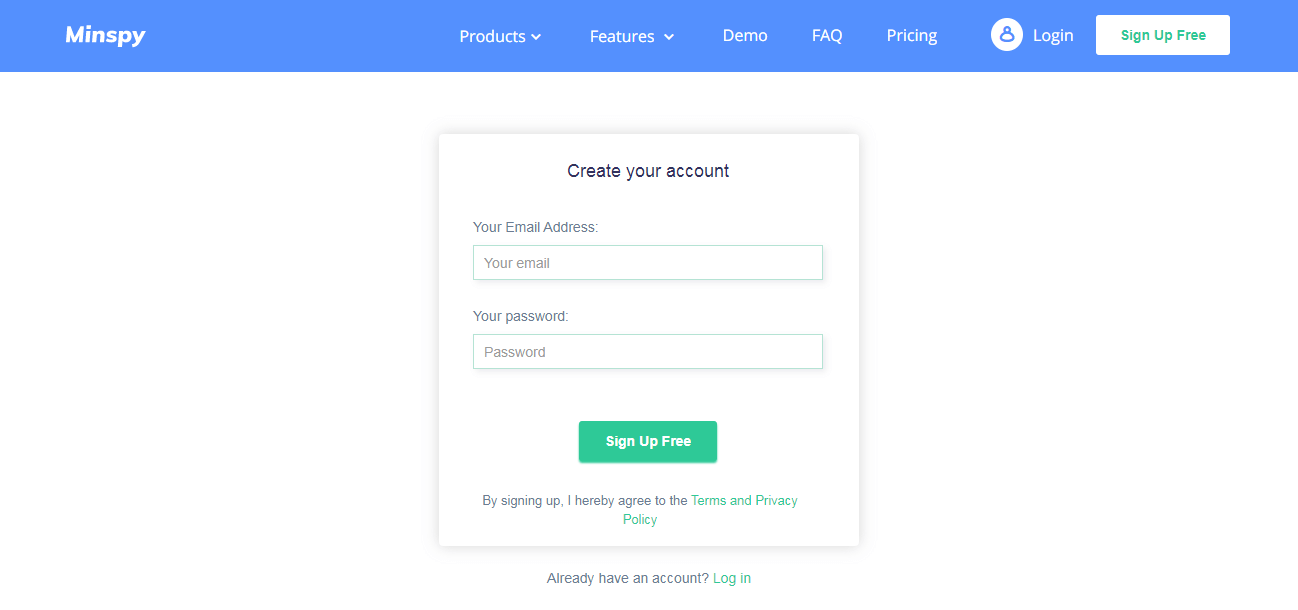 Step 2: a.) To track an iPhone, verify the iCloud credentials of the target phone with Minspy. Needless to say, Minspy will not store these on its server.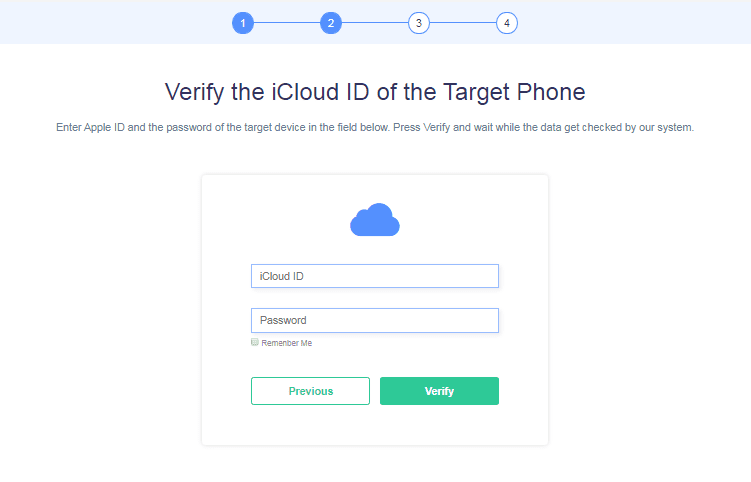 b.) To track an Android phone, you can download and install the Minspy app on the target Android device. If you remember, this app is going to be completely hidden.
Step 3: Once Step 2 is completed and Minspy has synced the data, you will see the 'Start' button. You can click on this to finish the installation and go to your dashboard.
You can use all the features of Minspy through this dashboard. It can be access at any point later by logging into your Minspy account with your username and password.
Also Read: How to Track a Cell Phone Without Them Knowing
When you are thinking about learning someone's location, you are going to find these features helpful:
Locations
The locations tab shows you the live location of the target device at any time. You can also find out the recent locations here along with the timestamps.
Geofencing
If you are looking for location tracking, you are going to love the geofencing feature. It allows you to set boundaries on the device's location on the map. If the device crosses these boundaries, you will get an immediate alert.
I have used countless phone tracking apps already, and I have not found anything to be better than Minspy. If you feel the same, you can start using Misnspy directly without having to go through the entire list. I won't be blaming you as I have been where you are.
Part 2: How to Track A Cell Phone Location for Free with the Number of the Cell Phone
When you want to track a cell phone location, Minspy is not the only way to do it. There are many other alternatives as well which do a good job. So let me tell you about the first one here:
2.1 Spyic – The Remote Cell Phone Tracking Pro
Spyic is a remote cell phone tracking app that can provide you with the live location updates of the other device 24×7. It is available for tracking both- Android phones as well as iPhones.
While Spyic does not have the first spot, it does not make it any less in reliability or working as compared to Minspy. Spyic will not ask you to root or jailbreak the target device in order to work.
Here are some of the things about Spyic that you will love:
User-Oriented Interface:
Spyic's interface is designed to give you complete ease of you. All its features are just a click away. Therefore,  you won't have to sweat hard trying to find how any particular feature works.
User Support:
Talking about user-oriented, Spyic even has a team of people working round the clock in order to provide you with solutions to any issue that you might face. This is unlike most location trackers that you are going to find.
Pricing:
When you are looking for a way to track a cell phone location without them knowing, you will have to pay for the app. These apps do not come free (unless you wish to be scammed).
However, you can choose the amount you pay for such apps, and Spyic tends to have the lowest pricing plans among them all.
Don't Miss: How to Track My Son's iPhone Without Him Knowing
Part 3: How to Track Someone's GPS Phone Location Online for Free
Minspy and Spyier are a great fit for tracking someone's location and they might have already solved your problems.
However, I promised to tell you about the ten best trackers out there, and I will live up to it. Therefore, here is the third-best location tracking app:
3.1 Spyier- The Quiet GPS Phone Tracker
Spyier is a phone tracking application that is used by millions of users globally in order to track someone's cell phone. It is a web app like the ones we have mentioned so far which works for tracking Android phones and iPhones.
You can use Spyier through your computer, mobile, or tablet. After creating a Spyier account, you can log in at any time through their website to your dashboard. There are many features for you to use, and you will not be disappointed by any one of them.
Part 4: How to Secretly Track A Cell Phone Location for Free
If you want the oldest and the most established phone tracking app out there, Cocospy is going to do the job for you.
Cocospy has been in the phone tracking field as long as smartphones have been around. It is a full-fledged phone monitoring application for Android phones and iPhones, and is a good fit if you want to track the whereabouts of your partner or your children.
Cocospy has even been reviewed by the top technology outlets out there such as Forbes, Techradar, PCMag, etc.
If you want a flawless phone tracking solution, Cocospy is sure to make you feel happy that you chose it.
Part 5: How to Track A Cell Phone for Free (For Android)
While these are all third-party apps to track a cell phone, there is a default Android solution in case that the phone you want to track runs on Android OS.
While this way is free to use, you should keep in mind that you do not get to use it to track someone else's phone. You can only use it to track your own phone.
Further, this way does not have any option to track a smartphone in stealth mode.
Find My Device
Android's Find My Device is a tracking service offered by Google which lets you track the location of your lost phone or misplaced phone through GPS.
Find My Device requires you to log into your Gmail ID, which makes it very tough to track the phone of someone you do not know.
In order to use the Find My Device feature, you will have to enable location history on the phone you wish to track. You can do this by opening the maps app. Once it is open, you can go to 'Settings'>'Personal Content'>Location History is On.
Once this setting is turned on, you can track the location of the target phone at any time. You just have to log into your Google account through the Find My Device website, or through the Find My Device app on any Android phone.
Part 6: How to Find My Phone Location by Number (For iOS)
While Android's Find My Device is a good way to track your own cell phone, it only works if you use an Android phone.
If you want to track your iPhone, there is a solution offered by the makers of iPhone themselves. You can use it to find your misplaced or lost iPhone.
Find My iPhone
Find My iPhone is a feature present in all iPhones that lets you track your iPhone at any time through any other device. It is like the iPhone version of Google's Find My Device.
Find My iPhone has its own app in the Apple app store. You can track any iPhone location by logging into the app with the iCloud ID of the target iPhone.
Although, in order to make sure that your iPhone can be tracked, you have to enable the location tracking on your iPhone.
To do this, you can navigate to 'Settings' and click on your Apple profile on the top. Then you can navigate to 'iCloud'>'Find My iPhone' and enable it. You are now ready to track your iPhone at any time.
You can also track any iPhone through the web browser, by going to the iCloud's Find My iPhone page
Part 7: How to Locate A Cell Phone Position Free Online
Spyine is another good phone tracking app that can give you the exact location of an iPhone at any time of the day.
It is a relatively newer app than the other ones that I have mentioned so far. However, this doesn't make it any less awesome. In fact, its user base is increasing day by day and more and more people are sharing their positive experiences with Spyine.
Therefore, in the foreseeable future, I wouldn't be surprised if Spyine rises to the top of one such list about the best phone tracking apps on the internet. For now, I would give Spyine the seventh spot on this list.
Part 8: How to Track A Cell Phone Location for Free with the Number of the Cell Phone
The apps that I have mentioned so far are great if you want to track the phone location of someone you already know. However, what if the phoen that you wish to track isn't of your family member or anyone you know very well?
Well in that case, Zosearch is the perfect thing you need. Zosearch is a reverse phone lookup engine that can track a cell phone through its phone number.
Using Zosearch is similar to using Google. You just have to enter the phone number whose location you wish to track on the Zosearch's phone number search page.
Zosearch then runs through its database of billions of entries and finds you the information about the person that owns that phone number, including their home address and possibly their work address too.
Part 9: How to Track Mobile Location of Family Members
Fami360 is a great way if you want to track the phone location of your children. It is designed specifically for parents as they are a major portion of people looking for a phone tracking app to know their children's whereabouts.
Due to its design towards parents, Fami360 is the most easy to use phone tracking app that you will find. There are some more features that will be very helpful for keeping an eye on your children, such as the browser tracker which lets you know things your children search.
Part 10: GPS Mobile Tracker
Many people who are looking for a GPS tracker application do so for adventure sports. For these people, there is an app specifically designed for the purpose.
AllTrails is one such application, that is designed for sports like trekking, cycling, etc. AllTrails can provide you with different routes for your expedition and discern them according to the difficulty of making them through.
You can also save your favorite routes and share your  trails with your friends. All these things make AllTrails a good fit for adventure sports enthusiasts.
Wrapping Up
The internet is full of apps that can track your location. However, when it comes to the best, the apps on this list outperforms any other app that you can find online.
Therefore, if you are looking for a GPS tracker, you can choose any app from this list that you like. You will be thanking me later, I promise you that!