Ever wanted to fit a tracker in the world's most renowned mobile brand- iPhone? Perhaps, one might be curious about how to extract every single detail of their loved ones.
How to track an iPhone becomes an essential question for partners who might notice suspicious behavior by their spouses. Even parents who wish to keep a tab on their kids might want to check their devices.
Well, everything becomes super-easy by linking the target's iPhone with Minspy: the world's leading phone monitoring app. The app helps their clients to track someone with ease and without them knowing.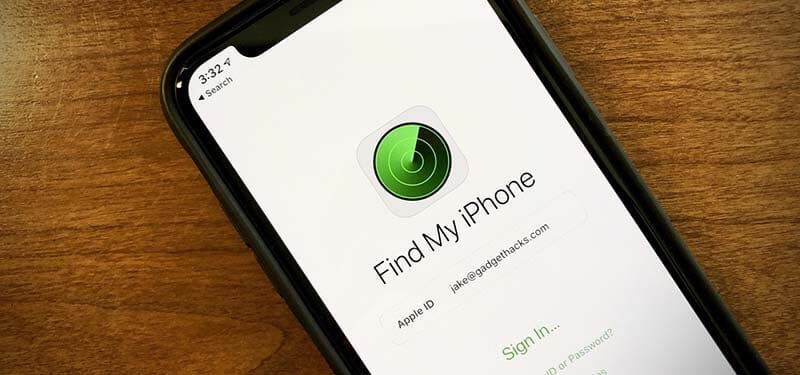 Part 1: How to Track Someone's iPhone Without Them Knowing
There are numerous ways through which you can know about every single detail on someone's iPhone.
While many third-party apps are giving numerous features to users for tracking purposes, most of them are quite costly. Moreover, they manage several illegal methods in their service to attract customers.
This poses one pressing question for users: how to track an iPhone for real?
Minspy: the renowned brand name is giving every bit in the field of tracking and phone-monitoring, and the iPhone is one of them. So, remember the name Minspy every time you look at an iPhone with someone.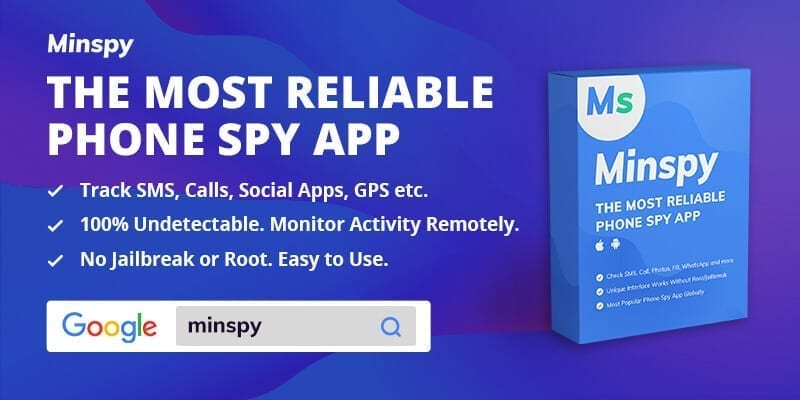 How to track iPhone location through Minspy? Tracing a remote location through Minspy isn't a cause of concern at all. Minspy is a unique platform that is capable of tracking iOS. This is successful in even rough terrain where signals become a cause of concern.
Minspy: the cloud-based iOS solution can evenly track the entire inaccessible target device's data.
Thus, it provides loads of user-friendly assistance in the parameters such as iPhone's location, Browser history, Chat history, and many more.
1.1 Why should I use Minspy? Is it reliable?
Minspy is providing service to its customers the best available tracking system on the iPhone.
With regular app updates, Minspy lets its users experience one of the most reliable iPhone tracking methods of all time. It's not Minspy speaking, but millions of its users say it all as they rely on it in every field.
Through phone monitoring features, Minspy is giving a user-friendly application for mobiles. The biggest thing about Minspy is that it works using what it calls stealth technology. This means that you can target someone without them knowing.
Now, how does this stealth technology work? Well, on iOS devices, the Minspy solution does not require anything to be installed at all. This is a completely cloud-based solution. You do not need physical access to the target device at any stage.
All you need is your favorite browser. Choose any one: Safari, Chrome, or Opera. There is no need to install anything on the target device. Thus, it will not occupy storage too. The iPhone will function smoothly without slowing down.
This is, in fact, one of the common problems with spy apps. They occupy a hefty storage on the target device and continue running, slowing the phone down. The target user can notice this suspicious behavior and know he is being tracked.
Similarly, since no installation takes place with Minspy, it does not drain the target device's battery too. Once again, most spy apps will quickly drain the target device battery. All this makes it possible to spy on an iPhone through a discreet process.
1.2 What exactly does Minspy provide to its users?
With user compatibility, Minspy offers tons of other exciting features due to which users could easily track and map a target. So, who knows what Minspy newer updates have to offer as each update unlocks more exciting features for an easy tracing for the operator?
So, how to track another iPhone through Minspy? Through current updates, Minspy is providing some cool features which are as follows:
Location Access:
It must count as one of the utmost priorities in the Minspy list as the app gives a complete insight into the target iPhone's place with the primary device.
Along with it, Minspy also gives you an overview of the places visited by the target device besides the timestamps.
Geo-Fencing:
One of the coolest features: Geo-Fencing allows setting up of geographical parameters in the target phone's spot. Thus, it traces whether the target crosses the location boundaries or not with an alert.
Geo-Fencing is crucial in the cases where it helps in tracking the exact location of children's whereabouts.
Social Media Monitor:
With this feature, users will get spying accessibility to the target's social media accounts such as Facebook, Instagram, and many more.
This feature present in Minspy also spies on the visited social pages, chat details, and much more.
Browser's History Monitor:
This Minspy feature gives unlimited access to the target's history in the browser, such as Google Chrome, Firefox, and many others.
Browser's History Monitoring feature is equipped with posing restrictions on specific illegal websites for the target users so that they cannot have direct access to these.
Application Feature:
With the above-listed features, Minspy consists of this feature, which gives an insight into the applications installed on the target device. Thus, it gives freedom to the primary user to restrict some applications of the tracked user.
1.3 How to secretly track someone's iPhone?
The Minspy iOS solution offers transparency for easy tracking of the iPhone device for its users. The term 'jailbreak' is often associated with the above theory.
Minspy is not into jailbreaking the target's iOS as we only trace the iPhone which you want with our advanced technological methods.
It comes up with cutting-edge technology, which is responsible for tracing the target location. Thus, a user who gets tracked will be unaware of all the proceedings due to this technology. This is a cloud-based solution with no need for installing anything on the device.
Minspy even helps in the scenario where the primary user is unable to touch the target's device but still wishes to trace it. This makes Minspy one of the most reliable of all third-party apps offering the same services.
Tracking iOS using Minspy is as easy as clapping. But you need to follow the below steps carefully. These are as follows:
Step 1: Sign-up for Minspy account. Users need to first access the Minspy official website. There, they can make their free-account by giving only two essential credentials i.e., the email address and the password.
After that, users can complete the formalities by giving these pre-requisite details in Minspy.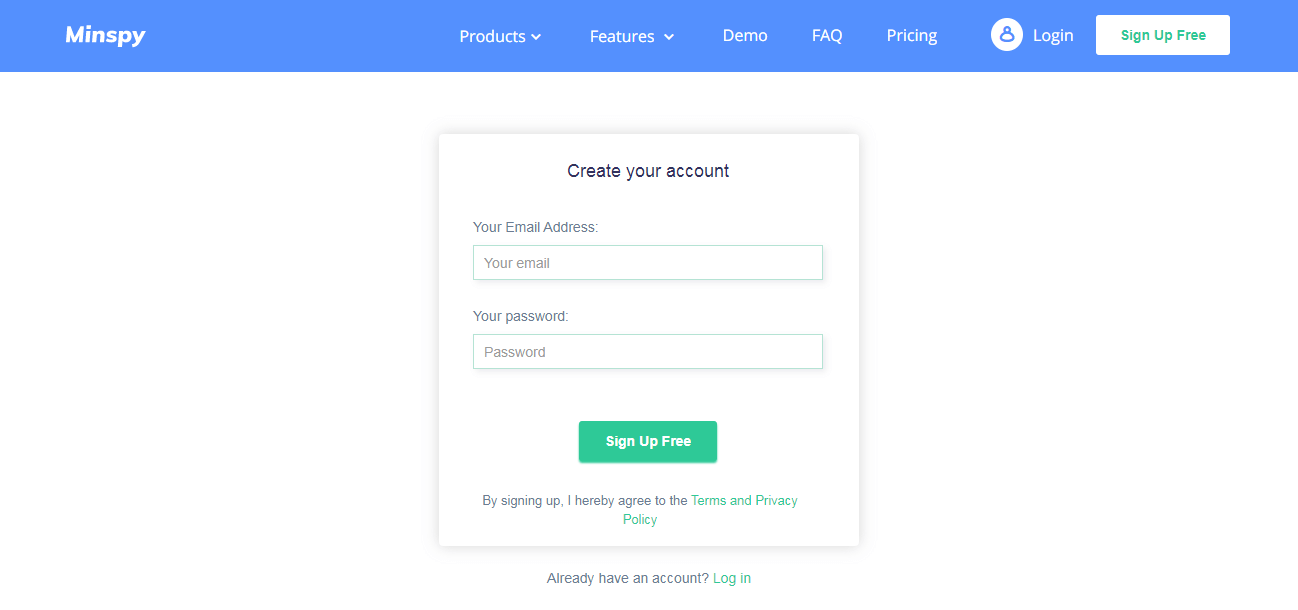 Step 2: Mention the target iPhone Credentials.
After a rather comfortable sign-up, users just need to provide some details about the iCloud account of tracker ID i.e. the username and the password.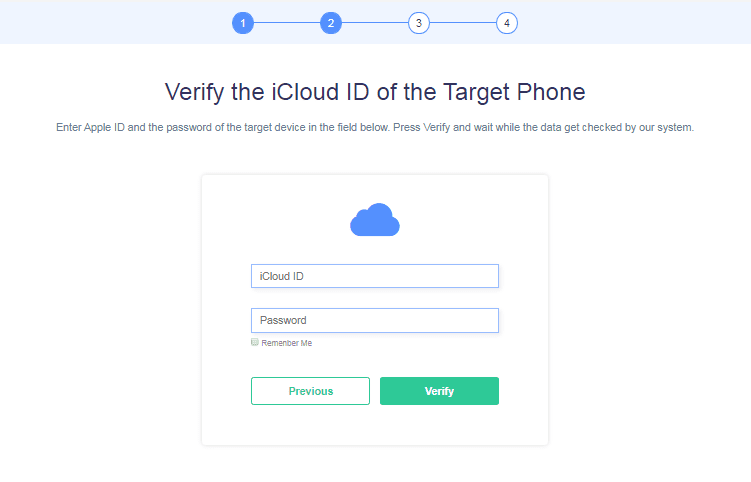 Step 3: Track the iPhone of the target without them knowing. Once you provide the target's iCloud details for the login, the users will experience a hassle-free tracking. The iOS app will now begin to sync data. This process can take a little while depending on how much data is involved.
Now, proceed to the Control Panel on your remote device. You can log in using your credentials. Proceed to the Dashboard section. You will now be able to monitor the iPhone discreetly.
We highly recommend that you try out the Minspy live demo to see how the app works in real-time. This is a great way to familiarize yourself with the app without installing it. You can check out all of the features of the app this way.
1.4 The Benefits of Minspy
24×7 Track: Minspy provides the real-time location of the target's device. Minspy gives you an assured anytime and anywhere tracing.
Rich Interface: With some cool features, Minspy takes you to another dimension where you can trace anyone's device along with spying on the social account of the target as well.
No Jailbreak: Minspy does not require you to perform complex technical steps to use the app. The app is ideal for beginners who have no idea about jailbreaking a device and still wish to use advanced monitoring.
No App Download: Minspy does not require any app to be downloaded, and one can easily track an iPhone through the Minspy dashboard.
Comfortable pricing: The price packs provided by the Minspy are very cheap and affordable. One can easily access the Minspy premium plans after signing-up from the official website.
Various plans are available for those who wish to include features according to their requirements. With this, it will bring single as well as multiple iPhones under surveillance.
Also Read: How to Track iPhone Without App
Part 2: How to See Someone's Location on iPhone
Apart from Minspy, there are other ways through which a user can locate their dear ones quickly.
Spyic is a leading name in iPhone tracking. Apart from Minspy, Spyic is also one of the leading apps using which you can locate or trace the person you want.
Spyic is an iPhone tracking app that came into existence for accessibility to the target's information, which includes calls, social media accounts, and even messages.
Spyic is a cloud-based solution for iPhones. This means that you do not need to install anything on the target device to be able to spy on it. You just need to use your favorite browser, that's all.
2.1 How does Spyic Work and What Makes it One of The Most Powerful Spy Apps Out There
How to track an iPhone without them knowing? Well, the answer lies in Spyic. Spyic works just like Minspy, and the purpose of both of these platforms is the same, i.e., to help users trace an iPhone remotely.
An iPhone comes with a unique feature called iCloud Backup feature, which has some default backups present in the cloud server. Now, Spyic is responsible for collecting these data present and then extracting its relevant information in another backup.
Thus, it works simply with the iCloud credentials from the target's iPhone device.
You may like: How to Track My Sons iPhone Without Him Knowing
Part 3: How to Track an iPhone for Free
A question might arise in the users' mind like, "how to track an iPhone free?" There are two ways through which one can easily access an iPhone device which are as follows.
3.1 Using iCloud.com solution to track iPhone location for free
For users' convenience, there is one more way through which one can easily track people for a quick person search. For this solution, one must visit the website iCloud.com with verification completed.
This free feature is available for all the iPhone users who wish to avail the opportunity to track their loved ones. For some guidelines, one can easily follow the below-mentioned steps, which will quickly determine someone's location for free.
3.2 How to trace iPhone Without App
One of these simplest methods for monitoring the iPhone requires only an iCloud account. Users need to approach these simple steps for easy tracing.
Open the Settings option on your iPhone and select the "Apple ID."
Choose "iCloud Settings" from the Apple ID and then enable "Find my phone" alternative.
Verify the Apple ID and then re-enter the given credentials, i.e., iCloud username and password for verification.
Once enabled, you can easily trace the iPhone's place through iCloud backup.
Users need to then go to the iCloud website and then log in to the iCloud account.
Their users can hover on the "Find my phone" option given in the site and then click on it.
Users should then go to the option "all devices" and select the particular device for monitoring purposes.
Don't Miss: How to track someone's location on iPhone
Conclusion
Well, by now, you may have an answer to this question- How to track an iPhone? With the development of cutting-edge technology, Minspy offers powerful features to track a device remotely. The app will keep upgrading itself to offer more features.
Using this article, you will be able to decide the best option for tracking an iOS device for your specific case. Indeed, with the help of Minspy or Spyic, life will become much simpler for those who show significant concerns towards their loved ones.
This post is also available in:
Español (Spanish)