Have you ever noticed any suspicious activities from your boyfriend's side while chatting?
Perhaps, he might be cheating on you, and you are unaware of it. Your head might pop a simple question: -"how to track my boyfriend's phone without him knowing for free?"
With the upcoming latest technologies, many tracking apps are giving their best in tracing your boyfriend's phone in many possible ways.
But with guns blazing, Minspy is giving its best by offering world-class services in locating the target users for you.
Minspy app has a chain covering 190+ countries and serving millions of happy customers. So, get ready to witness the best tracking app— right here at your doorstep.
Part 1: How to Check Your Boyfriend's Text Messages with Minspy Tracking App?
A clever lady might face one critical question: -"how to track my boyfriend's phone?"
There are spy apps that are capable enough in tracking the target's text messages as well as calls. But to do this with precision and security becomes a daunting task, and some might fail in that.
Minspy is one of the remarkable surveillance apps offering several noticeable features for extracting your boyfriend's phone details. With one simple touch, you will get an update about all the activities happening without even having those watchful eyes on his phone.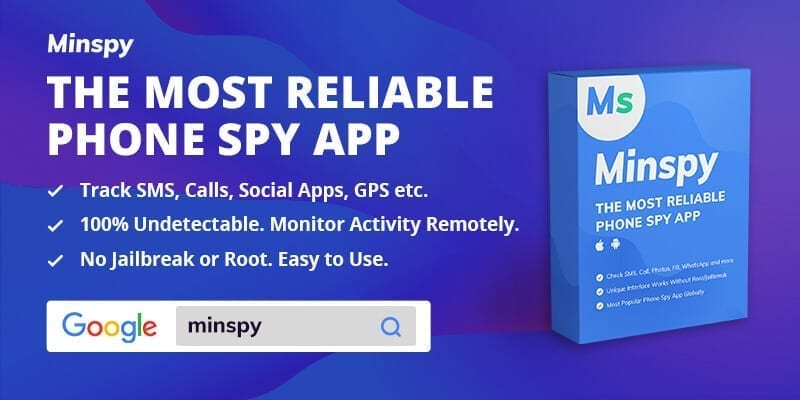 A question arises:- How to track my boyfriend's phone without him knowing for free? Minspy runs on both devices, i.e. iPhone and Android.
So, if you are an Android user, Minspy is fast and easy to download, takes less than 5 minutes. Also, the Minspy app is less than 2MB and runs hassle-free on it. It's extremely easy to use!
For the device running iOS, Minspy is purely a cloud-based iOS solution, and so you won't need any iOS app for it. Just use any browser you have and you will be ready to go!
1.1 Why should I use Minspy? Is it reliable?
Minspy is proving its reliability to millions of users worldwide by providing quality tracking service through its Android app.
After downloading the Minspy app on Android, you will experience hassle-free, fast tracking services.
With the stealth-mode feature present, Minspy app is running ahead of other tracking apps by working in the background. What this app does is that it hides the app icon. This feature adds to cutting-edge technology which is responsible for its working in a discreet manner.
Since the app is invisible, the target has no way to know he is being monitored. You can remotely see everything from your Control panel.
Along with this, there are several other features that make it way better than other apps to track your boyfriend. These are as follows:
Calls: With some improved tracking features, you can easily check-out your boyfriend's contacts, call logs, call duration, regularly contacted list, and much more.
Texts: Now, with an advanced tracking system, you will get an update of all the standard texts, Whatsapp texts, and iMessage chats.
Location: Through GPS location, including time-stamp, you will get the exact location of your boyfriend. This helps you to know where your partner has been at what time.
Browsing History: Now, you can easily access the history of your boyfriend's browser through the Minspy app. This helps you see what he's been doing online.
No Jailbreaking/rooting: Minspy doesn't require jailbreaking or rooting the target's device, which helps in maintaining the privacy of the users. Also, it makes the process of using the app very simple. Even beginners can easily use it!
100% Authentic: When it comes to originality, the Minspy will never let you down as it is legal and happily serving its millions of customers. It has been featured by several popular media outlets.
1.2 How to see your Boyfriend's Text Messages and Who He is Texting
How to track your boyfriend's phone? With some unique features, Minspy offers a much simpler way to access your boyfriend's phone through tracking.
But for that, you need to download the Minspy app for Android and follow these simple steps given below:
Step 1: Sign up for your account.Users need to access Minspy by accessing their official website. After that, users need to give the necessary credentials such as Email ID and Password.
After giving the necessary credentials, users can easily switch to the next section by tapping on the Sign up Free button.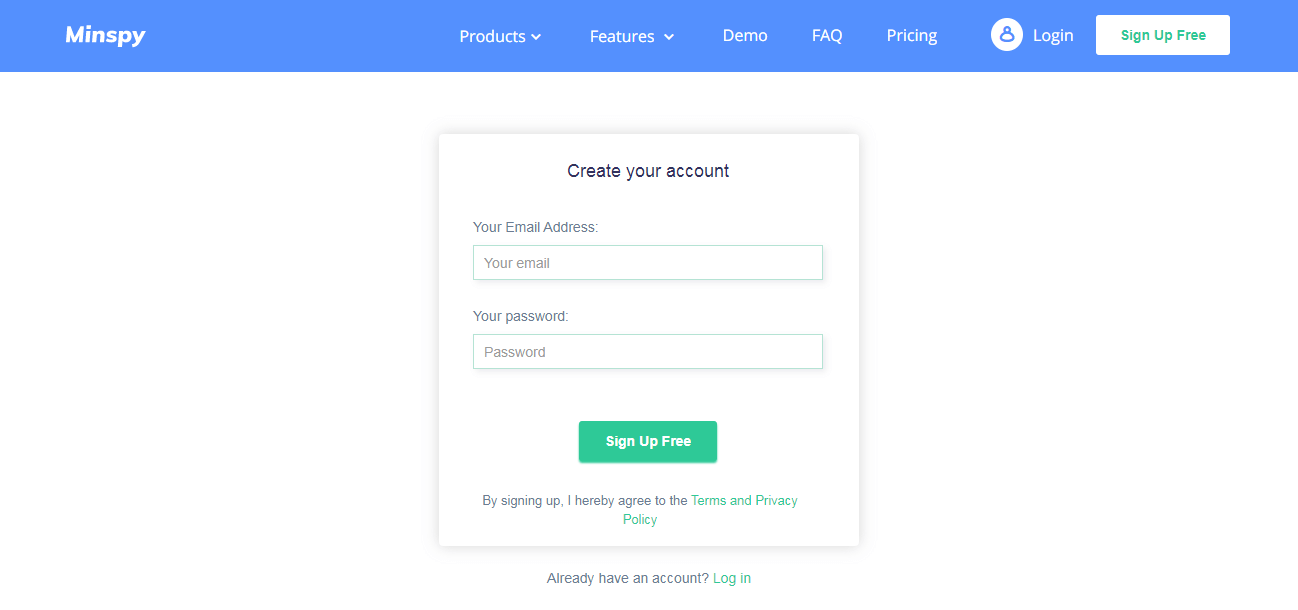 Step 2: Install the Android app. Users need to then download the Minspy Android tracking app on the given target device. The best part about the Minspy app is that users don't require rooting it. This really simplifies the installation process and also does not void the warranty of the target phone.
Step 3: Get ready to monitor the target app! After installation, users can track the target's location and monitor social media with a host of other features. Then, users can log in on the Minspy dashboard from any given web browser.
For users' convenience, Minspy is offering one Minspy live demo to give you an insight into how the app works. It will make you aware of the powerful functionality associated with the Minspy Android app.
Part 2: How Can You Read Your Boyfriend's Text Messages Without Touching His Phone?
Well, Minspy is not confined to only Android devices but also plays a huge role in shaping iOS surveillance as well.
With the cloud-based approach, the iPhone solution gives a fierce competition to Android to help you track boyfriend text messages in a much more seamless manner. The Minspy iOS solution requires no physical access to the device. Nothing needs to be installed.
iPhones also provide several iCloud Backup features if you want to extract the content into another backup.
2.1 What are the prerequisites for the iOS target device and how it works on iOS?
The following are the requirements for those wanting to spy using Minspy on iOS target devices. These are as follows:
iCloud Login: Users need to have valid iCloud login information of the target's iPhone.
No Jailbreaking required: Users need to note that there is no jailbreaking required for the iPhone. This makes it super simple to use the app, even for first-time users.
No software required: Minspy requires no software downloading on the iOS device.
No need to access the target's device: As the process is done remotely, you will not require touching the iOS device. This makes the app very discreet in operation.
If you want to see who your boyfriend is texting, then Minspy offers some of the coolest features to look after. These are as follows:
Location Access: It is one of the essential features which you would want for tracking your boyfriend. Minspy iOS cloud solution gives you complete insight over the target iPhone's geolocation along with the primary device. Location Access also gives you a brief overview of the places visited along with the activities happening on your boyfriend's device.
Geo-Fencing: It is responsible for setting up geographical parameters to determine the target' exact location. Thus, Geo-Fencing gives a target's location and also provides an alert message if the target crosses its boundaries.
Social Media Monitor: Now if you want to check on your boyfriend's social media, then you can quickly check with the Minspy iCloud solution. It will target your boyfriend's social networking accounts such as Instagram, Facebook, and many more.
2.2 How Minspy' iOS solution works without touching the phone
Minspy iOS solution is helping its users in giving the best possible tracking services for an iOS device.
Minspy has the coolest phone monitoring features, which scan the target's location via the main device. The best part is that Minspy works on stealth technology. This means that you can target someone without them knowing.
Most of the standard tracking apps exceed the storage capacity on the device which ultimately slows down the phone. Due to these noticeable activities, the target might get a hint of him being tracked.
Minspy iOS solution requires no installation, and hence, it does not require your target to repeatedly charge the battery. All this makes it easier to track on an iPhone in a very discreet manner. You do not need to physically access the device at all.
Another great thing about the Minspy solution is that the app does not store any user data on its servers. All information remains safe with you. Many spy apps are notorious for storing data on servers which can get hacked.
This compromises the integrity of your sensitive data. Minspy uses cutting-edge technology to work without storing any data on their servers.
2.3 How to see your boyfriend's text messages without his phone
There are several Minspy iOS solution features through which you can track an iOS device easily. You just need to follow these simple installation steps given below:
Step 1: Sign-up for Minspy account. Users need to access the Minspy official website. There, you can sign-up by giving these necessary credentials, i.e., the email address and the password.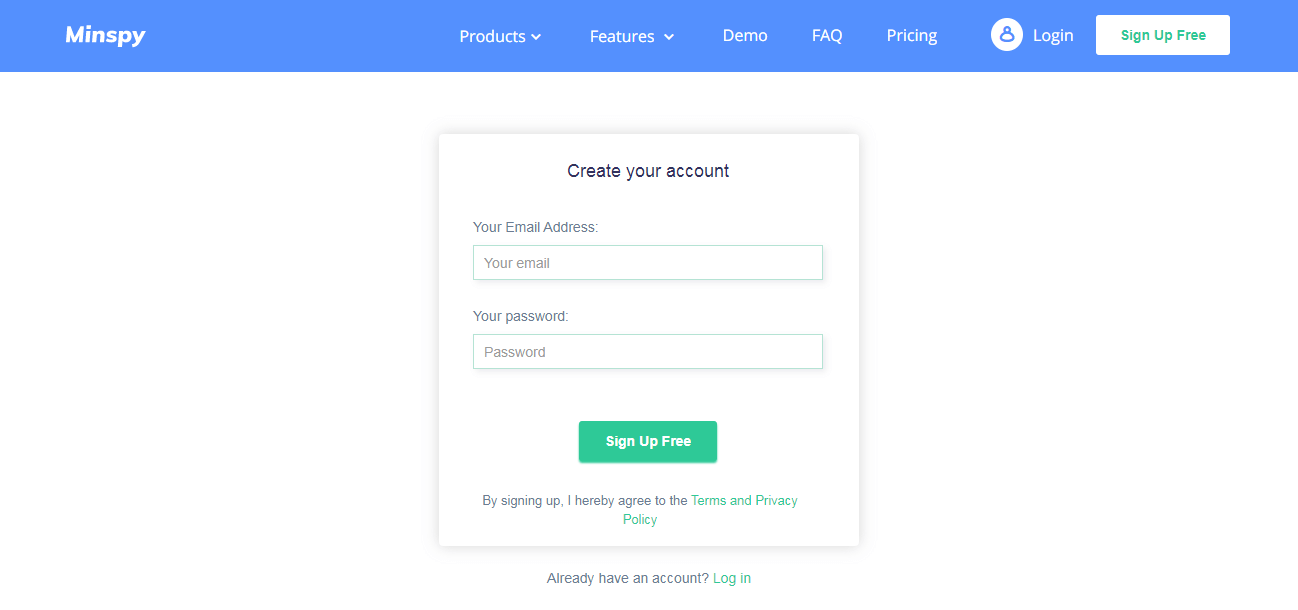 Step 2: Mention the target iPhone Credentials. After an easy sign-up, you need to provide some crucial credentials about the iCloud account of your boyfriend's ID, i.e. the username and the password. Make sure to enter them correctly.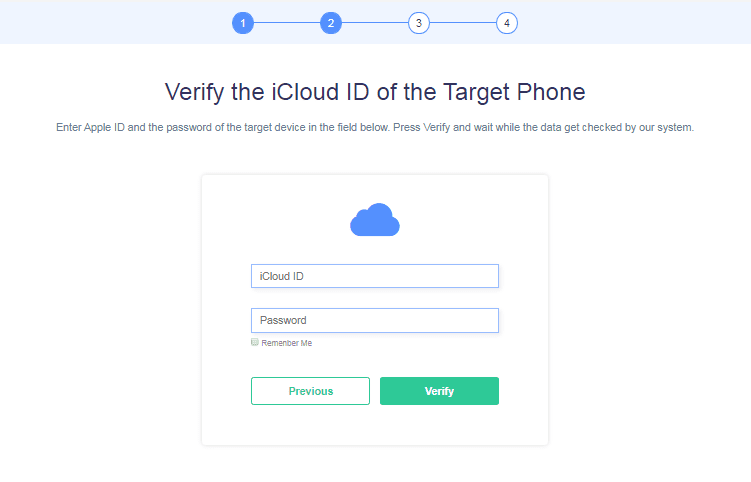 Step 3: Track your boyfriend's phone! Now, the iOS app will begin to sync data after providing iCloud details. The process will take time, depending on how much data is involved.
You must then proceed to the Control Panel from your remote device. There you must log in with your Minspy credentials. After that, you must continue to the Dashboard section where you will be able to check on your boyfriend's iPhone discreetly.
Simply click on the relevant section on the navigation pane on the left. For example, if you wish to see the social media messages, you should click on the 'Social Media Apps' section. Here, you can monitor Instagram, WhatsApp, Snapchat, and other chats.
Also Read: How to track an iPhone without app
Part 3: How to Track Your Boyfriend's Phone Location for Free
If you want to check on your boyfriend's phone location, then you need to follow these simple steps given below. These are as follows:
Step 1: Firstly, you need to access to your boyfriend's iCloud credentials. Users need to first visit the iCloud website and provide the necessary Apple ID credentials.
Step 2: Just proceed to the 'Find my iPhone' section at the bottom of the screen. This will take you to the map screen where you can see the location of the device.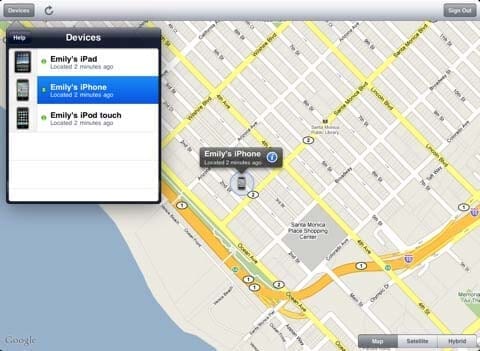 Step 3: Now, you can tap on the "All Devices" given in the drop-down menu. This icon will help you track the exact location with the guided live tracking map.
For Android, you can easily switch to the Google timeline tool where you need to access the Google Account for free and get unlimited access to the tracking.
Don't Miss: How to Track a Cell Phone Without Them Knowing
Conclusion
Now, the issue of Track my boyfriend's phone without him knowing for free is almost solved with the introduction of Minspy for both the Android and iOS platforms.
In this article, we saw how can man track device easily in a discreet manner. You need a powerful app like Minspy that does not require rooting or jailbreaking. It is very easy to use.
This post is also available in:
Español (Spanish)