Are you searching for a keylogger for iPhone? While we will shortly see what a keylogger is and how it comes in handy in a variety of situations, let's know about it a bit more. A keylogger can help business owners secure company-owned phones.
People might resort to using a keylogger when their partners have been behaving rather suspiciously and without discussing things. The keylogger helps you to monitor all actions on the target device in the most discreet manner. Thus, it is a powerful tool indeed.
In this article, we shall see what makes a keylogger the ultimate spy tool that it is. We will also explore 10 of the best keylogger tools for spying on an iPhone. Let's get to these apps one by one and see the main features of each of these.
Part-1 What is an iPhone Keylogger?
Before we begin, let's have a basic discussion of what a keylogger really is. A keylogger, as the name suggests, is a software tool that logs all keys on a target device. Basically, this is an app that secretly monitors all user key presses and sends the data remotely.
It is a powerful digital surveillance tool. Parents might use this app to see what their kids have been accessing on their phones or what they have been texting. Similarly, employers might want to keep tighter control over company devices to see what's happening.
A keylogger faithfully sends you all the data that is typed. It does not discriminate and you can thus see all information. Since it runs in the background, the target has no way of knowing his activities and keypresses are being remotely tracked.
The keylogger will even send you the usernames and the passwords of social media and email accounts. When the target user accesses these accounts on their device, the keylogger captures all credentials and sends them over to you.
This means that using a keylogger, it is even possible to gain full access to someone's social media and email accounts. This expands the utility of a keylogger manifold. iPhone devices are intrinsically very secure and you won't find many spy apps for these.
However, a few revolutionary tools such as Minspy use cutting-edge technology to monitor iPhone data of a target device. Such apps are highly user-friendly and come with built-in keylogger functionality.
Part-2: Minspy— The Most Powerful Keylogger App Out There You Must Use Today Itself
If you haven't heard of Minspy, let us introduce this leading spy app to you, which has already been making waves everywhere. The app is used by millions of people all across the world who need a reliable app that can monitor a remote device with ease.
But how does Minspy work? Well, the app is completely cloud-based for iOS devices. This means that there is no need for you to install anything on the target device. No downloads whatsoever are necessary for the app to work. Few apps can claim to use such powerful technology as Minspy.
Coming back to the app functions, it just needs a simple browser to work, nothing else. You can use Chrome or Safari, the app will work just as well. That's all you need. You do not need to secure physical access to the target device for the app to work.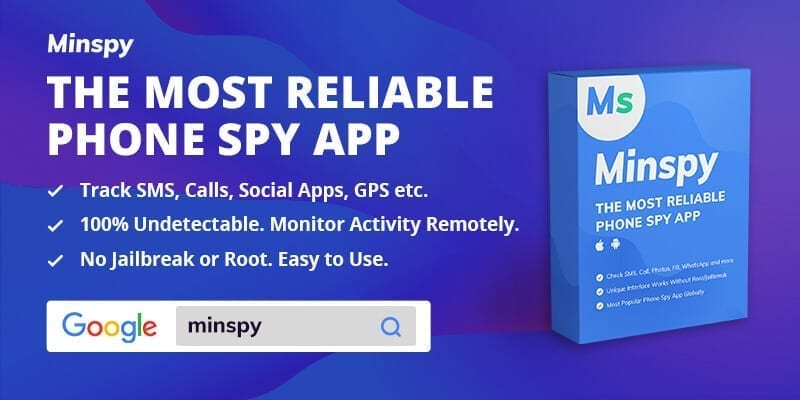 Minspy showcases the highest levels of stealth technology in that the target does not know about your tracking activity at all. You just need his iCloud username and password. Nothing else. The app syncs all data and shows you every activity on the remote iPhone.
All without having to touch it. The app has been featured in leading media outlets and is used in more than 190 countries across the world. This speaks volumes about the feature set of the app and that it is so trustworthy and powerful.
You May Like: How to View Private Browsing History on iPhone
2.1 The Minspy App As a Powerful Keylogger
Minspy is a powerful keylogger indeed. You will find that many spy apps do not come with built-in keylogger functionality. This means you need to install a separate keylogger app. However, this is not the case with Minspy, which works out of the box.
Minspy Android version features a keylogger that works in an utmost discreet manner. The app does not require you to root or jailbreak the target device. This is, in fact, a common problem with many spy apps.
Most spy apps will require that you first root or jailbreak the target device. Some others that don't, do not offer advanced features such as social media monitoring. Minspy takes a different approach and lets you use even super powerful features like the keylogger without ever rooting or jailbreaking.
This is particularly useful for beginners since jailbreaking and rooting are technically challenging processes. Furthermore, they can also easily avoid the warranty of the target device. Minspy comes to the rescue and facilitates easy keylogger operation.
What's more, the Android version of the app is very lightweight. Even though you will need to install the app for this OS, the app will automatically delete its icon and run in the background. The app calls it 'stealth mode'. Installation takes less than 5 minutes.
The app also does not take much of storage and will not drain the device battery too. Most spy apps will quickly drain all device battery and make the target user suspicious. However, with Minspy, you can discreetly spy on a target from a distance.
2.2 How to Use Minspy iPhone Keylogger on an iPhone
In this section, we will see how you can quickly set up your Minspy iOS solution to access Minspy and monitor a target device remotely. As we explained earlier, the entire process is done remotely and you do not need physical access to the device.
Step-1: First, you will need to register for a free Minspy account. This process just takes a few seconds and will be done quickly. Make sure you make a note of these credentials as you will be referencing them later.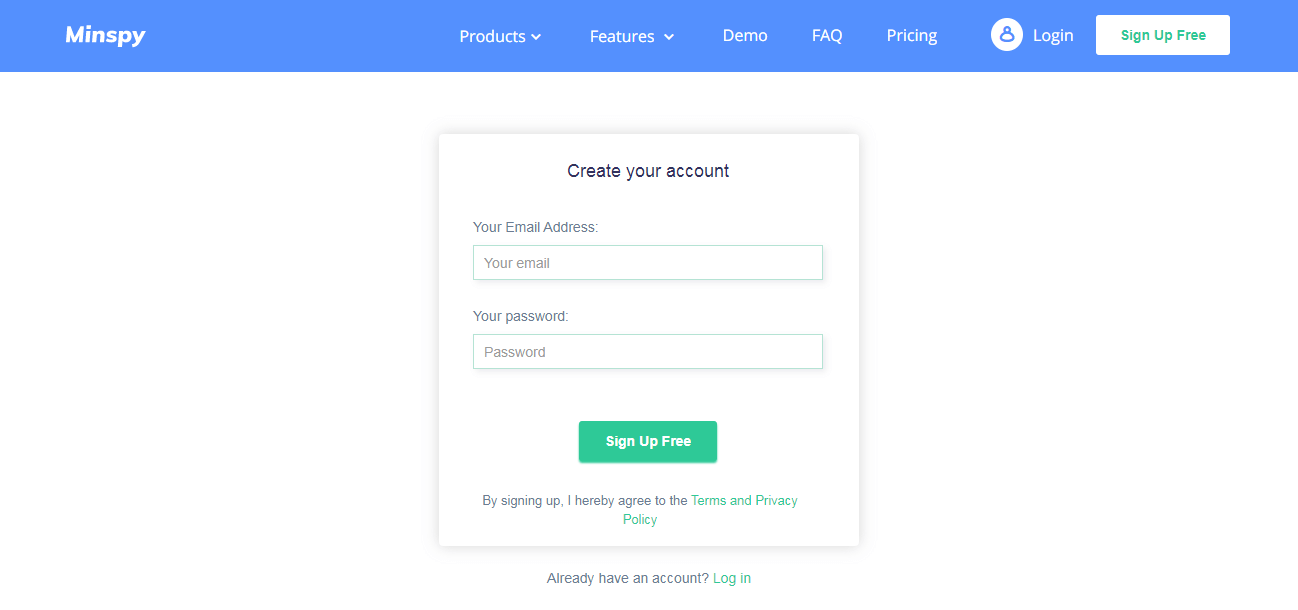 Step-2: Now, you need to set the Minspy iOS solution. Select the iOS type and enter the iCloud username and password of the target device. Yes, you will need to enter just this information and the app will take care of everything else by itself.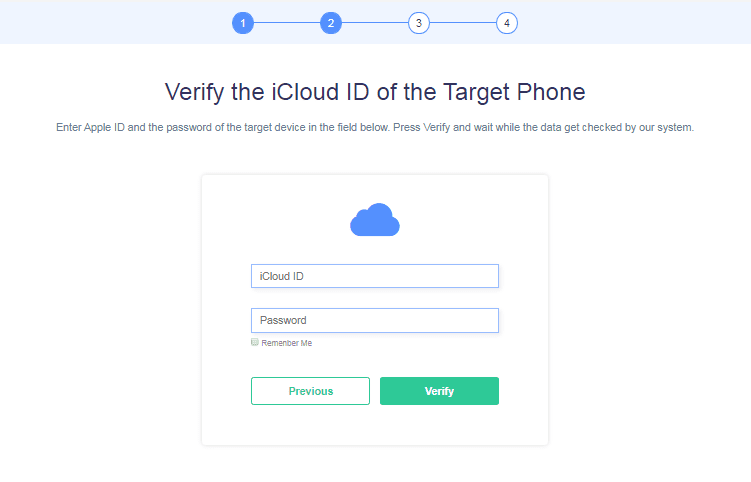 Step-3: Once the credentials have been entered, the app will begin syncing data. Now, this process might take a little time. It all depends on how much data resides on the target device. If there is a lot of information, it might take a couple of minutes.
Step-4: The app is now ready. Log on to your Control Panel using the credentials in step-1. You should now proceed to the Dashboard section. You will now see a navigation panel on the left side which can be used to see all activities on the target device.
In order to use the keylogger, you should click on the keylogger option on the left. Similarly, to see the social media messages, you should proceed to the relevant section.
Thus, you can easily see that the app is very user-friendly and intuitive. It won't take long for you to become familiar with this powerful app and explore all aspects of the target iPhone remotely.
We highly recommend that you check out the Minspy live demo. This is a great way to see all of the features of the app. Moreover, you will also have no need to install the app to see how it works.
2.3 Minspy iOS Solution Features You Can Use Right Now
Well, we just discussed the keylogger feature that comes built into the Minspy app. However, the app has a host of other features that we will examine closely in this section.
Social media monitoring: You can use Minspy to see incoming and outgoing messages on popular social apps. Be it Facebook, Snapchat, Instagram, or WhatsApp, Minspy can scan every app.
Media files: When seeing social media messages, the app not only shows you both incoming and outgoing messages but also the media files exchanged. This includes photos, videos, and graphics.
Location tracking: You can use the app to see the precise geolocation of the target device. The app shows the GPS location along with the timestamps of the information. This tells you what the user is doing, where, and when.
Geo-alerts: The app can also be configured to give you geo-alerts when the target moves across geographical boundaries. This way, you can see on Google Maps who is moving towards or out of home, for example.
SMS monitoring: You can use the app to see the sent and received SMS messages also. All this is possible without having to root or jailbreak the device.
Also Read: Top 5 iPhone Call Logger Apps
Part-3: Spyic Will Make You a Real Spy in No Time
Spyic is also a leading app that will help you to monitor a remote iOS device with ease. The app works without the need for rooting or jailbreaking the target OS. Thus, it will not affect the warranty of the device.
The app offers both Android and iOS versions. The latter is completely cloud-based which means you will only need a simple browser to access all data. There is no need to download and install anything on the target device.
Spyic also comes with an already configured keylogger utility. Thus, you do not need to install a separate keylogger tool when you use Spyic. The app will begin logging all data including usernames and passwords of the target device.
Spyic is also a lightweight app when it comes to the Android version which has the keylogger installed as a part of the package. You'll be surprised to know that the app occupies less than 2M of space. This makes it one of the lightest spy apps out there.
You see, heavy spy apps can quickly swamp the phone and make it sluggish. This is one of the most obvious signs of a hacked phone. When the target individual notes that his phone has suddenly become slower for no reason, he can identify that the device might be hacked.
Spyic works using what it calls stealth mode which keeps it hidden. The iOS solution works without installation so it is intrinsically secure.
Part-4: Spyine— Your iPhone Keylogger of Choice
Spyine works in a similar fashion to Spyic and Minspy. It is used by a number of people around the globe and has been well-received. The app also packs in a powerful keylogger utility which does not need to be separately installed.
Just install the native app and the keylogger begins working. It will monitor all keypresses and send you the key data remotely. This is a great way to capture all credentials on the remote device in the most discreet manner possible.
This is largely because of the nature of the design of the Spyine app which keeps data security at top priority. All user data remains on your devices and is never stored on the Spyine servers. This keeps it safe from hackers.
This is particularly important in the modern era where more and more websites, especially spy apps, are being hacked.
Part-5: Take Control of A Target Device With Spyier
Spyier is the app of choice of a number of spy app users. The app is used for spying on the activities(such as spying on your boyfriend's phone messages) of a remote target user in a discreet manner. Spyier also comprises of a keylogger package and works without installation on iOS.
You will need to have access to the iCloud credentials of the target device to be able to monitor the device. Spyier app uses cutting-edge technology to work simply using nothing more than a browser. You don't need to install a thing on the target device.
A great thing about Spyier is that you will not need to root or jailbreak the target device. This makes the app intuitive and easy to use for beginners. The app is also very lightweight and works without draining the battery on the target device.
Part-6: Fami360 Helps You Secure Your Family
Fami360 is a great parental control app that is targeted at parents. It helps you take control of your kids' smartphones. You can use the app to see what your young ones are up to on their phones.
You will be able to see their social media, see who texts them, what, and when. You will also be able to see the media files that have been exchanged along with timestamps. In simple words, Fami360 is the complete family protection app.
Famil360 is armed with a keylogger app too. It comes built into the main package of the app so you will not need to install anything extra. The keylogger will capture all usernames and passwords and send you that data remotely.
You can then use this information to log on to their social media accounts. This is because knowing the username and passwords of the social media and email accounts gives you full control over them.
Part-7: Cocospy Is Your Spy Partner
Cocospy is a great iPad keystroke logger. The app supports both Android and iOS systems, in fact. You will be able to use the software to monitor a target device without having to hack into the OS first. This makes it super easy to use for those who have never used a spy app.
Cocospy comes with a keylogger utility that will log all keypresses and send them to you remotely. You can then see all things keyed in remotely. This will include messages typed as well as the login credentials including passwords and usernames.
Using Cocospy is one of the easiest ways to monitor a target device in a reliable manner. Much like Minspy, the app is very secure by design and does not store any sensitive user data on its servers, so there is no danger of hacking.
In addition to the keylogger tool, Cocospy is packed with numerous features including geo-location alerts, SMS monitoring, social media monitoring, and app tracking. Everything is done in the most discreet manner possible without the target ever knowing.
Part-8: Appmia
Appmia is a phone tracking app that promises to monitor a remote phone. It also claims to be able to record ambient sounds. You can use this feature to listen to the surroundings of the target user.
Appmia has a very professional user panel that lets you monitor the various aspects of the target device. However, a grave problem with this app is that you will need to jailbreak the target device before you can use this app.
This makes Appmia very complex to use. If you have never jailbroken an iOS device earlier, know that this is a very technically involved process and has to be done the right way for it to succeed.
Also, to use Appmia, you will need to get access to the target iOS device and physically access it. This is unlike Minspy that does not require you to install anything on the target device and needs no physical access.
Part-9: mobile-spy.com
Mobiles-spy lets you monitor a target device such as your kid's phone or a company device to ensure all information is in safe hands. You can use the app to see the SMS messages, WhatsApp chats, media files, and social media messages.
However, even though the app has many features, it can be daunting for first-time users. This is particularly true for advanced features because these require the device to be rooted or jailbroken. The latter processes are very complex and challenging.
Without rooting or jailbreaking the target device, you will find that the features of the app are severely limited. This is in stark contrast to Minspy which lets you spy on a target device quickly and get up and running in no time.
Part-10: Mspy App
mSpy is known as a professional spy tool. You can use the app to see the remote device's installed apps, browser history, and contacts. You will also be able to see the call logs.
However, if you wish to see iMessages, photos, location, or social media messages, you won't be able to do that without jailbreaking. This makes the app a little complex to use.
If you are looking out for a simpler alternative that can monitor iOS without jailbreaking, try Minspy.
Part-11: Xnspy
Xnspy is built to address the needs of parents who wish to keep a tab on their kids' online activities. Xnspy lets you see the call logs, contact information, and even access the keylogger utility without rooting.
However, if you wish to see the live location, photos, WhatsApp messages, and other similar data, you will need to jailbreak the target device. This means you would need to get physical access to the phone.
Conclusion
Are you searching for a keylogger for iPhone? As you might have seen in this article, there are several different options to choose from. The choice is indeed difficult with so many apps out there.
However, the selection is really simplified when you consider that not all apps will let you use the keylogger and advanced features without jailbreaking. This makes the app complex and difficult to use for beginners. Apps like Minspy are the best as there is no need for jailbreaking.
Furthermore, apps like Minspy do not require physical access to the target iOS device. Everything happens in a remote fashion from your browser.
This post is also available in:
Deutsch (German)
Español (Spanish)