Spying on an iPhone isn't as hard as you might have thought it to be. Most people think that if you spy on an iPhone, you will have to be a software pro with the highest level of programming skills.
While that used to be true a while back, things have changed since then. Now you can spy on an iPhone by using a phone monitoring tool, which does all the hard work on your behalf. You won't have to do anything at all, just get the iPhone monitoring tool on your end and you will have all the data of the person in a matter of five minutes.
Of course, not all iPhone spy apps are effective. In fact, most of them do not even work. This is why, I will detail you every step to hack an iPhone, including the best app that you can use for this purpose.
Therefore, without waiting any longer, let us get into the guide:
Part 1: How to Spy on iPhone Without Jailbreak
The most important part in order to spy on an iPhone is choosing the right app. There are so many apps available on the internet that claim to hack an iPhone. However, when you try them out, they will lead you through a series of human verification or surveys, everything designed just to waste your time.
However, the app that I will tell you about will spy on any iPhone without asking you to jailbreak it. Not only that, it will even do the job remotely, and the other person will never find out that you are spying on them. That is the secondary objective of spying after all, isn't it?
1.1 Minspy- The iPhone Spy That Works Like a Ghost
Minspy is one of the best iPhone spy apps that you can find on the internet. With Minspy, you can spy on any iPhone regardless of its version and operating system. Other than iPhones, Minspy also works for Android devices, tablets, and iPads as well.
The primary reason for the success of Minspy is its working, which lets even the most inexperienced user make it work with ease. Not only that, the app is so quiet in action that the other user you are spying on will have no idea that it even exists, while Minspy is channelling all their private data to your end.
Why is Minspy the Perfect iPhone Spying App?
When it comes to iPhone spying, there is no better thing than Minspy. Here are a few of the reasons for this:
Web Dashboard
Minspy can get you to spy on any iPhone without you having to install any app on your phone or computer. It accomplishes this through a web based interface, which opens in any web browser you use (be it of a computer or a mobile).
No Jailbreak Needed
You won't have to jailbreak the target iPhone in order to spy in. As I said, all iPhone spy apps are created differently. Well, most of them ask you to jailbreak the target phone in order to use them.
Feature Loaded
Minspy comes with a lot of features. When I say a lot, I mean A LOT of features. When it comes to iPhone spying, there is nothing that Minspy cannot do.
Data Privacy
When you are using an iPhone spying app, data privacy is one of the major concerns. You need an app that you can trust with your private data. Minspy is exactly this app as it does not store any of your private data on its servers.
These are just few of the things that make Minspy awesome. You can even find out more when you check the free Minspy demo. It won't ask you to create an account or install any file.
Spying on an iPhone Secretly
Most iPhone spy apps that let you get an iPhone data don't offer a stealth mode. If they do offer a stealth mode, it comes with the condition to jailbreak the target device. However, with Minspy, things are different. Minspy can give you entire data of an iPhone without having to jailbreak it. Here is how it accomplishes this:
When it comes to an iPhone, there is an iCloud feature in every one preinstalled on the phone. This feature makes sure all the data of an iPhone gets uploaded ot the iCloud server. While this data cannot be read by an ordinary user due to the encrypted format, Minspy can decrypt it and present it to your dashboard.
Therefore, all you need on your end is to verify the iCloud credentials of the other user with Minspy. Once you do, there is nothing else that you will need to do.
1.2. How to Spy on iPhone Without Jailbreak
With Minspy, spying on an iPhone is a piece of cake. All you have to do is follow these steps:
Step 1: Register for a Minspy account and get a plan for iOS devices (Minspy works for Android too!)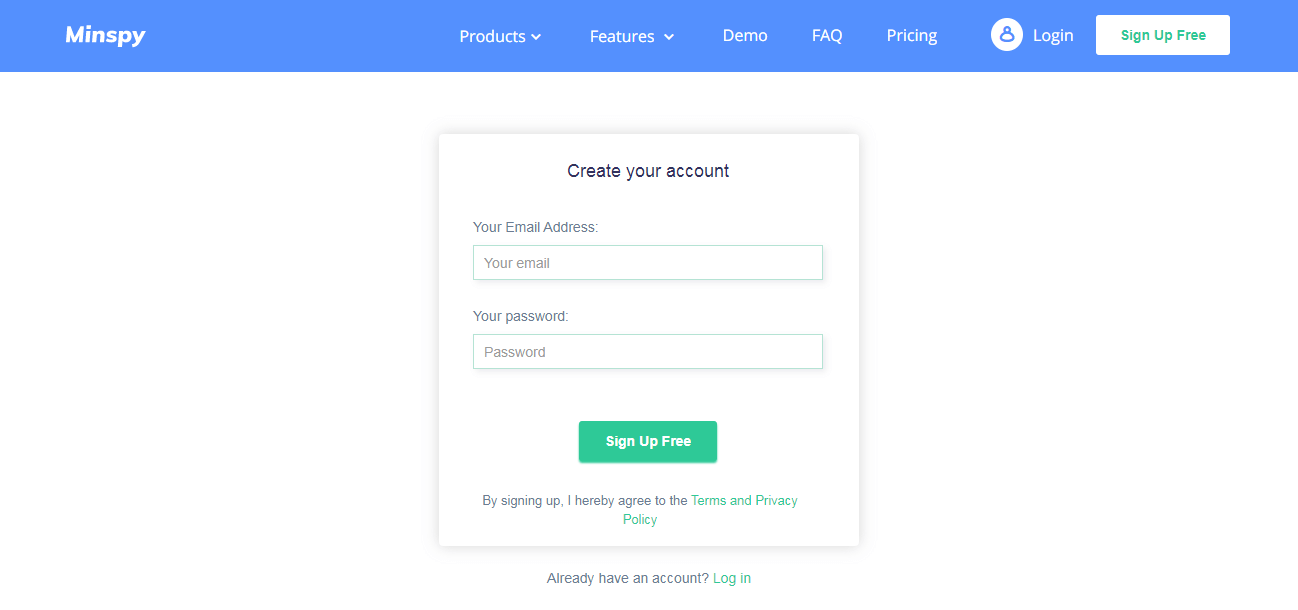 Step 2: Verify the iCloud credentials of the target device with Minspy. Minspy will take a couple of minutes to sync the data.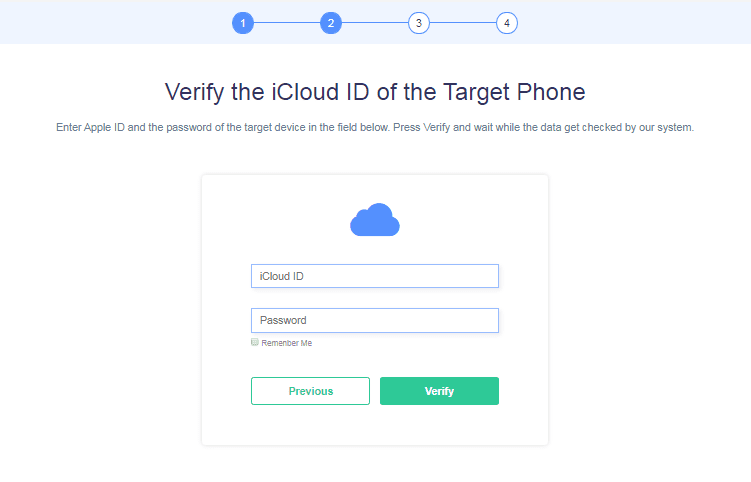 Step 3: Click on 'Start' and you are ready to monitor the target device.
Once you click on the 'Start' button, you will be taken to your dashboard. You can use all of Minspy's features from there. Some of these features that you will definitely like using are:
Social Media Spy:
Social media spy has modules that will enable you to read the messages of a person on Facebook, WhatsApp, Instagram, and any other social media platform that is popular.
Call Monitor:
Call monitor gives you a record of all the incoming and outgoing calls of the user. Not only that, but you can even record the iPhone calls if you like.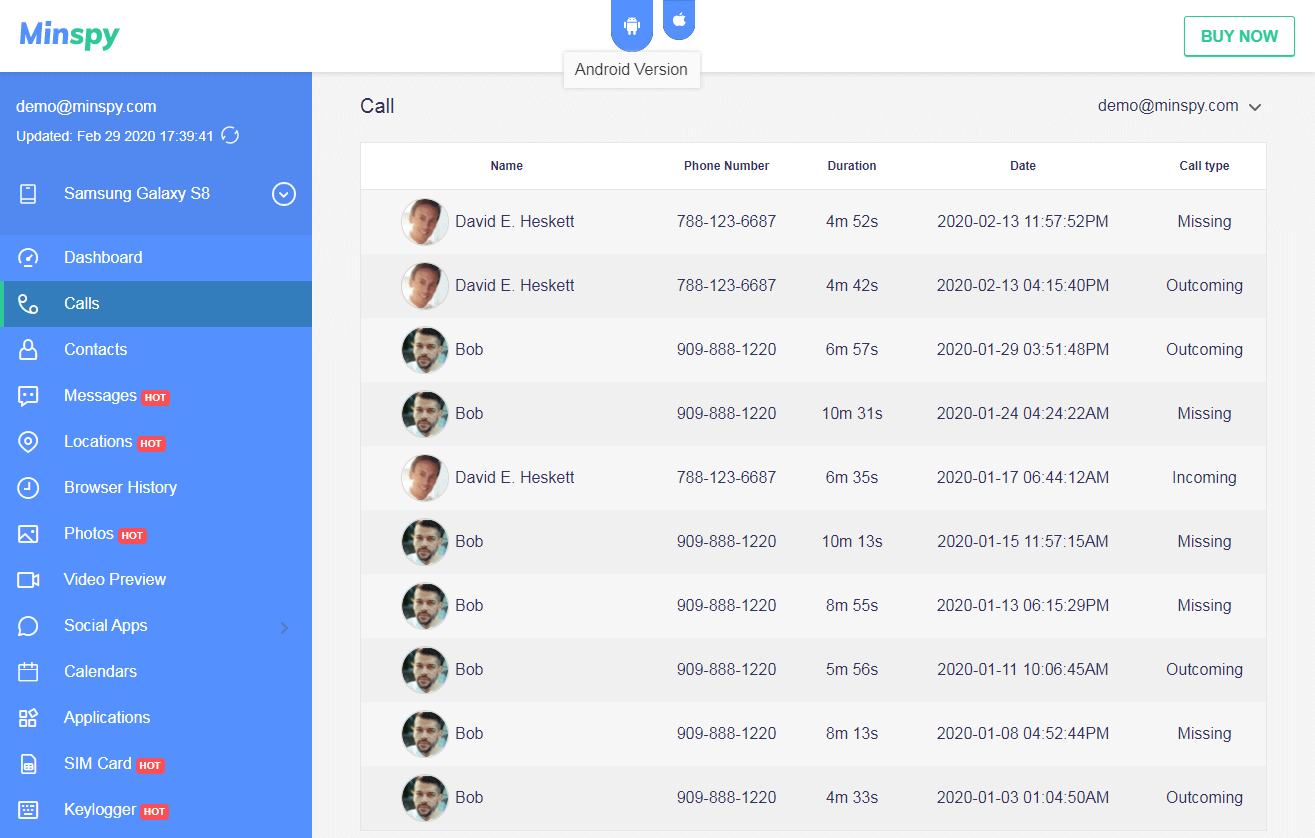 Location Monitor:
With Minspy you can track the live location of the other user, or their recent locations. Further, it even comes with Geofencing, which is the next big thing in location tracking.
iPhone Keylogger:
Keylogger is my favorite feature, and is going to be your favorite too. Its iPhone keylogger keeps a track of everything that the user types on their keyboard. This includes messages, web searches, usernames, passwords, and whatnots.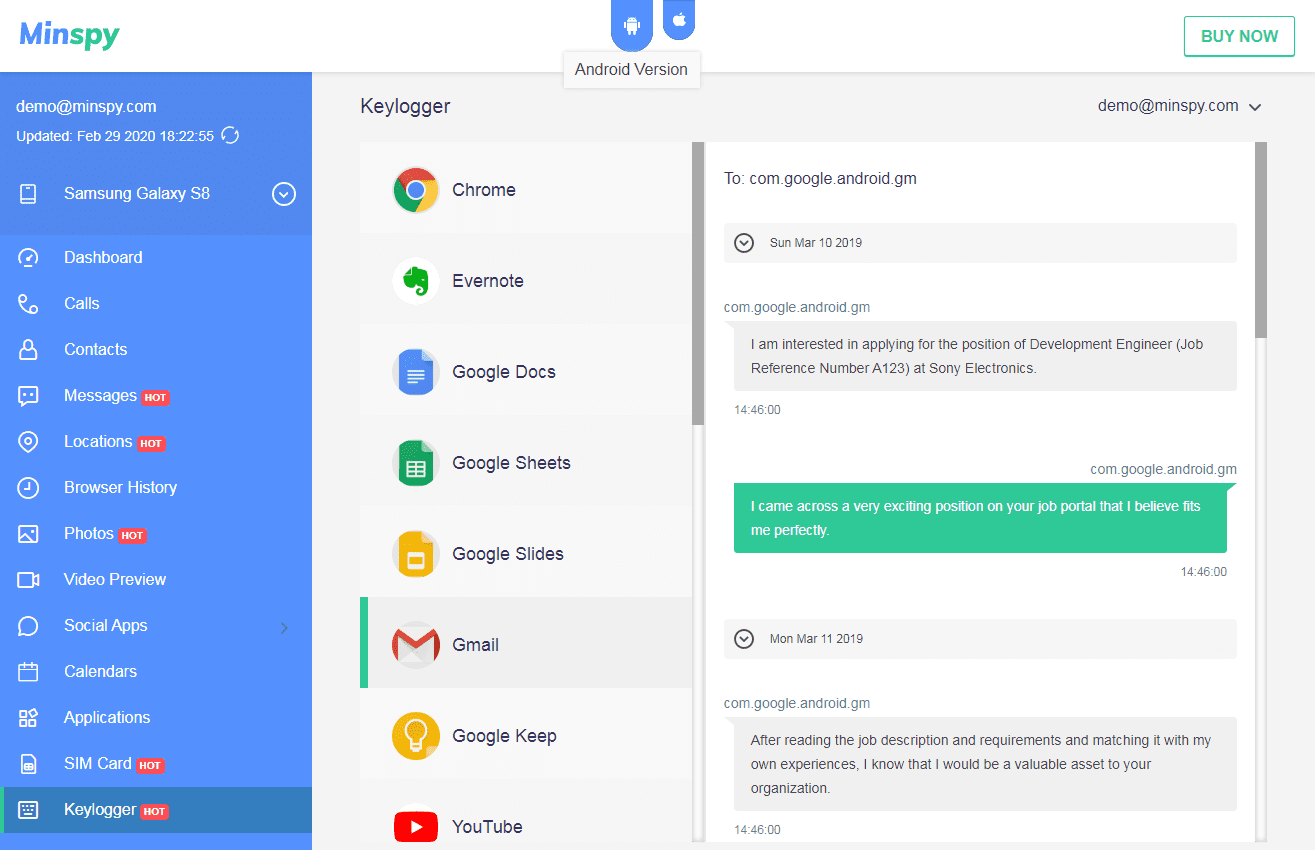 There are many other features that you can use with Minspy. As I mentioned before, it would be best to try out Minspy's free demo in order to evaluate these features. It will give you a better idea of how everything works.
Part 2: iPhone Spying- Things to Keep in Mind
When you are thinking about spying on an iPhone, there are certain things that you should keep in mind. These include:
Free iPhone Spying:
It takes a lot of resources to develop an iPhone spying app. Therefore, if you want to use an iPhone spying app that actually works, do not waste your time trying to search for free iPhone spy apps. Not only they do not work, but they might also end up infecting your system with viruses.
Jailbreak vs No Jailbreak:
Most iPhone spy apps ask you to jailbreak the target iPhone in order to work. Then there are some iPhone spying apps that can work without jailbreak.
It is always a good idea to choose an iPhone spy app that can work without jailbreak. If you jailbreak an iPhone, it nullifies its warranty as well as security. Further, the other user is going to find out what you have done, and you are going to bear the consequences.
Financial Credentials:
When you spy on an iPhone with Minspy, there is a lot of data that you are going to get. This data should only be used to protect your relationships, ensure the safety of your children, or keep an eye on your employees' productivity. In no case should you use these credentials to commit financial fraud, as it is a punishable act.
Keep these things in mind and you are going to be great when you spy on someone's phone. Rest assured, Minspy has a dedicated team working round the clock in order to handle your queries. You can contact them at any time if you face an issue (which you probably won't considering the bug free design).
You May Like: How to View Private Browsing History on iPhone
Wrapping Up
With the right app, there are a lot of things that you can do while spying an iPhone. Everything can be done very easily and there is no problem that you are going to face. Just make sure that you stick to the steps that I mentioned in this guide.
Thank me later!
If you want to know how it works on Android device, check this video here.
This post is also available in:
Deutsch (German)