Do you want a way to spy on an iPhone? Contrary to what iPhones claim, there is nothing like a 100% secure system. Yes, that is true, even iPhones can be spied on.
And no, I am not talking about those time wasting scams that ask you to go through a bunch of surveys and human verifications, only to end up right where you started. That is not what you are going to be doing today.
I am talking about working iPhone spy apps, which get you to have every bit of data on someone else's iPhone remotely. In fact, some of these ways will let you spy on an iPhone without ever having to touch it.
I have tried and tested each of these methods, and each of them is a verified iPhone spy app. Therefore, read this guide to the end and learn all there is to about the best iPhone spy apps out there.
Best iPhone Spy Apps
To ease you the hard work of deciding which app is better, I have arranged these apps starting from the best iPhone spy app and moving down from there. Here we go:
#1 Minspy
Minspy is the absolute best when it comes to iPhone spying apps out there. This is because of all the cool things that Minspy is capable of.
It has millions of users all over the world which use the service on a monthly basis to keep an eye on someone's iPhone. Generally, these people include parents who want to keep an eye on their children or people who are suspicious about their partner's activities.
Minspy enjoys a very high retention rate too, which means that everyone who uses Minspy once tends to renew it every month.
I know you are wondering why Minspy is the best iPhone spy app out there. Well, I am going to give you a lot of reasons for the same:
What Makes Minspy the BEST iPhone Spy App?
There are a lot of reasons for why people choose to use Minspy's iPhone spying solution. I will tell you about a few of these reasons here:
Secret iPhone Spying:
When you are spying on an iPhone with Minspy, the other user is never going to find out about it. This is because of Minspy's secret iPhone spying solution, which can work without touching the target iPhone even once.
Web App:
You won't need to download any app on your phone or PC in order to use Minspy. This is because Minspy can be operated from its web dashboard, that opens in any web browser that you use. You can access it at any time by logging into your account.
Data Security:
When it comes to data security, nothing beats Minspy. It goes the extra step to ensure that your private data truly remains private. In fact, it doesn't store any of your private data on its servers. Even Minspy's own team cannot view your private data.
No Jailbreak Needed:
Most iPhone spy apps ask you to jailbreak the target iPhone in order to work. However, if you are using Minspy, there are no such hefty requirements.
Ease of Use;
Minspy is the easiest iPhone spy solution that you will ever find. Most iPhone spy apps require you to spend hours trying to configure them. With Minspy, it takes just five minutes and you have the data of the other person on your screen.
There are many other cool things that you get with Minspy. To watch them out for yourself, you can try out this free Minspy demo. It shows you all that Minspy is capable of.
How to Spy on an iPhone Secretly
With Minspy, it is the easiest thing in the world to spy on an iPhone secretly. This is made possible by Minspy's iOS solution, which does not even require you to touch the target phone even once. This is made possible by using the iCloud features of iPhones.
With the iCloud feature, all the data of an iPhone gets uploaded to the iCloud server. This includes every little thing that they have on their iPhone.
Minspy utilizes this iCloud backup to extract all their private data. This data is then forwarded to your Minspy dashboard. There is nothing that Minspy keeps for itself.
Therefore, all you have to do in order to spy on their iPhone data is to verify their iCloud credentials with Minspy. Minspy will do the rest of the job.
Minspy's Features- All the Things You Can Spy Using It
Minspy offers you a range of features that cover every aspect of someone's private iPhone data. Some of my favorite features include:
Social Media Spy:
The social media spy module has tabs for getting you the private messages of the user for every popular social media platform out there. Minspy allows you to spy on Facebook messages, track Snapchat, view their Instagram, and even read their WhatsApp messages.
Call Monitor:
The call monitor feature gives you the call logs of all the calls that are made and received by the user on their iPhone. It even gives you the feature to record their phone calls if you want.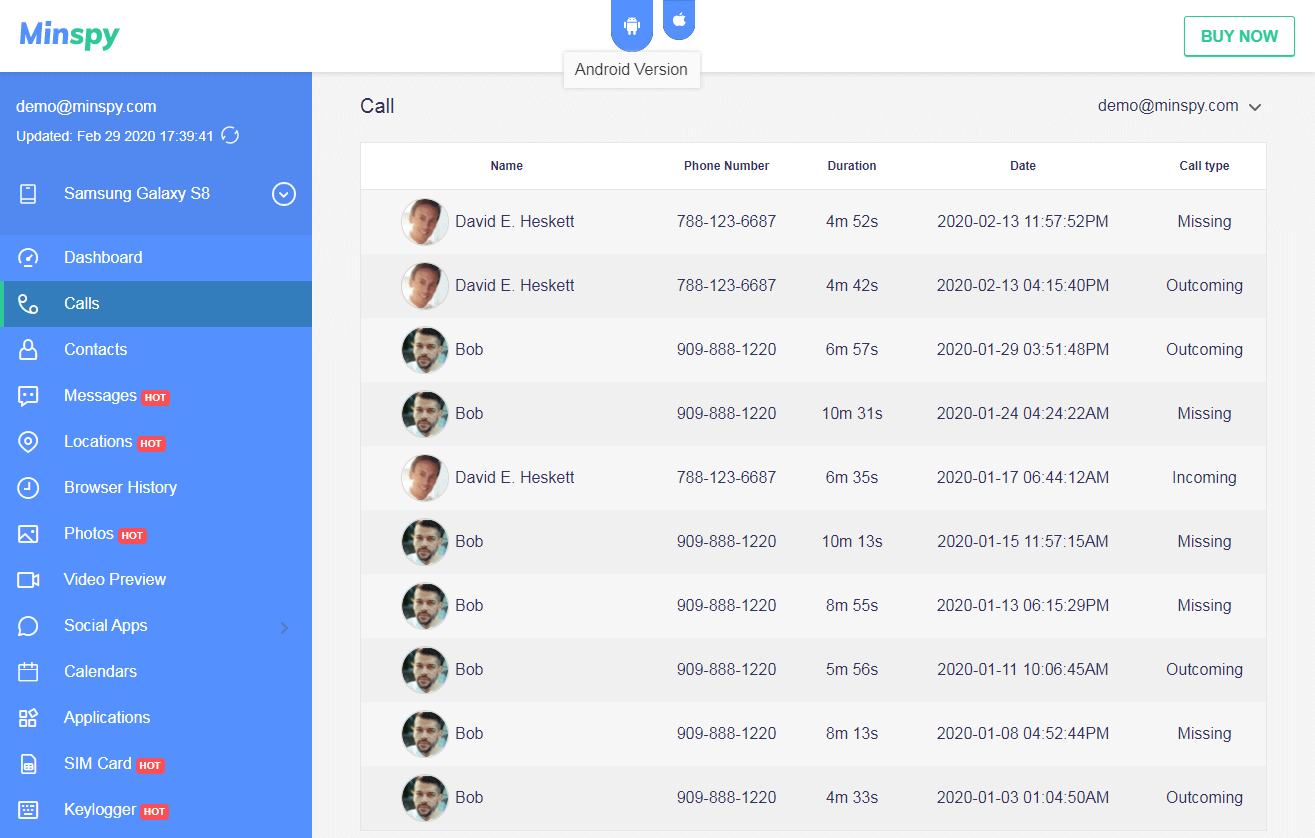 Keylogger:
Keylogger is the best thing you could get in an iPhone spy. Find the best keylogger for iPhone is an important thing. It shows you all the things that the user has typed on their iPhone. This includes their messages, browser searches, usernames, and even their passwords.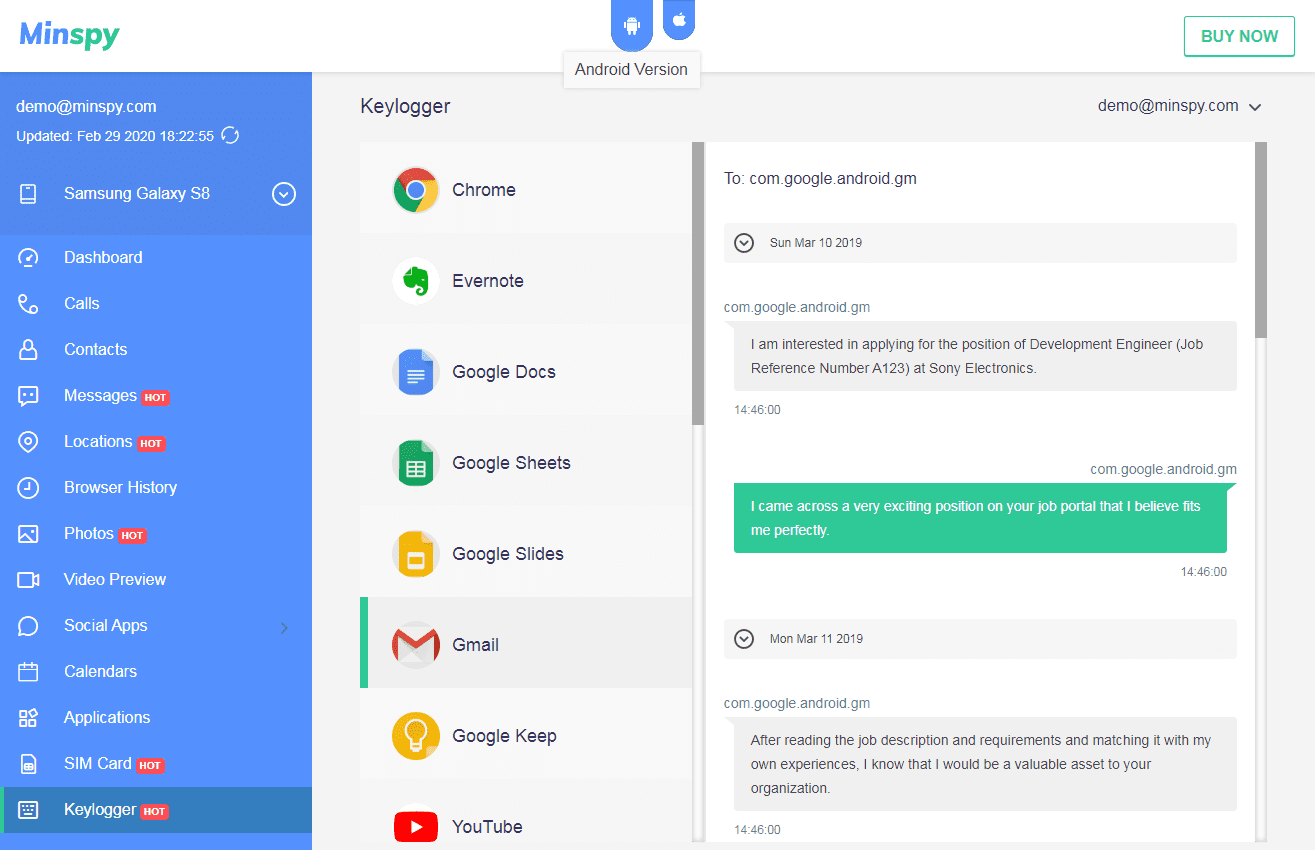 Besides, it is available to spy on someone's Android phone with Minspy, and this video shows how it works.
Also Read: 10 Best Keylogger for Android
Location Tracker:
The location tracker shows you the live location of the user 24×7. You can also check on their recent locations along with the timestamps. You also get the geofencing feature, which allows you to set boundaries for the user location on the map.
There are many, MANY other features to use. If you want to see more of them, you can try this free Minspy demo. It shows you all their features in action without asking for any signup.
You May Like: 10 Best Spy Apps
Part 2: Spyier
If there is anything better to spy on an iPhone than Minspy, it has to be Spyier. Spyier lets you spy on an iPhone data from any corner of the world, without touching the target iPhone.
It is so popular that I have seen people online talking about Spyier a lot. In fact, I have even seen positive reviews of Spyier in the best tech review websites out there, like TechRadar, Forbes, PCMag, etc.
This is all due to the awesome things that Spyier brings to you. Some of these include:
Spyier has a team of people who are always ready to assist you in any way you want. No matter what issue you face with Spyier, their user support team can be reached out 24×7. In fact, they even guide you on how to use Spyier (not that you will leave any guidance).
Pricing:
Free iPhone spy apps are not hard to find, they are IMPOSSIBLE. Any iPhone spying app that claims to be free just ends up being a scam- it is as simple as that. However, you can choose how much you want to pay for an iPhone spying app.
Spyier is the absolute cheapest iPhone spying solution, and you should use it if you want the most value for your money.
Interface:
The interface of Spyier is simply flawless. There are no bugs that you will find anywhere in its system. Therefore, even a novice user like your grandma can operate the service.
I know that Spyier sounds awesome. I thought the same when I first used it.
Also Read: 10 Best Snapchat Spy
Part 3: Spyic
Spyic is a very good iPhone spying solution, and also the best spy app for Android. Spyic is a great app for people who have not used any spying app before, as it doesn't require you to have any prior experience at all.
The thing that I love about Spyic is how they have designed their service. Their dashboard is very easily accessible through their website, and login takes just a couple of clicks.
Once on the dashboard, the features can be seen on the left hand side, with each feature enjoying its own tab. Therefore,  you won't be struggling with anything if you go ahead with Spyic.
Part 4: Cocospy
Cocospy is the oldest iPhone spy out there, which has been around for almost as long as iPhones have been. And in this long time, it has accomplished quite a lot.
It supports all iPhone models, no matter which one you might be using. The updates are constant and regular. Therefore, you won't have to worry whether you have the earlier versions of the iPhone, or the model that launched just yesterday.
Not only that, it has all the good bits that the apps above it have, therefore it is in no way lesser than any of those. If you are looking for a good iPhone spying app, Cocospy is not going to let you down either.
Part 5: Fami360
A significant portion of people who are looking forward to using a phone spying app are parents who want to keep an eye on their children. After all, we all know how much cyber crime is going on the internet nowadays especially targeting children.
This is where Fami360's iPhone spying service comes into play. It is designed exclusively to be used by parents who want to keep an eye on the activities of their children.
With Fami360, you get to know every little bit that your child does on the internet. You can know who they are chatting with, and what they are chatting about.
Since children do not like parents penetrating their privacy, Fami360 offers a stealth mode that never lets your child find out that you are spying on their iPhone.
The best part is that since Fami360 is designed for parents, it comes with complete ease of use.
Part 6: Spyera
Spyera is another good iPhone spying app that can do the job for you. While it was more popular in the bygone era, other better apps have taken the crown from it in this day and age.
Yet, Spyera is not lagging that far behind. It has an array of features that can give you a lot of the data of someone's iPhone. While you can get a lot more features with the other apps that are above it on this list, Spyera is a good option if you want an alternative to them.
A major disadvantage of using Spyera is that it requires you to jailbreak the target iPhone. This is seen as a dealbreaker by most iPhone users, who don't really want to jailbreak the device to view its data.
Other than that, Spyera is fine and I will give it a thumbs up if you aren't concerned about the jailbreaking that it requires.
Part 7: Copy9
Copy9 is one of the best iPhone spy apps and it can easily compete with the apps that I have mentioned so far. You might be wondering that if it is so good, why doesn't it get the top spot on this list?
Well, that is because Copy9 has some serious problems with downtimes, as more often than not its services are simply unavailable. This leads to many users who have purchased a Copy9 subscription complaining that their money is wasted.
However, if you feel that you will be the lucky one who can catch Copy9 on the time that it actually works, you can go ahead and give it a try.
Part 8: Highster Mobile
While Highster mobile does not enjoy as much popularity as the other iPhone spying apps on this list, its solution definitely works well.
It is majorly used for its iPhone location tracking solution, as the other features of the app can be seen lacking in some regard. Most people who use Highster mobile are the ones who haven't really heard of the other apps that I have mentioned so far.
A major disadvantage of Highster mobile is that it asks for a one time payment right away, rather than a low monthly subscription fee.
This means that you can expect it to go out of date very soon. Generally, apps that offer a monthly subscription tend to be regular and frequent with updates. One time payments mean that the phone you wish to track might even be unsupported by Highster Mobile.
Part 9: Spybubble
Spybubble is also called Prospybubble at times. It is a simple (maybe too simple) iPhone spying app that can let you know about the activities of the target iPhone user.
While the information provided by Spybubble is not that in-depth, you can know minor details about who the person might be talking to, such as spy your wife's Phone. This can seem a little lacking at times, especially when apps like Minspy even show you the details of someone's private text messages.
The interface of Spybubble is another thing that I wouldn't praise about it. It can seem childish and a little bit too casual to an average user who wants some assurance that they are using top quality software.
But since it doesn't scam you or claims to do something it cannot, I will award it the ninth place on this list.
Part 10: Spyzie
Talking of spying apps, I will give Spyzie an honorary mention on this list. It offers admirable iPhone spying solutions, with features almost comparable to the top apps on this list (although not as many).
The interface is average and you wouldn't really complain about it.
With Spyzie App, users get a reliable online spy app that lets them spy on any smartphone. If you want an all-round spy app, Spyzie is compatible with Android and iOS. Spyzie can spy on any device running on these platforms.
With Spyzie, users can spy on virtually anything on the target device. The app can spy on everything from social media apps to the whereabouts of the target cell phone.
Part 11: Frequently Asked Questions
Many people often have certain doubts when it comes to spying on an iPhone. This is why I will answer the most commonly asked questions here:
Q: Can I use an iPhone spying app for free?
A: Unless you want to end up being scammed, you should never fall for an iPhone spying app that claims to be free.
Q: Can I spy on an iPhone without touching it even once?
A: Of course. Our top picks on this list allow you to get all the data of an iPhone without having to access it at all.
Q: Do I need to jailbreak the target iPhone to spy on it?
A: Some apps ask you to jailbreak the target iPhone and some don't. Most of the apps on this list (especially the top contenders) can spy on an iPhone without needing jailbreaking.
Q: Can I track an iPhone location with these apps?
A: Of course. Each of these apps provides you with the live location of the iPhone. Minspy even lets you have their recent locations along with the timestamps.
Q: Which is the absolute best iPhone spying app?
A: That depends on your preference and needs. After reviewing each one personally, I have arranged them starting from the best to the 'not so best'. For me, Minspy earns the first spot.
Wrapping Up
Now that you know all about the best iPhone spying apps that there are, my job is done and your job starts. You should start with any iPhone spy app that you like to get the data of anyone you want.
If you use the right app in the right way, it wouldn't take you more than five minutes. Good luck!
Reference:
This post is also available in:
Deutsch (German)
Español (Spanish)