You being here suggests that you are having suspicions about your wife's activities lately. Believe me, you are not the only one who feels that way. Infidelity is becoming more and more common, especially with social media skyrocketing the odds of it happening.
Therefore, the best way to keep an eye on your wife is unarguably by monitoring her cell phone. Even if she is not cheating with someone online, you will know about her location at all times.
Therefore, today I am going to teach you about a cool new way through which you can track your wife's phone at any time. Not only that, but you can also monitor her private data to know everything she hides from you. Keep reading to find out more about it:
Part 1: How to Track My Wife's Phone Without Her Knowing
Tracking your wife's phone might be way easier than you imagined it to be. It is not like you see in movies, where you need to get a bunch of software and do a lot of programming in order to make it work.
In this day and age, there are apps already that can do the job for you. While you have countless options to track a cell phone, tracking your wife's phone without her knowledge will require the best of the best.
This is why I will talk about only the best:
1.1 Minspy- The Secret Cell Phone Tracker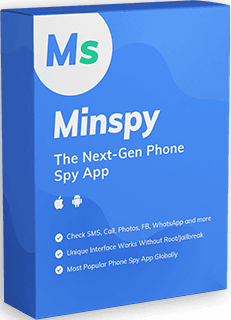 Minspy is a secret phone tracking app that is used by countless people in the world to track their spouse's phones. It is so popular that I wouldn't be shocked if your wife was using it to track your phone as well.
Minspy offers phone tracking services for iPhones as well as Android phones. Therefore, regardless of which phone your wife is using, you are going to know all about her activities.
The best part about Minspy is that it is 100% hidden. This means that you can keep an eye on your wife 24×7; yet, she would have no knowledge of it. Isn't that every husband's dream?
Even if you are not suspicious of your wife's activities, Minspy lets you know that she is safe and sound. After all, it is not unusual for men, in general, to get anxious when the wife is late from work or even grocery shopping.
Whatever your reason is to track your wife, there is nothing better than Minspy. Let me tell you a few things about it:
What Makes Minspy So Special?
As I mentioned just now, Minspy is the best phone tracker app when it comes to tracking your wife. Here are a few reasons for the same:
Data Privacy:
You don't want your wife's private data or location to be seen by third eyes, right? This is why Minspy employs the best security measures in the world to make sure that your private data is truly private.
Minspy simply forwards your wife's data to your end, without saving any of it on its servers. In fact, even Minspy's own team cannot view your private data. This is a big relief for anyone concerned about the private data being stolen.
No Root or Jailbreak Required:
Most phone tracking apps that work secretly will require you to root or jailbreak your wife's phone. However, Minspy is different.
You can use each and every one of Minspy's features without having to root or jailbreak the target phone. After all, we all know that you should never root or jailbreak a phone.
Web App:
You can use Minspy from your phone, your computer, your tablet, or any other device without even having to install any software on these devices. This is made possible by its web dashboard, that opens in any web browser you use.
Pricing:
There is no secret phone tracker that you can get for free. However, if you compare the prices, Minspy turns out to be the cheapest. Not only that, it even offers the most features. Therefore, there is no better value for money.
As you can see, Minspy is way ahead in the race when we are talking about apps to track your wife's phone. It even has a free web demo where you can see how it works live in action. There is no signup needed.
I know you might have the question- 'how will it track my wife secretly?' Well, here is the answer to it:
How Minspy Tracks Your Wife SECRETLY?
Using Minspy means that your wife never finds out that you can view her location and data. This is because of Minspy's unique solutions for iPhones and Android phones. Here's an explanation for these:
Tracking Your Wife's iPhone Without Her Knowledge:
If your wife uses an iPhone, you won't need to touch her phone even once in order to track it. This is because of the iCloud feature, that is present in all iPhones. Due to this feature, all the data of an iPhone is uploaded to the iCloud server in an encrypted form.
Minspy's iOS solution decrypts this data and forwards it to your personalized Minspy dashboard. From here, you can view everything that your wife has on her phone, as well as her location whereabouts 24×7.
Therefore, all you need to track your wife's iPhone secretly is her iCloud credentials. Minspy will do the rest of the job.
Tracking Your Wife's Android Phone Without Her Knowledge:
If your wife is using an Android phone, it is mandatory to install the tracking app on the target phone itself in order to track it secretly. This is the case no matter which tracking app you are using.
Minspy understands this Android requirement, which is why Minspy's Android solution is designed to overcome this hindrance by working secretly on her phone.

To start with, the app's size is less than 2 MB, which means that it installs within a matter of seconds. Once it is installed, the app icon is going to vanish from your wife's phone. Therefore, she will have no idea that you installed any app at all.
The app runs in the background only without triggering any notifications or consuming any battery. And if you ever feel the need to uninstall it, you can do it remotely from your Minspy's dashboard.
Things can never be more easy and secretive. You know everything about what your wife is up to, and your wife has no knowledge that you know.
1.2 How to Track My Wife's Cell Phone GPS
Now that you know all there is to know about Minspy, let me tell you about the steps to use Minspy:
Step 1: Register for a Minspy account and get a subscription plan based on your wife's phone. If she uses an Android phone, you can get an Android phone subscription plan. If she uses an iPhone, you can get an iPhone subscription.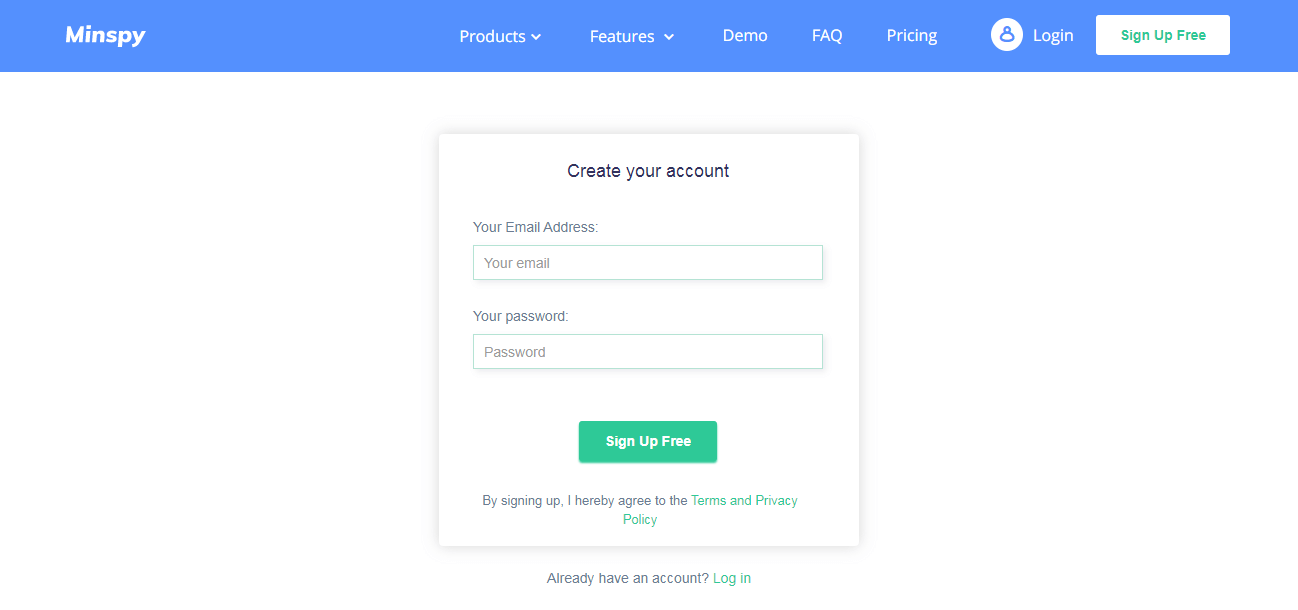 Step 2: a.) In case of iPhones, verify your wife's iPhone credentials when asked.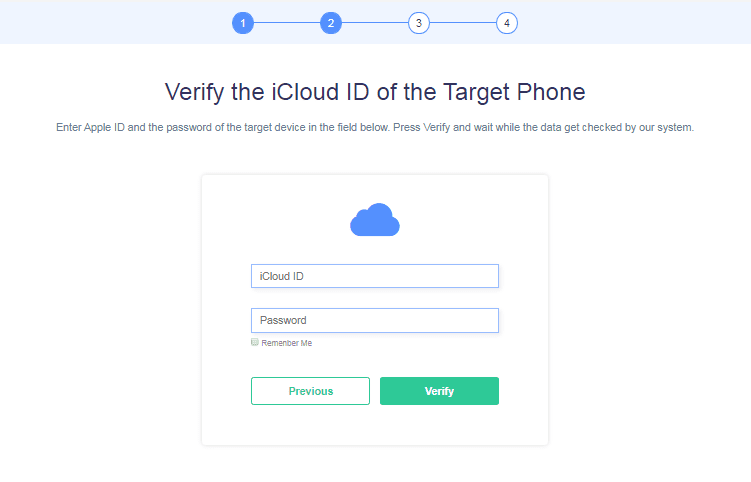 b.) In case of Android phones, download and install the Minspy app on your wife's phone when you see the link on your screen in the setup wizard.
Step 3: Once you are done with Step 2 and Minspy has synced the information, you can click on the 'Start' button. You are now ready to track your wife's phone.
Once you click on the 'Start' button, you will be taken to your dashboard. You can find all the Minspy features on the left-hand side. To use any feature, you just need to click on its tab.
When you are considering tracking your wife's phone, you will particularly like the following features:
Location Monitor:
The location monitor gives you the live location of your wife 24×7. You can track cell phone recent locations here, along with the timestamps.
Geofencing:
Geofencing allows you to set boundaries on the map for your wife's location. If your wife's phone crosses these boundaries, you get an alert immediately.
Having these features at hand means that you know at all times where your wife is. Even if you were busy, you can check later to find out where your wife has been.
And if you feel it is too good to be true, you can always try Minspy's live demo for free. You don't have to install any app for it or get a subscription.
Wrapping Up
Tracking your wife's phone secretly is just as easy as I promised. All you need to do is follow the steps that I mentioned here, and Minspy will do the rest of the job.
And if you are suspicious of your wife's activities or worry about her safety, it is better to hurry than delay it.
Good luck!