Hacking a Facebook messenger is like shopping for your breakfast cereal in the sense that you can do it through so many ways. However, just as any random cereal won't really feel right to you, similarly using any Facebook messenger hack at random won't work.
Since you are here looking for a Facebook messenger hack, I am going to assume:
You want an app that can hack Facebook account without password and doesn't require any hacking skill at all. You want something that can do the job for you.
You want it to be as easy as using your own Facebook account. You don't really have the time and patience to spend hours programming to device a working hack.
You want to read someone's personal Facebook data (like their messages) without the person finding out about it.
I know you are wondering how do I know all this. Well, that is just because you are not the only one looking for a Facebook hacking app. There are countless other people just like you.
However, most people try one or two methods that fail and they give up their search. Luckily, you reached here! You will not need to search any further. This guide is going to give you the perfect way to read someone's Facebook messages secretly.
Part 1: How to Hack Someone's Facebook Messenger Messages
You might have seen in movies that people spend day and night on their computer screen writing all the hacking codes. In the end, after hours and hours of efforts, they finally crack the code and then its party time.
The way I am about to tell you will take you to the party time directly, without all the hard work in between. This is because you would be using an app that can crack someone's Facebook account directly, with access to their phone.
1.1 Minspy- The Ninja Way to Hack Facebook
Minspy is a Facebook hacking app that you can use to hack someone's Facebook installed on an iPhone or an Android phone. No matter which version of Android/iOS they have or which phone company they use, Minspy is going to work like magic.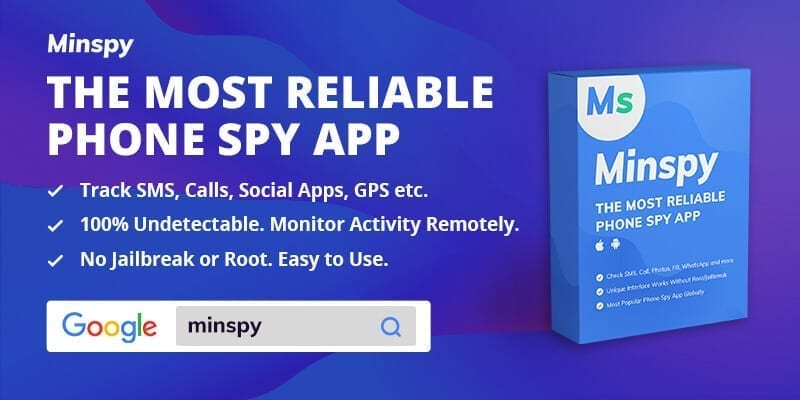 When you use Minspy for the first time, I promise you that you would be kicking yourself in the shin for not knowing such an awesome method earlier. When I first started using it, I was sceptical since I doubted any app would be able to hack a Facebook account.
Once I started using Minspy, my thoughts totally changed. With Minspy, you will be able to read the entire Facebook message conversations of the other person.
In fact, it is not just limited to Facebook, but also includes Snapchat, Instagram, WhatsApp, and any other social media platform they might be using. Minspy is an all-inclusive phone hacking app that is perfect for you if you are looking for Facebook hacking.
What Makes Minspy the Perfect Facebook Hacker App
I spent countless hours trying to research various apps and methods for Facebook hacking. In the end, my conclusion was that there is nothing better than Minspy. This is because of the following reasons:
Secret Facebook Hacking
When you are using Minspy to hack someone's Facebook account, the other user will never find out about it. This is due to unique technology incorporated in Minspy's design, about which I am going to talk in a short while.
No Root or Jailbreak Needed
While most other Facebook hacking apps ask you to root or jailbreak the target phone to get its Facebook data, Minspy works without making any such absurd demands. After all, no one wants to root or jailbreak any phone, be it theirs or somebody else's.
Web App
Following the latest trends of new apps that work through the cloud, Minspy won't ask you to download any app on your own phone or PC in order to work. Minspy gives you a personalized dashboard that has all its features.
This dashboard opens in any web browser that you might be using. All you have to do is login into your Minspy account through the website. You will then be redirected to your dashboard.
Data Security
Due to all the things that I hear on the news, data privacy and security was a big concern for me. I am sure that the same holds true for you, in case you are hacking the Facebook account of a loved one.
This is why I hold Minspy in high regard. It employs the best data security measures that the top tech companies in the world are using. In fact, even Minspy's own employees cannot access your private data (including the Facebook messages of the person you hacked).
There are a lot of other things that I liked in Minspy, but if I start listing each, I wouldn't have time and space to tell you about how it works and how to hack Facebook messages using it.
Therefore, let me continue the discussion of how Minspy works secretly. If you are eager to see what Minspy feels like, you can check its free live demo.
Secret Facebook Hacking
For the inquisitive ones among you, there might be a question in your head that how can Minspy hack a Facebook account secretly. Well, I wouldn't let you remain hanging to the doubt. Here is an explanation of how Minspy's secret Facebook hack works:
Minspy for iOS:
When you are hacking a Facebook application installed on someone's iPhone, you would not need to touch their iPhone even once. Minspy's iOS solution accomplishes this by exploiting the iCloud feature of iPhones.
As you might know already, all iPhones come with the iCloud service preinstalled on the phone itself. Due to this service, all the data of an iPhone gets uploaded to the iCloud server. This includes their Facebook messages as well.
Generally, this data is in an encrypted format and you wouldn't be able to make out anything from it. However, Minspy's advanced algorithms can decrypt this data.
Therefore, Minspy extracts their Facebook messages out of this data. These messages are then forwarded to your Minspy dashboard.
While this is the detailed working of Minspy, you wouldn't need to bother with any of it. You just have to provide the iCloud credentials of the target iPhone to Minspy. Minspy does the rest of the work.
Minspy for Android:
Minspy's Android solution for Facebook hacking is a bit different from its iOS solution. To make Facebook hacking possible on Android devices, you need to install the hacking app on the target phone itself. This is true no matter which app or hacking method you choose.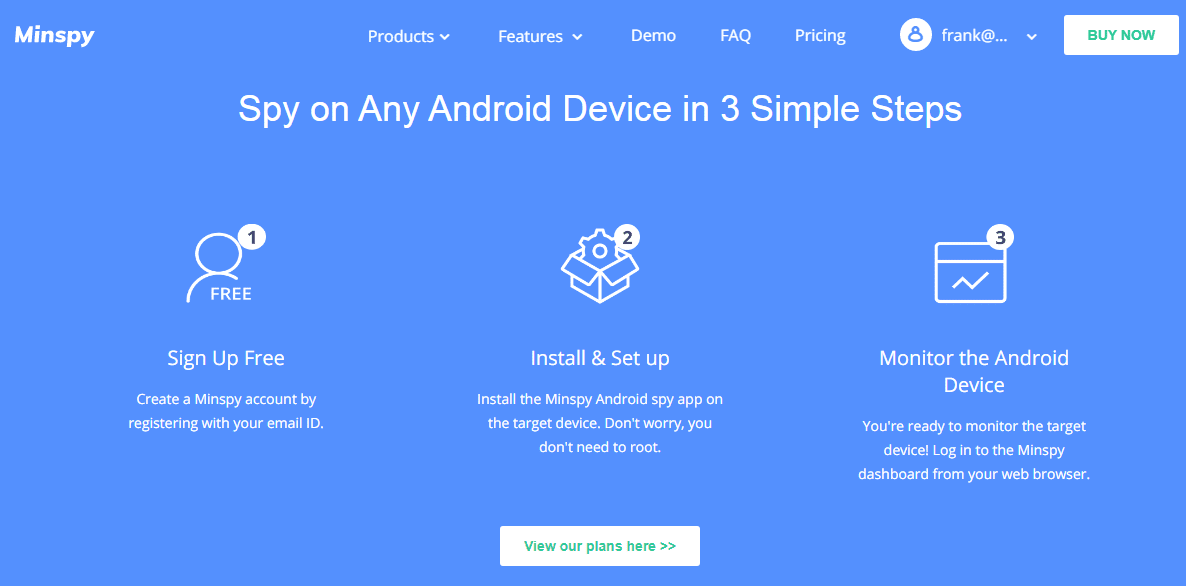 However, using Minspy for Android has its own advantages. Minspy has created its Android installation app in a unique way so as to overcome any limitation that could be possible.
For one, Minspy's app for Android phones is less than 2 MB in size. Therefore, it only takes a few seconds to install it. Once installed, the app icon will vanish from the app menu of the target phone. Only you will know the secret code to launch the app.
The app runs in the background only and it won't give any notification on their phone. It will not consume any battery either. Therefore, there is no chance that the other user will get suspicious.
And if you ever feel like uninstalling the app, you can do it remotely from the Minspy dashboard from any web browser. You won't have to touch the phone ever again after the first time.

1.2 How to Hack Someone's Facebook Messages
Now that you know all about Minspy, using it is a child's play. You just need to follow these steps to spy IOS:
Step 1: Register for a Minspy account and get a subscription plan based on the target phone's operating system.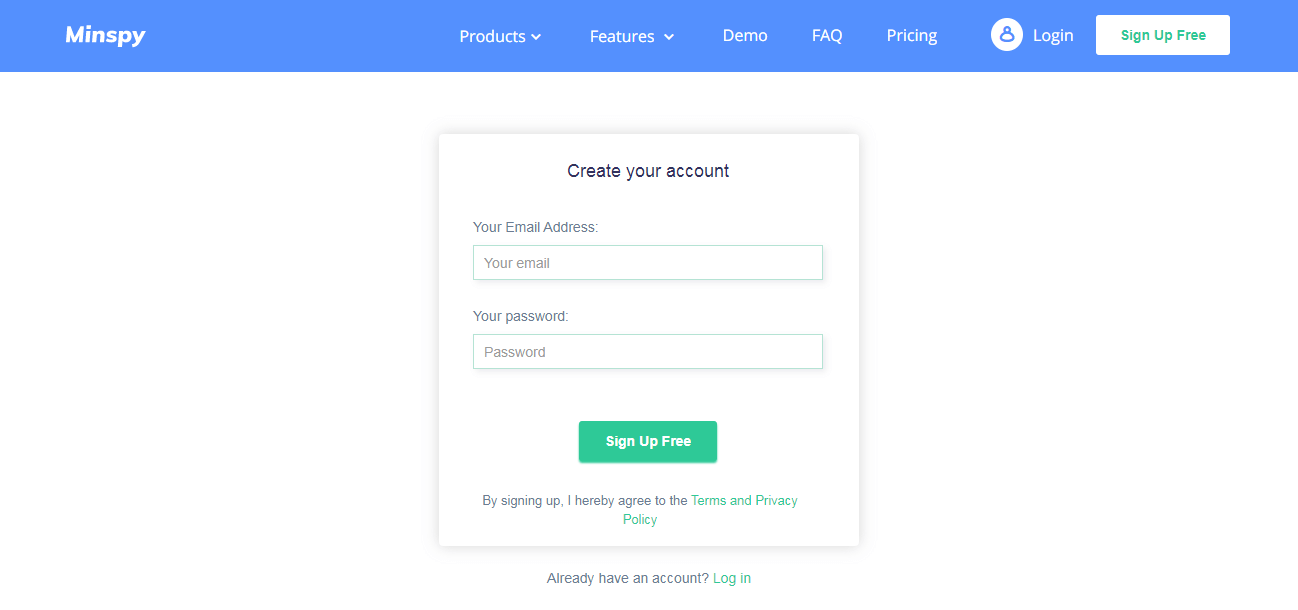 Step 2: a.) If you want to hack Facebook on an iPhone, you just need to verify its iCloud credentials.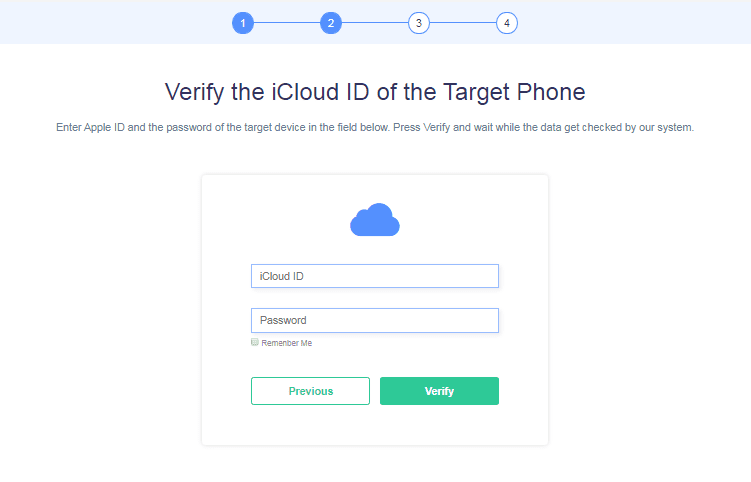 b.) If you want to hack Facebook on an Android phone, you can download and install the Facebook app from the link mentioned on the screen.
Step 3: Click on 'Start' to finish the installation. You will be taken to your dashboard.
You can use the Facebook hacking feature from the dashboard directly. You will find it under 'Social Media Apps'. You can see all the sent and received messages of the person here, including the multimedia files too. Even deleted messages will be hidden to you.
Minspy also comes with a keylogger feature that records every keystroke that the other user makes on their phone. This feature will show you their typed messages, usernames, web searches, and even passwords.
You can also spy Android by the following video:

Imagine all the things you can do with Minspy! I know that now you are very eager to use it. Well, using it requires you to follow the steps that I mentioned above. However, I can give you a small preview in the form of Minspy's live demo.
Part 2: How to Hack into Someone's Facebook Messenger
Life without options is like waiting in queue for ice cream only to find there are no flavours to choose from. This is why I am going to tell you about another Facebook messenger hack as well:
2.1 Spyine: The Rising Star of Facebook Hacking
Spyine might be comparatively new in the market as compared to the rest of its competitors. However, this doesn't stop it from stealing the spotlight from even the best and the most established Facebook hacking apps there are.
In working, Spyine just feels as awesome as Minspy. It is a web service too that does not require you to root or jailbreak the device. Further, it hacks the Facebook accounts secretly too.
All in all, Spyine is a good value for money and something you are going to like using. It also comes with a free web demo that allows you to try out its features before you get its subscription plan for the service.
Wrapping Up
If you wanted a way to hack Facebook messenger messages of a person, you now have the most perfect one. This means that my part of telling you all about these awesome ways is done. You could click here to find more info about hack app. Now it is left up to you to try them out and incorporate them into your business.
Reference:
This post is also available in:
Deutsch (German)
Español (Spanish)