Everyone loves Snapchat including your teen kid. For the same reason, it can give you a serious migraine if your kid is involved in suspicious messaging, picture sharing, etc. In that case, you will try keeping an eye on him/her. Sadly, a teen never likes to be watched over or guided over.
The good news, here, is that technology has advanced so much that we need not be on anyone's head while we wish to monitor their digital activities. So, we have a solution (obviously, the same solution will work for all, and not just kids).

This article will introduce you to a powerful & feature-rich Snapchat tracker, Minspy. It lets you know everything that your kid is doing over Snapchat without turning you into a helicopter parent.
Note: The suggested solution is 100% secure and saves no user data on its server. So, you or the target users won't ever be at risk with Minspy.
Part 1: How Can I Monitor My Child's Snapchat
Minspy, a product of high-end technology, is one such powerful Snapchat monitoring app that lets you gain a detailed insight into your kids' Snapchat activities without anyone letting you know about it.
Minspy – Your trusted Snapchat Monitoring App
It has more than 35+ remote monitoring features, millions of users across 190 countries, and risk-free Snapchat tracking. In short, Minspy is what you can trust blindly when you want to learn about how to track Snapchat.
It offers you 100% discreet, secure, and risk-free assistance throughout. While serving you as a Snapchat tracker, it never compromises your security by exposing the data in the dangerous outer cyber world.
This is what forced many media houses like the New York Times, iGeek Blogs and Forbes to sing in its praise and give it five stars. So, we would say that if you really want to keep your kids safe in today's insensitive world then you must rely upon the Snapchat tracker offered by Minspy.
How to Monitor Snapchat on iPhone Without Jailbreak?
If your kids are using the iPhone for Snapchat, they must be thinking no one can trace their activities. Well, it's true for sure. The only known way to barge into the OS of the iPhone and track its activity is a jailbreak.
Jailbreaking is the process of altering the original OS of the iPhone using some high-end technique. Now, for two reasons, doing so is not everyone's cup of tea.
The first reason is that you have to be a tech-nerd to make it happen.
The second reason is jailbreak can leave the targeted device good for nothing if you missed something or make a wrong move. You can either damage the OS or send an open invite to hazardous stuff like viruses, Trojan, and other cyber threats.
Both the reasons compel us to shun this practice once and for all.
Minspy knows the perils of jailbreak and offers you a Snapchat tracker free which works without putting forward the request of jailbreak. To bring its Snapchat tracker at your service, only three things are required:
A valid/activated Minspy account
Right iCloud credentials of the targeted device
Any computer & browser
Using these three things only, you can learn how to track Snapchat most reliably. Unlike the jailbreak, Minspy doesn't temper with the OS of the targeted iPhone. Rather it gets paired with the iCloud and gathers relevant information from there.
As iCloud is what most of the iPhone users use to save documents, contacts, media, web browsing history, social media passwords, and many other things, you can easily trace out what's happening on your kids' Snapchat's timeline.
Going a step forward to make its Snapchat tracker for iOS more powerful, Minspy offers you a very intuitive facility to all its users. This facility is known as Keylogger. Keylogger is a kind of program that gets paired with the keypad of the targeted device and records all the keystrokes.
So, when your kids type Snapchat account password, this Keylogger will record every keystroke and let you know. Based on the keystroke recording, you can easily find out the password of the respective Snapchat account and log in just like the main user.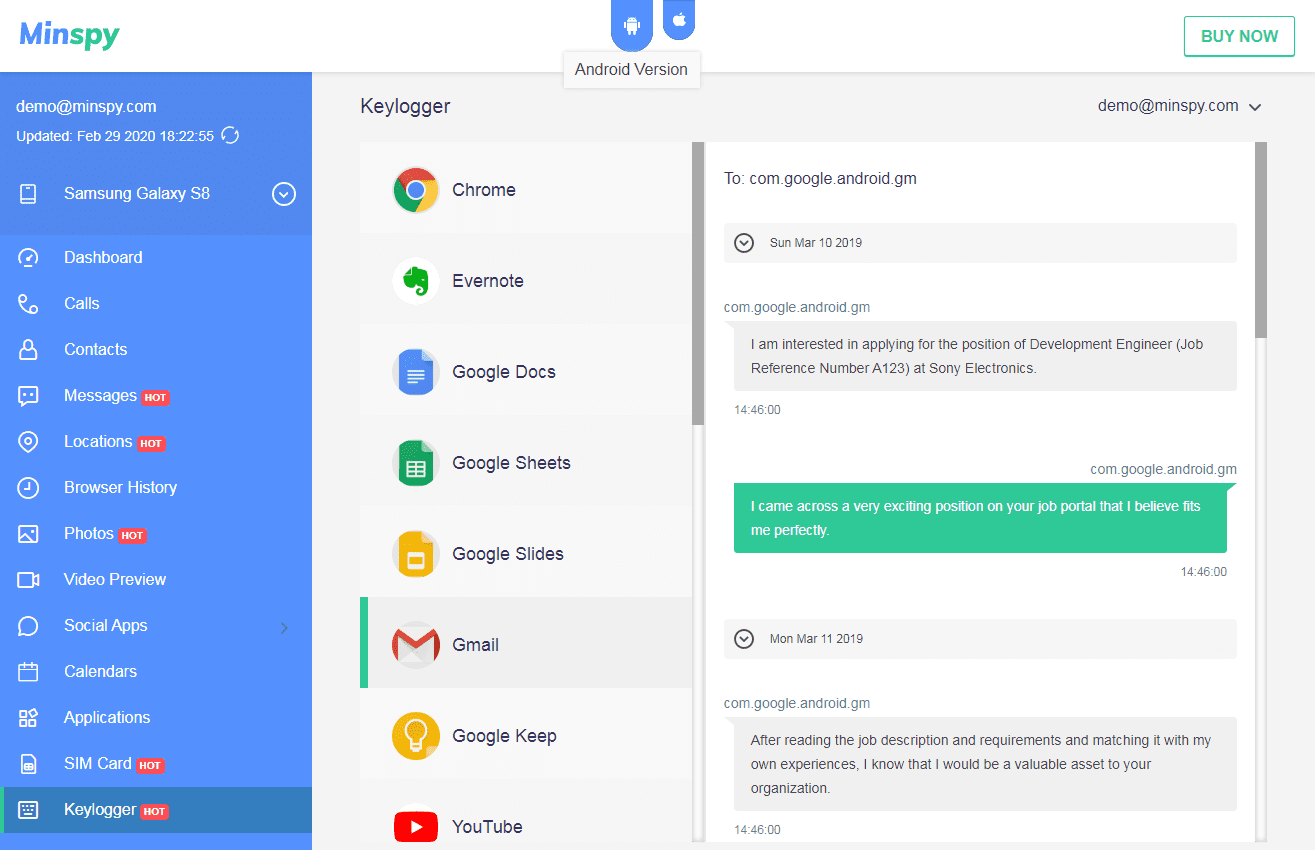 Once you're logged into the Snapchat account, you can check which picture was posted, which message was sent or received, and every other Snapchat activity. The best part is that it comes with 100% web-based.
That means neither you want to get involved in time taking app installation hassles nor you have to live under the constant fear of being caught in the act.
Just pick any device, log in using any browser, and start monitoring your kids' Snapchat presence.
It has really made parenting easier than ever. You must check out this free live demo to learn about its abilities.
Also Read: How to Track Phone Calls from Another Phone
How to Monitor Your Kid's Snapchat on Android?
The same sort of security and effortlessness that you will experience with Minspy's iOS Snapchat tracker can be carried forward when you use it for the Android platform. The only difference is that you need to install it on the targeted device.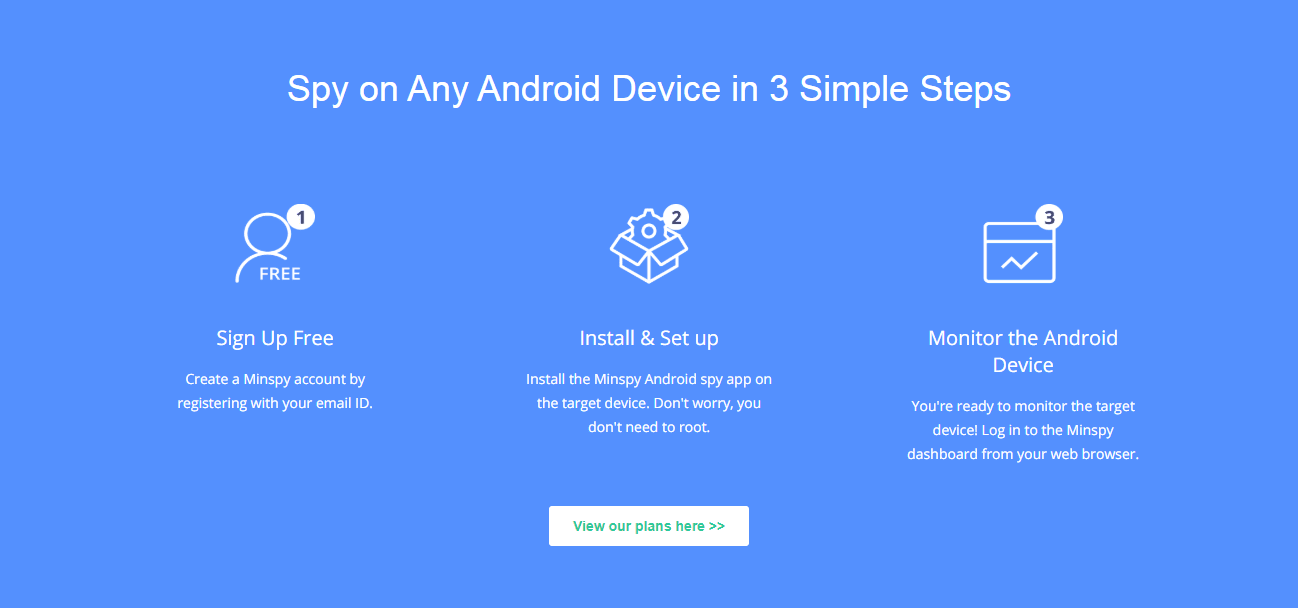 Well, this is not something that Minspy is doing differently. It is the need of Android OS that to track/record its activity, the software must be installed.
Working with the same principle, Minspy offers you an Android Snapchat monitoring app that is of less than 3MB size, doesn't hamper the original Android OS, and works as an undercover agent.
You have a choice to hide the icon from the app list and as soon as you make this choice, the app starts working in stealth mode and can be traced out. So, Minspy for Android is indeed the best choice to make. Wait! We are not over yet.
Due to its compact size, the Snapchat monitoring app offered by Minspy neither eats up a lot of phone's battery nor takes ages for installation. Its installation is a minute's job.
Once it's fully configured on the targeted device, it starts recording every Snapchat activity and sends live feeds.
You can enjoy the powerful Keylogger in the Android version as well. And we are glad to inform you that its Android keylogger is not like any other cheap keylogger that hangs the screen or interferes with the OS.
Have a look at this free Android demo to grasp the gist of its operation.
The Conclusion
Though Snapchat is fun, it's not something that any teen should do without any parental monitoring. Hence, sometimes it becomes necessary to track your child's phone without them knowing about the same.
Minspy's Snapchat monitoring app lets you monitor your kids using Snapchat without upsetting your kids. So, let's not waste any more time and leave our kids unattended in the cruel social media world.