Facebook gives you a free platform to share your life with your friends and family, but unless you exercise caution while sharing information on Facebook, every aspect of your life could be laid out in the open for the world to see.
That's why, if your spouse or teenage child is in the habit of sharing everything on Facebook, you might want to know exactly what level of risk they're exposing your family to. Maybe even intervene and block unwanted contacts who you find shady.
A Facebook password cracker can help you with the task. If you can get into their FB account, you can take control of things the way you want. And that too, without them finding out!
This post aims at highlighting the 10 best Facebook Password Cracker apps that you can use to hack into your spouse or child's FB account.
Part 1: Minspy – The #1 Facebook Password Cracker
Minspy is our top pick for cracking Facebook passwords. It's a tiny app that allows you to conduct remote monitoring on a target iOS or Android device in total stealth mode.
Working with Minspy is very easy. The app is simple to configure for both iOS and Android and doesn't need you to root or jailbreak the target device. No installation is needed on your own phone.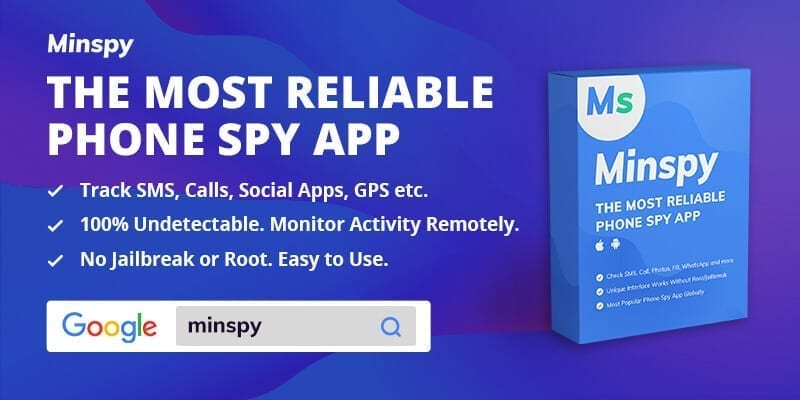 All you need to do is get your hands on the iCloud credentials used on your target's iPhone. With these credentials, you can allow the app to sync all data on the target phone into an online dashboard to which you have complete access once you've registered and purchased a subscription.
Since nothing is installed on the target iPhone, there's no chance of your spouse or child finding out that you're monitoring their activities. The app cannot break into the user data section of the iPhone so the photos and media stored on the device don't become susceptible to theft.
For the Android version of the app to work, you need to install it on the target device. A secret 5-minute physical access to your spouse or child's phone will be needed for this (hint: do it when they're sleeping). Setting it up is super simple even if you don't have technical knowledge.
Once the app is configured you can hide it from the app drawer to give the impression that it isn't there. It is lightweight (less than 3M) and doesn't consume much battery so it won't be noticed.
The specialized Android keylogger feature records the keys used to log into social accounts like Facebook. Once you have the exact key combination, you can log into your partner or child's FB account and take control. The best part is, you don't have to root the phone to do this!
How to install it on Android? you could see this video:
How Minspy makes Facebook password cracking possible
Minspy offers a dedicated keylogger feature to record key inputs on the target phone. Since all keys that your child or spouse uses on the phone are recorded, you can know what password is used to log in to Facebook. Then, you can use the same password to log in to their account and see all that's happening there.
There are over 35 things that Minspy lets you do. To know about them all, make sure you check out this free live demo of the app.
You may like: How to Hack Facebook Messenger
You may like:
Part 2: Spyier – Discreet Password Cracker for Android & iOS
Another Facebook password cracker that has gained our trust is Spyier. It's a brilliant app that comes handy if you've tried everything to find out what your loved ones have been up to on Facebook but haven't succeeded.
Working on a similar principle like Minspy, Spyier makes remote phone monitoring possible through a web-based dashboard. Once you've registered your account with Spyier, you get access to more than 25 features which you can use on iOS as well as Android devices.
You don't need any special permission to work with Spyier. The target device doesn't need to be rooted or jailbroken into. All you need to do is configure the app depending on the OS of the target phone and you're good to go.
Spyier makes Facebook password cracking as easy as 1-2-3
Working with Spyier will come naturally to you. The Setup Wizard of the app will help you with configuration. Once you've started monitoring, you can use the dedicated keylogger feature to track what keys have been used to log into Facebook on the target phone. That's how you can hack into someone else's Facebook without them finding out!
Spyier is more reasonably priced than a ton of other similar apps out there. It is 100% secure and risk-free to work with and has several positive user reviews to back it.
Part 3: Spyine
The next entry on this list is Spyine. Hailed by leading corporate houses like The Wall Street Journal, Digital Trends, and BuzzFeed, Spyine lets you crack Facebook passwords (through a keylogger feature) without the need for performing human verifications or surveys.
The intuitive and convenient app lets you keep tabs on a target iOS or Android phone's text messages, call history, Facebook activity, and much more. To work with Spyine you don't need to install anything on your own phone. The app is completely web-based and makes target phone data available through an online dashboard.
Part 4: Cocospy
Cocospy is another leading name in the spy app domain which is commonly used for surveillance purposes. It offers discrete monitoring for smartphones and tablets, be it for parental control or for spying on your suspicious employees.
One of the popular features of this app is social media monitoring with in-depth features like keylogger to gain complete access to someone's Facebook account.
Cocospy gives you access to exceptional features like remote monitoring of messages, calls, social media activity and location. No root or jailbreak is needed on the target device. The app is available for Android as well as iOS phones at an affordable price. It offers a variety of plans to choose from depending on the specific features you need.
Part 5: Spyic
Spyic, a premier phone monitoring solution provides remote tracking and surveillance of target iOS and Android devices. With unique features like call log tracking, geo-fencing and complete internet usage monitoring, Spyic is the ultimate app to keep an eye on your loved ones.
You can opt for a subscription plan after setting up an account on Spyic's website. For iOS devices, a full remote setup is to be carried out whereas for Android users a tiny download on target device will be needed.
Spyic comes with a specific Keylogger feature which allows you to get social media login credentials directly and have full access to your target's account. Once logged in, you can navigate to the 'Social Apps' section where you'll find options like Facebook.
Be it looking into messages or observing the intent of the user on these websites, you can have it all in this specialized section. No root or jailbreak is required on target device to setup Spyic and discrete monitoring makes it an ideal choice.
Part 6: Fami360
Fami360, a parental control application, is meant for parental control so that you can have 24/7 supervision over your children. Equipped with a variety of features like social media protection and location tracking, it has all bases covered for you.
A team that offers reliable support and free regular updates to their kitty of features makes it an ideal choice when it comes to monitoring applications. The app's social media watcher feature allows you to monitor activity over social media accounts like Facebook, WhatsApp and Instagram.
A simple interface allows you to track the target device remotely from any Smartphone or web browser.
Part 7: Mobile-spy
Mobile-spy is a hybrid of software and service that offers effective real-time monitoring of any Smartphone. You can install a small application on the target device and monitor it on a live control panel.
The live control panel lets you monitor a variety of things like instant GPS with live location as well as logs of previous locations of the target device. Additionally, the app allows you to monitor multimedia messages like photos being sent and received over social media platforms like Facebook.
Here's where Mobile-spy fails
Though Mobile-spy is a great phone monitoring app, it fails to offer versatility in terms of subscription plans available, so you would want to go for other alternatives if you need plans on basis of features.
Part 8: Hypercracker
If you've been looking for a specialized Facebook password cracker, you will find your match in Hypercracker. This online tool will help you crack Facebook passwords in no time with a step-by-step guide.
Usually, there are websites that will ask you to fill pointless surveys to achieve this. But Hypertracker makes the process seamless with the use of data tools. It finds chinks in the armor of the Facebook firewall. So, you provide them the profile name and they will hack the account for you.
Why using Hypercracker may be risky
Hypercracker comes with a significant disadvantage. This tool is extremely dangerous if it falls in the wrong hands since it makes Facebook password cracking extremely easy and free of cost. Also, many times, a direct search for "Hypercracker" may lead you to malicious websites.
Part 9: Flexispy
Flexispy is available in two versions – a premium one which comes with features like any other alternative spy app, and an extreme version which offers exclusive services like call recording and interception, which you will rarely find in other alternatives.
Some features that make Flexispy a worthwhile application include keylogger which makes it very easy to crack into someone else's Facebook and other social accounts, social media and instant messenger monitoring, ability to take remote screenshots, and the ability to listen and record the surroundings of the target phone in real-time.
This is the problem with Flexispy
Its subscription is very highly priced. This is not an option for you if you are looking for a mix of features and cost.
Part 10: Guestspy
Imagine having control over someone's phone by just knowing their phone number. Guestspy is an application that allows you to achieve this. A simple download and an easy installation later, you can track whatever happens on your target's phone with this app.
Guestspy gives you a number of subscription options. Depending on the plan you choose, you can hear and record incoming and outgoing calls, get notifications whenever there is a call in progress, and have access to the real-time conversation.
Why Guestspy may not be the best out there
Guestspy is only available for Android phones at the moment. While it offers compatibility to most Android versions, it may not work on some latest releases.
Clubbing all that up
That's it from our end for now. Hope our exhaustive list of the best Facebook Password Cracker apps will help you to decide which one to choose for your specific purpose.
This post is also available in:
Deutsch (German)
Español (Spanish)