Though iPhones are largely impenetrable, technical advancements have made it possible for specialized phone spy apps to hack into them and access everything from the call history to the live camera feed.
Whether it is to keep a diligent eye on your child, to snoop on your partner, or validate the loyalties of your employee, getting access to the live feed of someone's iPhone camera can be invaluable. You can spot them wherever they are and nip the problem in the bud.
But the issue is, not all phone spy apps are nifty enough to get away with full-proof iPhone camera hack. Apple devices are highly secure, and hacking into something as intricate as an iPhone's live camera feed is not every app's cup of tea.
Fortunately, we've discovered an app that can achieve what you seek, and that too, without throwing you under the train. My friend, if you've been looking for a phone spy app that'll let you hack into an iPhone's camera for real, you've finally been redirected to the right page.
Let's proceed to spilling the beans.
Part 1: Can iPhone Camera Be Hacked?
In a word, yes! Though iPhones grab the number one spot on Smartphone reliability and safety indexes, there are some clever ways to get inside them and access all their information.
In times like today, there are certain applications which can help one hack an iPhone or other Apple device to take autonomous control over its data. We've taken the liberty to pick one such application for you which goes by the name Minspy.  
Note: While we're going to show you how to do it, it doesn't mean you should hack into someone's iPhone camera just to have fun. Being possible doesn't justify its usage if you don't have the right reasons for it. If, however, you do have a justifiable reason for iPhone camera hack, rest assured that there is a safe way to do it.
Part 2: How to Hack iPhone Camera
Getting to watch what your child, spouse, or employee is doing when they're not around can be useful. You can prevent a lot of bad stuff from happening by intervening at the right time. With the help of Minspy, you can discreetly gain access into their iPhone and its camera's live feed without even being physically near the device. 
Minspy has more than 10 years of experience in the phone monitoring industry, and several giants like the Mac World, Mashable, and Lifewire have featured it as the leading phone monitoring solution.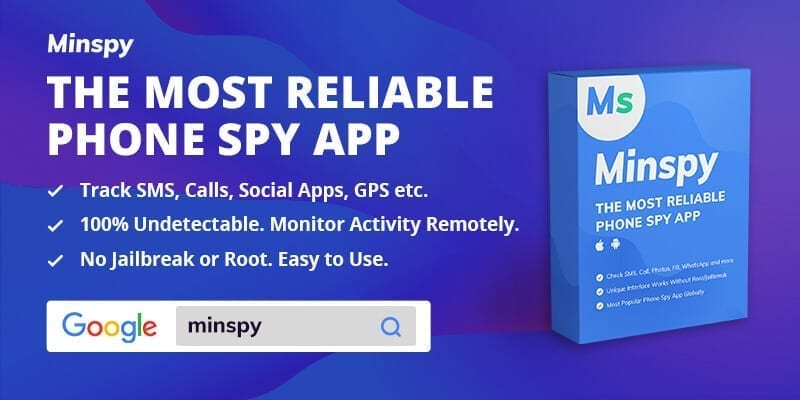 Regardless of whether or not you're a tech-whiz, you can perform app configuration and set up within 10 minutes and start monitoring your target's iPhone. Once monitoring begins, hacking into the iPhone's live camera feed becomes a piece of cake.
Part 2.1: Minspy – The no-jailbreak iPhone cracker
When investing in a phone monitoring app, being able to track the target phone with anonymity is what you're looking for. After all, there's no point in using a phone spy app if you get caught spying! 
Being invisible when tracking an iPhone is possible with Minspy 
Minspy works in total stealth mode, in the background, without you having to manually interfere. Working exceptionally well on iPhones (and Android devices too), Minspy lets you not only hack into the live camera feed, but also view text messages, calls, and other activity on an iPhone. 
Wondering why we're going ga-ga over Minspy? Well, the app gives you good reason to place your trust in it.
100% web-based:

Minspy for iOS

is completely web based, meaning no installation is required on

any

phone (your or target's). The app works through the iCloud account linked with the iPhone so all you need are the iCloud credentials to hack it.

No jailbreak needed:

Unlike most phone spy apps out there, you don't need any special permission to work with Minspy. The app lets you in on everything happening on the iPhone without the need to jailbreak.

Accessible through an online dashboard:

Once the app is up and running, all data stored and being exchanged through the target iPhone can be accessed through an online dashboard to which you can login using ANY browser!

It is safe and secure:

User privacy and security is the number 1 priority for Minspy. The app is not designed to access user data stored on the target device, so the question of stealing information doesn't arise. 

Over 35 handy features:

You can't get a more reasonably priced app than Minspy. It gives you access to a plethora of features like iPhone camera hack, GPS location track, call history and message track, contact hack, and more for a single subscription price.

Access to a free-live demo:

The makers behind the app understand the user mindset and thus offer several options to help you out in making a purchase decision. A

free live demo

of the app, for instance, is provided so that you can try out the working of the app to get its feel and connect better with it before putting your money on the line.
To know what all Minspy can help you do, visit this page.
Need help with Android phone monitoring? Try Minspy's Android version!
If you thought Minspy's expertise was limited to iPhones, think again! The awesome app lets you keep tabs on your Android using spouse, employee, and partner too, albeit a bit differently.
Unlike its iOS counterpart, Minspy's Android version needs to be installed on the target phone for it to work. It takes hardly 5-minutes to get the app up and running. The application size is small and it doesn't consume enough battery and resources to get noticed. 
Once installed on the target phone, Minspy can be hidden from the list of installed applications to give the impression that it isn't even there. It works silently in the background passing on all key information to your app's online dashboard.
Note: Minspy is not the only Android phone monitoring app needing an installation. All Android spy apps need to be installed on the target phone. That's just how Android phone monitoring works. If any app claims to achieve phone tracking without installation, stay away from it. It will take you for a ride!
2.2. How to Hack iPhone Camera
Minspy, the remote iPhone monitoring app, grants you access to all pictures and other media on the target iPhone, its live camera feed, and much more. Setting it up is a breeze, even for those who don't have much experience with technology. Here are the steps: 
Step 1: Go to Minspy's sign up page and create a free account. Sign up is free, but to use the app you'll need to subscribe to one of the available plans.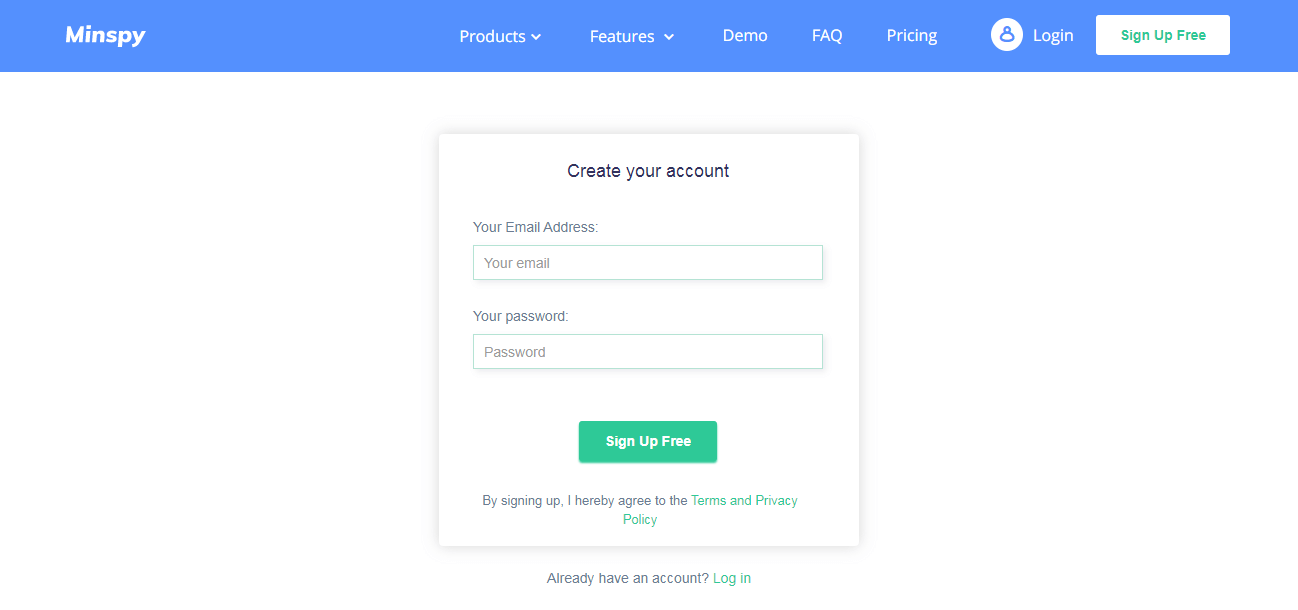 Step 2: Once your account is active, you'll be required to select the OS of the target phone. Pick iOS here.
Step 3: Though you don't need to physically access the target iPhone, you will need to get your hands on the iCloud username and password being used on it. These are essential to allow Minspy to sync the target phone's data into your online dashboard. 
Once you have the credentials, enter them into the Setup Wizard when prompted.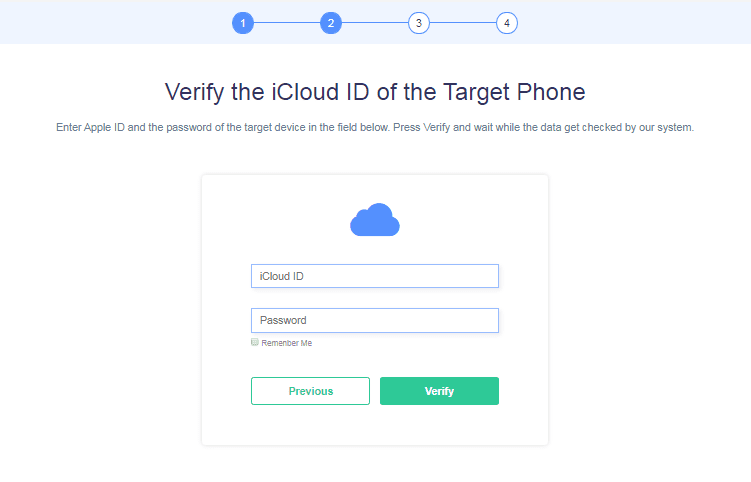 Step 4: At the last step, Minspy will present you with a prompt to finish the process. On hitting "Start" you'll be redirected to the monitoring dashboard. 
Once you're inside the target iPhone, you will have complete access to any data on it. Hitting the media or the camera itself is then child's play. Being able to access the device data from ANY browser makes it even simpler. 
Don't miss: How to Hack Into an iPhone from a Computer
To conclude
Keeping tabs on your employee, partner, or child is imperative if you suspect something's off. Having the help of an iPhone camera hack app like Minspy can be priceless. Since it works in silence, you can manage to pull it off for as long as you want without getting caught.
If there are still some questions on your mind regarding the application, you should check out its free live demo to be able to get a better know-how. Though going by millions of positive reviews this app has accumulated, you can place your trust in it without thinking twice.