It's 2020 and Yahoo password hack is 100% possible, unlike what most people believe. In fact, there is more than one way of doing so. And this post will answer all the queries related to how to hack yahoo email.
We now have advanced Yahoo password crackers that do the job for you. Today, I am going to talk about a few such ways that hack Yahoo passwords without any hassles.
Part 1: Hack Yahoo Email Password Free No Download
If you want to learn about hack Yahoo email password free no download then no other way would be as helpful as Minspy. One of its own kind products, this Yahoo password cracker is my all-time darling. Well, it's not only me who has shown trust in Minspy.
Minspy – Your Ninja technique for risk-free Yahoo password hack
Millions of users across 190 countries are also singing in its praise and acknowledge it the best simple way to hack Yahoo mail. Once I will explain its features and modus-operandi, you'll come to know by your own why the world is going ga-ga over it.
So, let's get started.
No matter how compelling it's to learn about how to hack Yahoo email, no intelligent soul would like to entertain uninvited hassles in the process.
I have come across many cases wherein, by ratifying risky Yahoo password hack like rooting/jailbreak, people have damaged the targeted device badly.
In the worst-case scenario, people have become the victim of various cyber threats and lost crucial data. Both things sound insane and we all would like to maintain a safe distance from them. Wouldn't you do the same?
Minspy put a stop on both these possibilities by offering you rooting/jailbreak free operations. So, whatever you're doing using this Yahoo password cracker is 100% risk-free.
Shunning the rooting/jailbreak practice is not the only way Minspy safeguards you.
It goes the extra mile when it comes to your safety by not having any of your data on its server. Whether it's your password, payment card details, or your hack logs, nothing is exposed in the outer cyber world.
Ability to work from behind the scene  
When you want to enlighten you about how to hack into yahoo email without a password, the last thing that you would like to face is letting anyone know about it. If the targeted person learns about it, you may have to face embarrassment by then the hands of your loved ones. This is good for employers.

Keeping this possibility a mile away from you, Minspy hacks Yahoo password without them knowing. Whether you're using it for iOS or Android, the same peace of mind can be enjoyed in both cases.
Minspy's iOS solution comes with 100% web-based operations and assists you to know how to hack yahoo mail password online. Without getting you involved in any app installation or set-up hassles, it works exceptionally and extracts every option.
The only thing that was asked of me when I tried Yahoo password hack for an iPhone was valid iCloud credentials. It shocked me in the beginning. Like, just knowing iCloud details can help me gain an admin like access to one of the safest phones in the world!
I am sure that you must be thinking the same. But as I proceed, I was stunned to see that it actually happened. The best part is that it impressed me equally when I decided to try its Android app.
Minspy's Android solution is an ideal example of how you can track others' phone activities without messing up things. Because of its compact size (can you believe it's less than 3MB size and helping you inclusively), it takes a fraction of time to be at your service.
Though it may sound unbelievable, you can choose to hide the app's icon from the app list and it works stealthily. No one can ever find out that it's working on your behalf. Neither it sends a notification on the targeted device, nor does it consume excess phone battery. So, you can hack Yahoo password without them knowing.
Customer care that cares for you 
Minspy doesn't belong to the service providers that sell their products and never look back.
Here, customers, their concerns, and their comfort are what matters the most. That's why it offers impeccable customer care service with no compromise. Regardless of the time and location, they are always at your service.
I think all these reasons are more than enough to prefer Minspy as Yahoo password cracker over any other option. So, without wasting any time, you should learn how to hack a Yahoo account using Minspy.
Steps to bring Minspy to your service
Getting started with Minspy is the easiest thing that you must have encountered. Without keeping you engaged in a boring and lengthy app installation and set-up process, it comes at your service in a blink of an eye.
Below stated steps are needed to be followed to get benefitted from Minspy.
Step 1: Get registered with Minspy here and create a free account using your valid email ID and password. Choose the right plan based on the type of targeted device and pay for it.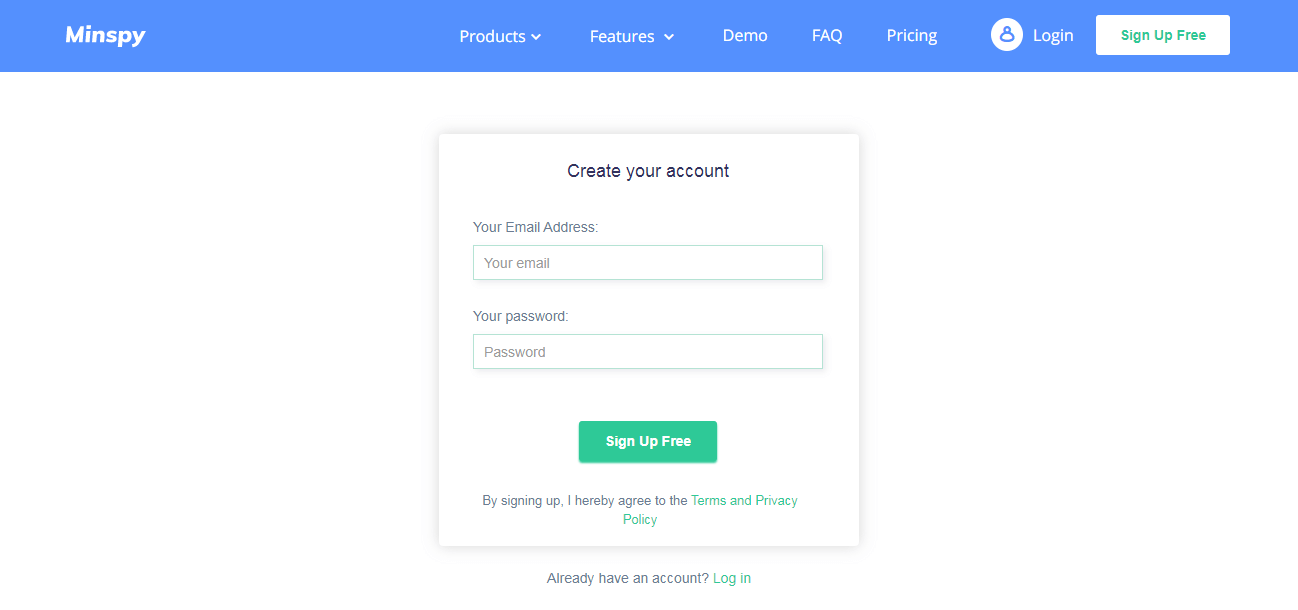 Step 2: Once the payment is done, activate your Minspy account using the link mentioned in the email that you must have received from Minspy after the successful completion of step 1.
a.) If you are going to use Minspy's Yahoo password cracker on iPhone then you must verify the iCloud credentials of the target device.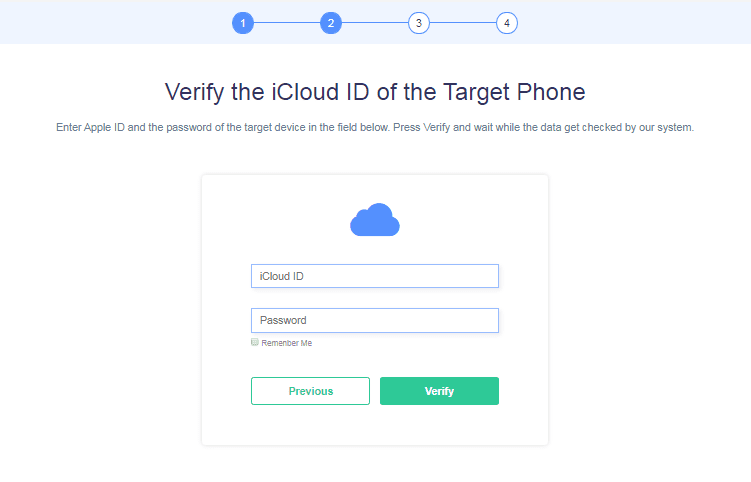 b.) If Android is what you need to target then download and install the Minspy app on the target phone using this installation guide.
Step 3: To get started with Minspy, access its dashboard using any device/browser. Click on the 'Start' button and you'll see the live data rendered on the dashboard.
On the left side of the dashboard, click on the 'application' icon and you can see the whole list of apps that you can hack using Minspy. Search for 'Yahoo' and Yahoo password hacker will be at your service.
See, we told you earlier that using Minspy is the easiest thing to do.
What makes Minspy the simplest way to hack Yahoo mail?
Well, we have already mentioned a bunch of reasons preferring Minspy over any other Yahoo password hacker. However, there is still one key trait that makes it stand out against all of the others and lead the path.
That key trait is its powerful Keylogger. Keylogger is a special feature that records the keystrokes done on the targeted device and updates you accordingly.
So, it's not only the Yahoo password that you can know, Yahoo emails, chats, and messages typed on Yahoo can also be tracked down. That means it's a whole goodie-bag offering you a bumper deal.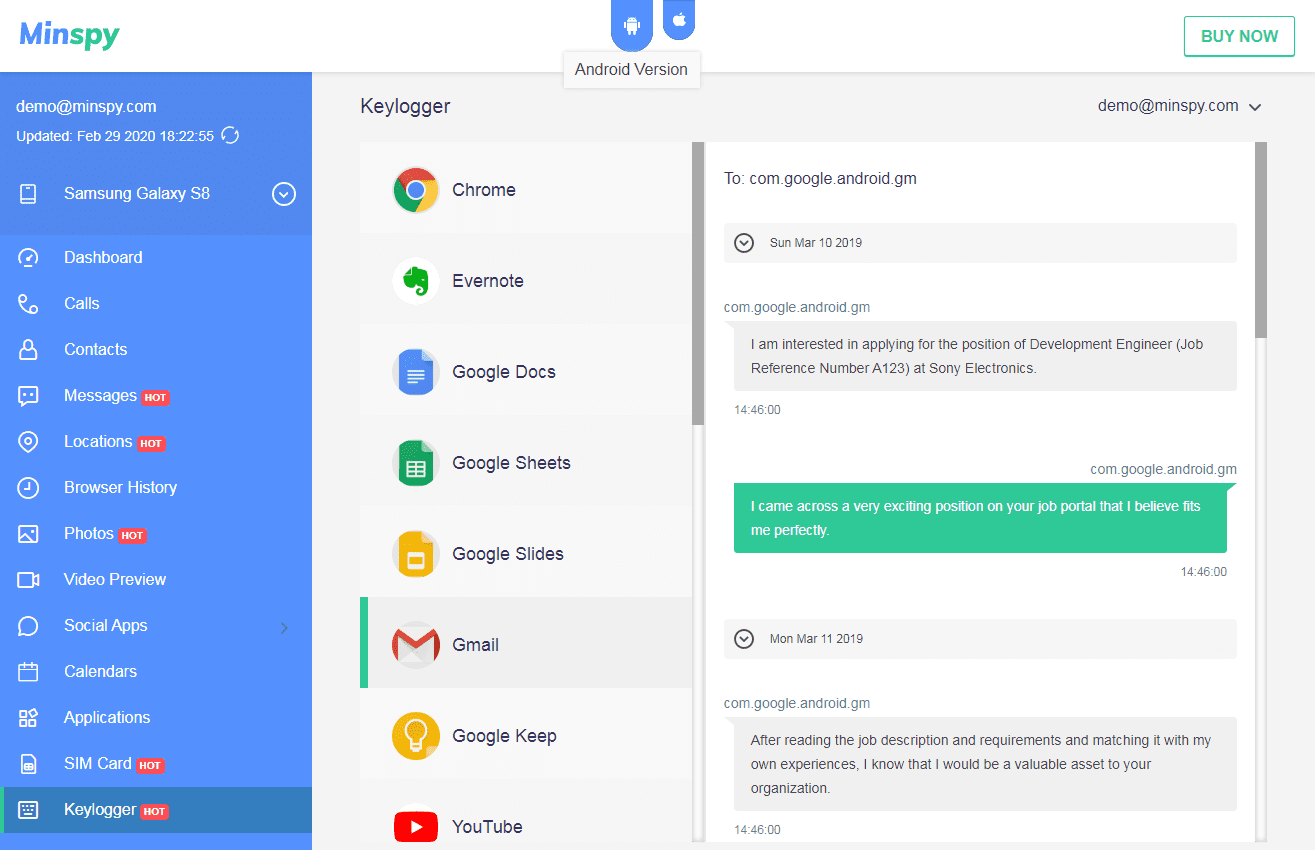 Unlike any other cheap and faulty keyloggers presence in the market, Minspy's keylogger is a tech-marvel that:
Works without hampering the OS of the targeted device
Doesn't make the device boiling up
Won't make sounds on the targeted device while you record the keystrokes
It works with such perfection that no one will find out its presence and this is what has won millions of hearts. Actually summing up its whole functionality in words is not possible. You can learn more about it here.
Part 2: How to Hack into Yahoo Email without Password
Having two choices is always better. That's why I am going to explain to you another simple way to hack Yahoo mail that you can trust after Minspy. That way is Cocospy.
Cocospy – A nice and user-friendly Yahoo Password Cracker
Cocospy is another trustworthy Yahoo password cracker that has managed to stand against all odds and impressed millions of users across the world with its performance.
When you bring it into action, you need not to try a risky way of rooting/jailbreak to crack Yahoo password online.
With 35+ remote monitoring features, this Yahoo password cracker can do a lot of things for you. Whether you need to know about the call history or trace the live location, it is indeed your best ally in all of it.
With its feature set like Keylogger and Yahoo password hacker, it makes you learn about hack yahoo email password free no download in the best possible manner. As it comes with a very user-friendly interface, there is not much grilling and brainstorming while you use Minspy.
You may like Gmail Hack: How to Hack Gmail
Part 3: How to Hack Yahoo Mail Password without Software
I promised you at the starting of the article that I will not misguide you or will beat around the bushes. Perpetuating the same promise, I am going to tell you that learning how to hack a yahoo account without any software is not at all possible.
Now, you must be wondering why it is so? Well, because you need something to get paired/communicate with the OS of the device so that you can extract the information. Just as we humans need words to communicate, and OS require software to communicate.
Without taking the help of additional software, it's not possible to hack Yahoo email password free no download. If at all, out of curiosity, you search on Yahoo about how to hack yahoo mail password without software then you will see few results.
Those articles would be about a few lame and less reliable options like retrieving the password from the browser, trying fake login, and tuning to Yahoo's official site. Out of all these options, my vote goes to the first option i.e., retrieving the password from the browser.
However, you will taste success via this method only if you gain access to the targeted person's device and s/he has saved password on the browser. All other ways failed big time to win my confidence.
If any Yahoo password cracker is claiming to offer you download-free Yahoo password hack then must that it's nothing but a mouse-trap. You may lose some of your vital data by the hands-on cyber frauds.
We're not blabbering. Every 39 seconds, one cyber fraud occurs and you can face this if you use any deceitful method. So, in my opinion, you should never try your hands in it.
Before we say a final goodbye…
First things first – You shouldn't trust blindly on any fraudulent options that claim you to offer assistance on 'how to hack a yahoo account without any software'.
Some claims are nothing but a way to lure you for unforeseen frauds. While searching for a reliable Yahoo password cracker, neither you should invite troubles nor should you compromise on your safety.
Minspy fulfills all these criteria without fail and lets you experience a hassle-free Yahoo password hack. Use it or try Cocospy, because these are my tried and tested solutions.