Get SIM Card details
Find SIM card-related details like the location and IMEI number remotely.
Minspy allows yout to monitor SIM cards remotely and also track its location.
Find network-related info like carrier name and IMEI number.

Check the network-based location of the phone or tablet.

Opt to receive a notification on SIM card change.

Install Minspy in minutes and monitor remotely from any browser.
3 Simple Steps to Start Tracking the SIM Card
Sign Up Free
Sign up for Minspy with your existing email ID.
Install Minspy
Get Minspy working on the target iOS or Android device. It only takes a few minutes
View the SIM Card Details
Check their SIM card details from your Minspy dashboard.
Create an account for free
By signing up, I hereby agree to the Privacy Policy
Check Live Demo Here >>
Track Their SIM Card
Minspy lets you track and learn more about the SIM card installed on the target phone or tablet. You can access SIM-card related details and features from your web browser. It works remotely and it's stealthy. You just need to install the Minspy app first, which only takes a few minutes.
After you have Minspy set up, you'll be able to monitor the SIM card info remotely from your PC or smartphone. Log in the Minspy dashboard from your web browser and look for the SIM option in the menu on your left. Select it to open up the SIM window.
The SIM window gives you an overview of the SIM card. You can see details like the IMEI number and the carrier information. There's a location window to the side that tracks the network-based location. Finally, you can opt to receive notifications in case they change the SIM card.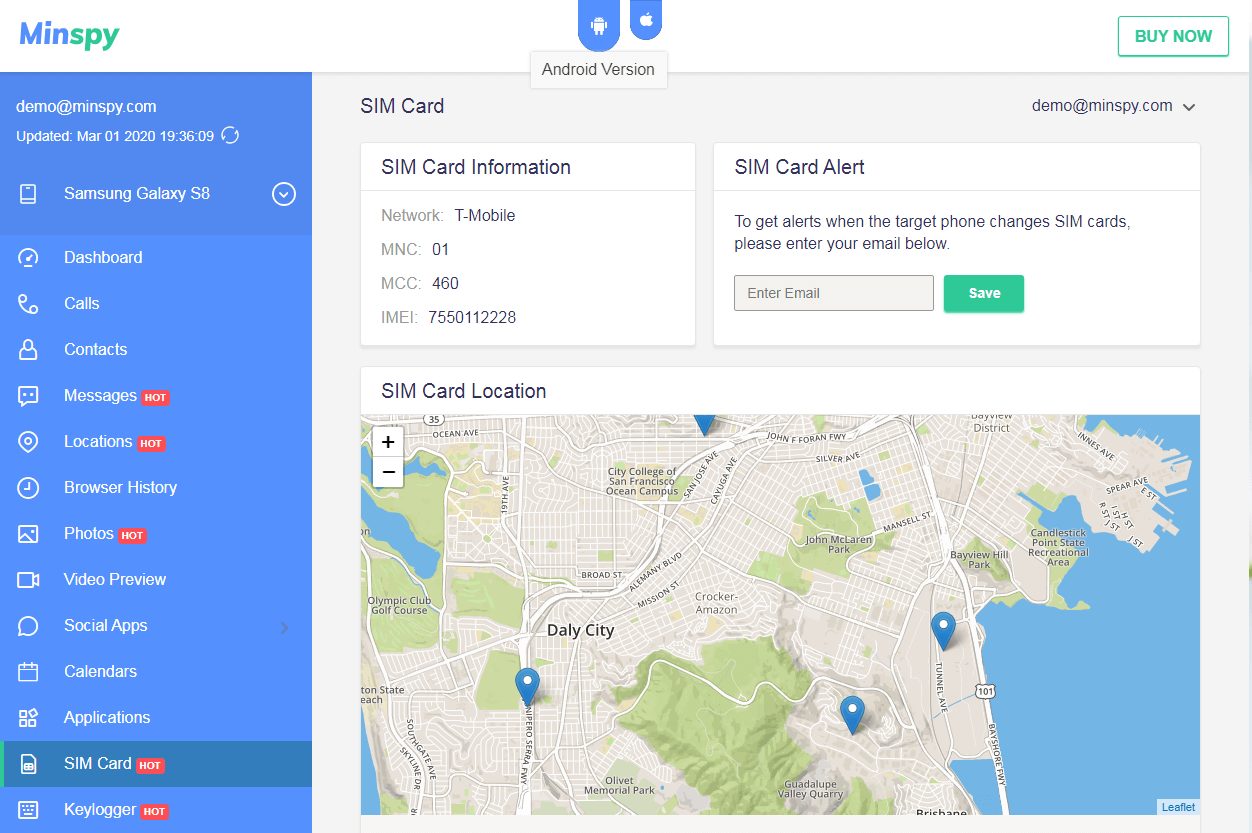 What Do You Gain From Tracking SIMs?
When WiFi and GPS tracking doesn't work, you can attempt tracking the person from the SIM card. You need to know the network carrier information in such cases. You can then track their general area location online. It's not as accurate as GPS-based tracking, but it works.
Also, if you're keeping an eye on someone, then it's a good idea to track their phone number. If they change their number, for example, when talking to someone and then change it back when talking to you, then you know they're attempting to hide something from you. There are other scenarios where tracking the SIM info can come in handy, like if a device is lost.
Access SIM Info Without Root or Jailbreak
Minspy doesn't require root or jailbreak to run. It's one of the few apps that don't, making it easy to set up and use. You don't void the device warranty nor do you have to spend a lot of time and effort getting the app set up. You can access their information without making the user suspicious.